Statement of Account Sample Bill
It is the responsibility of the Cashiers Office to maintain and publish tuition and fees billing for all students enrolled at Kansas State University. Billing is produced on or around the 15th of each month and a notification is then sent to the official Campus e-mail address. Students will access their e-bills through their University KSIS account and can set up access for designees and so they can receive notifications too. All users will be able to log in from any location with internet access to view, and print current and previous statements. For a more detailed explanation of the Statement of Account please follow the example below.
The numbers in purple below correlate with the ordered list that follows: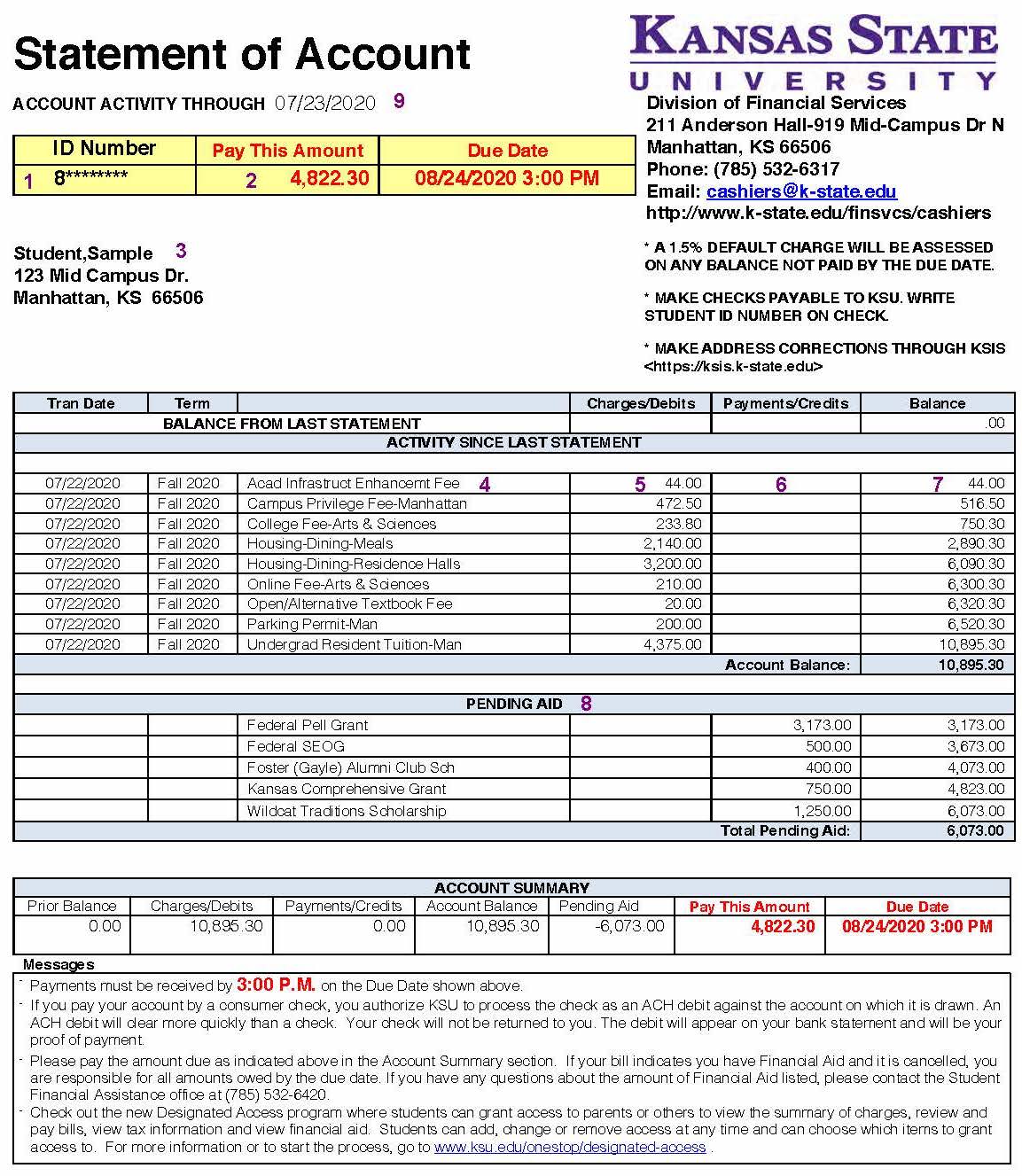 Student ID Number is the WID number that was assigned to you. It is printed on your student ID card. Not to be confused with a student E-ID that is used for computing or KSIS usage.


Balance Due is the amount that must be paid by the Due Date shown to avoid a 1.5% late fee and a hold placed on the student account. Payment options.


Mailing address furnished by the student. Make any address changes through KSIS.
This is an abbreviated description of what the charge is for. Example: UG - Undergraduate, GR – Graduate, RES - Resident of Kansas, NONRES – Non resident of Kansas, MAN – Manhattan Campus, SAL – Salina Campus, CAMP PRIV – Campus Privilege (these fees are divided according to student voting each semester and are paid by all students to support services to students on this campus.), ENGG – Engineering, BUS ADM – Business Administration (these fees are charges by departments for any class that falls under their department regardless of a students major. Several departments have specialized fees beyond tuition and Campus Privilege fees.) Tuition and fees rate schedule.
Amount of the Charge associated with that description. Should a charge be reversed there will be a minus sign in front of that amount and it will reduce the balance due. Tuition and fees rate schedule.
Amount of Payment/Credit associated with that description. Should a Payment/Credit be reversed there will NOT be a minus sign in front of the amount and it will increase the balance due.
This column is a chronological running balance affected by each line of transaction.
Pending Financial Aid is listed as a courtesy at the beginning of each semester only. According to regulations the Pending Financial Aid has not been credited to the tuition account at the time of this printing. It will be credited to this tuition account by the due date on the bill as long as the student does not change credit hours.
The actual bill date and cut off for activity is the 15th of each month or the previous business day if the 15th is not a business day. eBills will be available online in KSIS a few days following the Bill date.