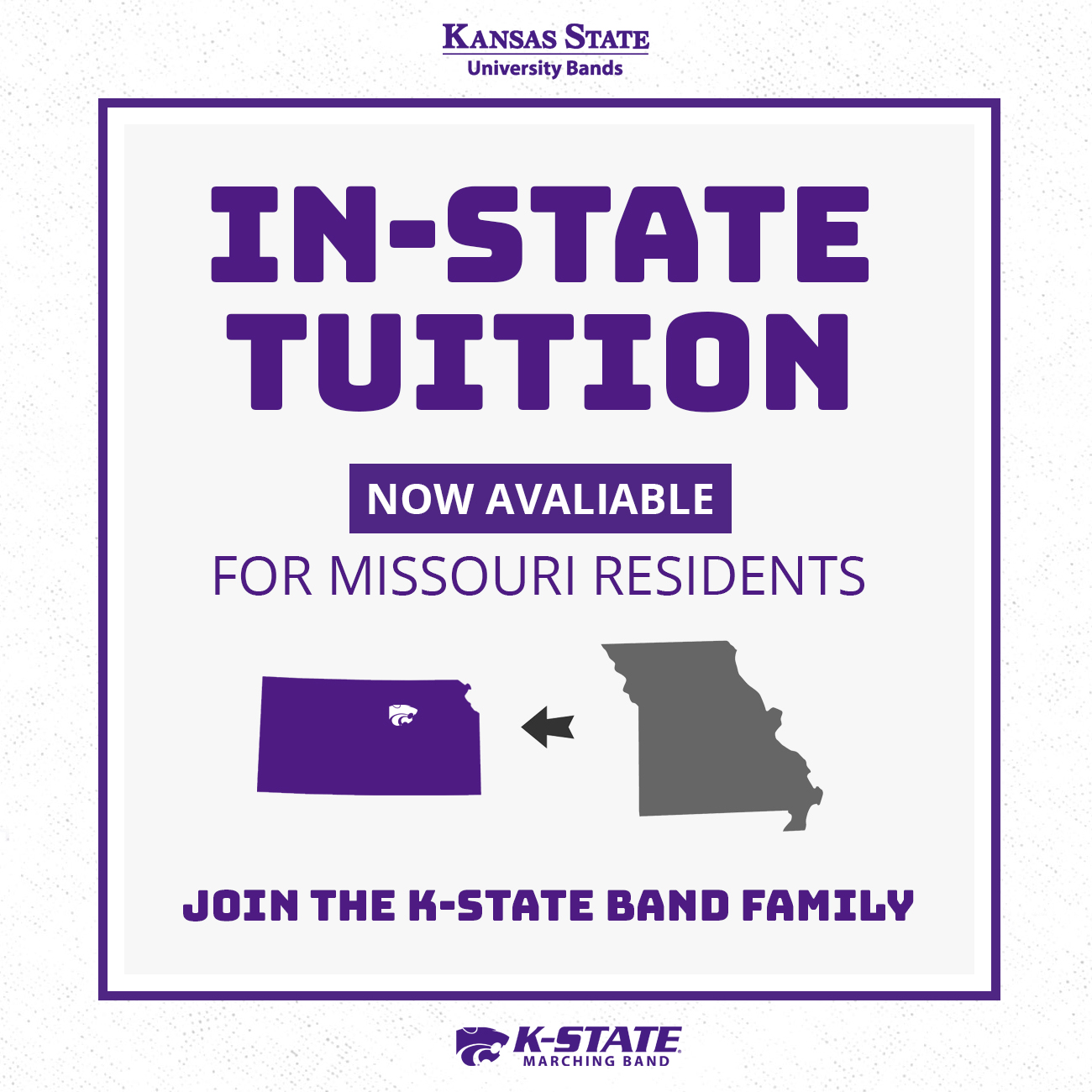 In-State Tuition for Missouri Residents
Live in Missouri and want to join the K-State Band Program? K-State has received approval for Missouri full-time undergraduate students to receive the resident tuition rate for fall 2021. All first-time freshmen or transfer students receive this rate. More details
Come join the K-State Band Family!
Midwest Student Exchange Program
Out-of-state students, check out the MSEP that is available to incoming Fall 2019 students! The program serves to reduce student tuition by a significant amount!!! To apply for the Midwest Student Exchange Program (MSEP) at Kansas State University, students must submit the application for admission/scholarships at: apply.ksu.edu
Click the link below to learn more!!!
https://msep.mhec.org/institution/kansas-state-university
Fall 2020 KSUMB Schedule-Save the Date!
Save The Dates! - Fall 2020 KSUMB Events
Our fall 2020 marching band events have been finalized! Please save the dates and we will let you know when more information/registrations are available
Sept. 12 – K-State vs. Arkansas State
Oct. 3 – K-State vs. Texas Tech
Oct. 24 – K-State vs. KU
Nov. 7 – K-State vs. Oklahoma State
Nov. 22 – KSUMB Luncheon and Concert
Dec. 5 - K-State vs. Texas
Dec. 13 – KSUMB Band Banquet
Wildcat fans, Music Educators, Band Directors, and Band parents present and future: The following videos were filmed this past fall in partnership with REW Music in Kansas City along with Bob and Megan Woeppel. This video series was filmed and produced by a professional company out of LA and the result is fantastic. These videos will be used by band directors and music educators across the nation to get students excited about joining band and choosing an instrument to play in school. The KSUMB is proud to be associated with such a terrific project. Thanks to REW Music and music educators everywhere. The videos below will get kids excited about band, will let students learn about a few of the different instruments in the band, examine a day in the life of a college band student, and talk to the parents about the value of music education.
Where Are They Now?
What will you play
Starting Lineup
Day in the Life
For The Parents