Welcome to K-State Bands! If you are a prospective band member and would like more information complete our online prospective member form found on the left side of this page, call us at 785-532-3816, or schedule a campus visit!
CLICK HERE FOR INFORMATION ABOUT THE 2015 SPRING GAME!
Check out this great article about the KSUMB from Halftime Magazine!
4/24/15 - Special Announcement: HORN DAY!! NOV. 21st
The KSUMB would like to announce that K-State Horn Day will be November 21st at the K-State vs. Iowa State game.
All high school French Horn/Mellophone players are welcome to spend a day with the KSUMB. Live the life of a K-State Horn as you experience Gameday with the K-State Marching Band! Interact with the KSUMB, take part in the traditions, attend a special clinic, and perform at halftime for over 50,000 fans. We will be announcing our guest horn artist very soon! A free ball cap and t-shirt will be provided to each participant. Discount tickets will be available to parents. This even is FREE for all participants.
Congratulations, Ashley!
Congratulations to Ash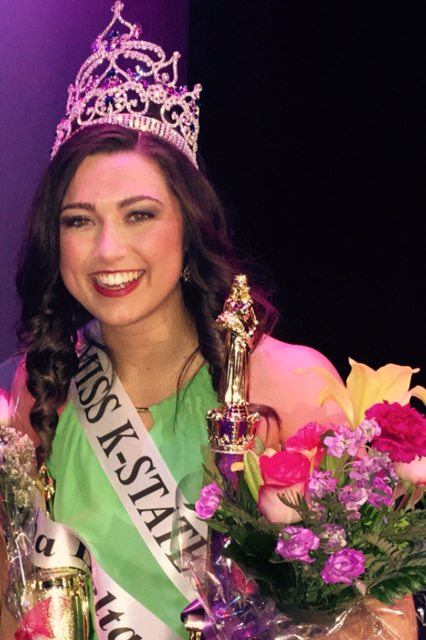 ley Wilmoth, Classy Cat in the KSU Marching Band, on being named the 2015-2016 Miss K-State!
Congrats to all our students who are already landing some big jobs and assistantships:
Brett Eichman - Shawnee Mission Northwest
Weston Cook - Washburn Rural
Jacob Miller - Dodge City
Chris Johnson - El Dorado
Emily Roth - Nebraska City
Michael Meier - Assistantship, KSU
Melissa Askren - Blue Valley North West
Deborah Caldwell - Fellowship, Georgia
Chris Miertschin - Assistantship, Georgia
Chelsea White - Assistantship, Florida State
Heather Gering - Assistantship, New Mexico
Jordan Parker - KU Medical
Katie Daniels - KU Law
4/14/15: Wildcats take Manhattan:
The Wind Ensemble had an amazing trip to the Big Apple and had the experience of a lifetime performing on one of the world's greatest stages. On April 7th, the K-State Wind Ensemble presented the works of Holst, Maslanka, Marquez, Richards, and Stravinsky in Stern Auditorium at Carnegie Hall. The concert was presented as the showcase performance of the New York International Music Festival. The band also performed on April 6th in Central Park at the famous Naumberg Band Shell to a very enthusiastic New York Audience. The trip ended up being a very valuable learning and performance experience for the group and everyone left the city inspired and proud of what they had accomplished. We would like to take the opportunity to thank all who made this trip possible and would like to thank the many family members who made the trip to see their loved ones perform in such a unique and wonderful environment.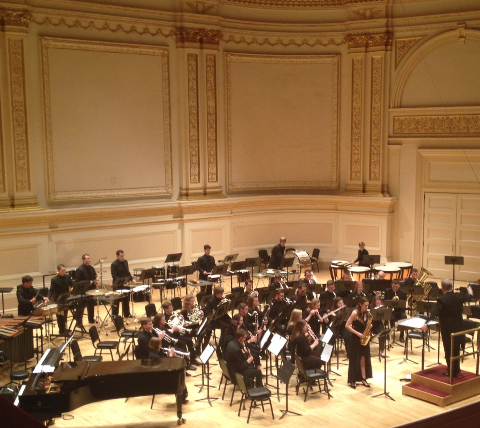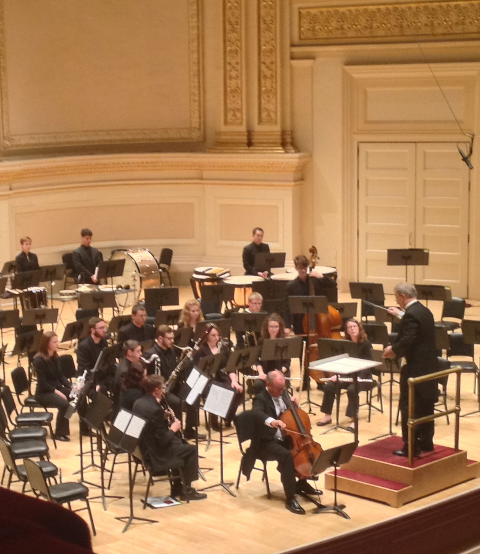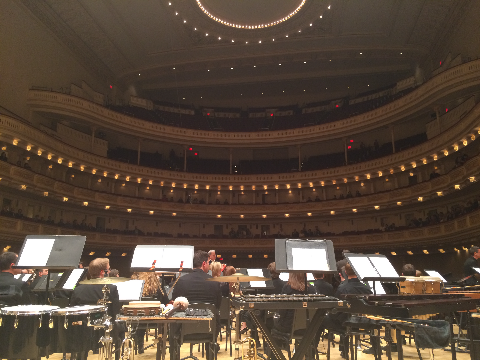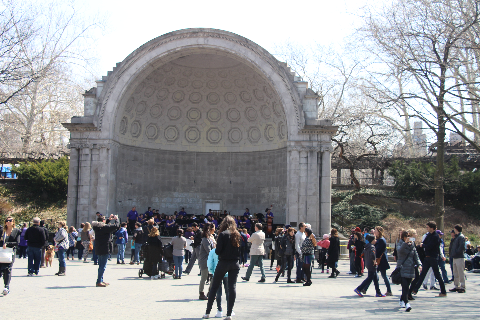 K-State Wind Ensemble goes to New York
Preview Concert: Monday, March 30, 2015, 4pm, All Faiths Chapel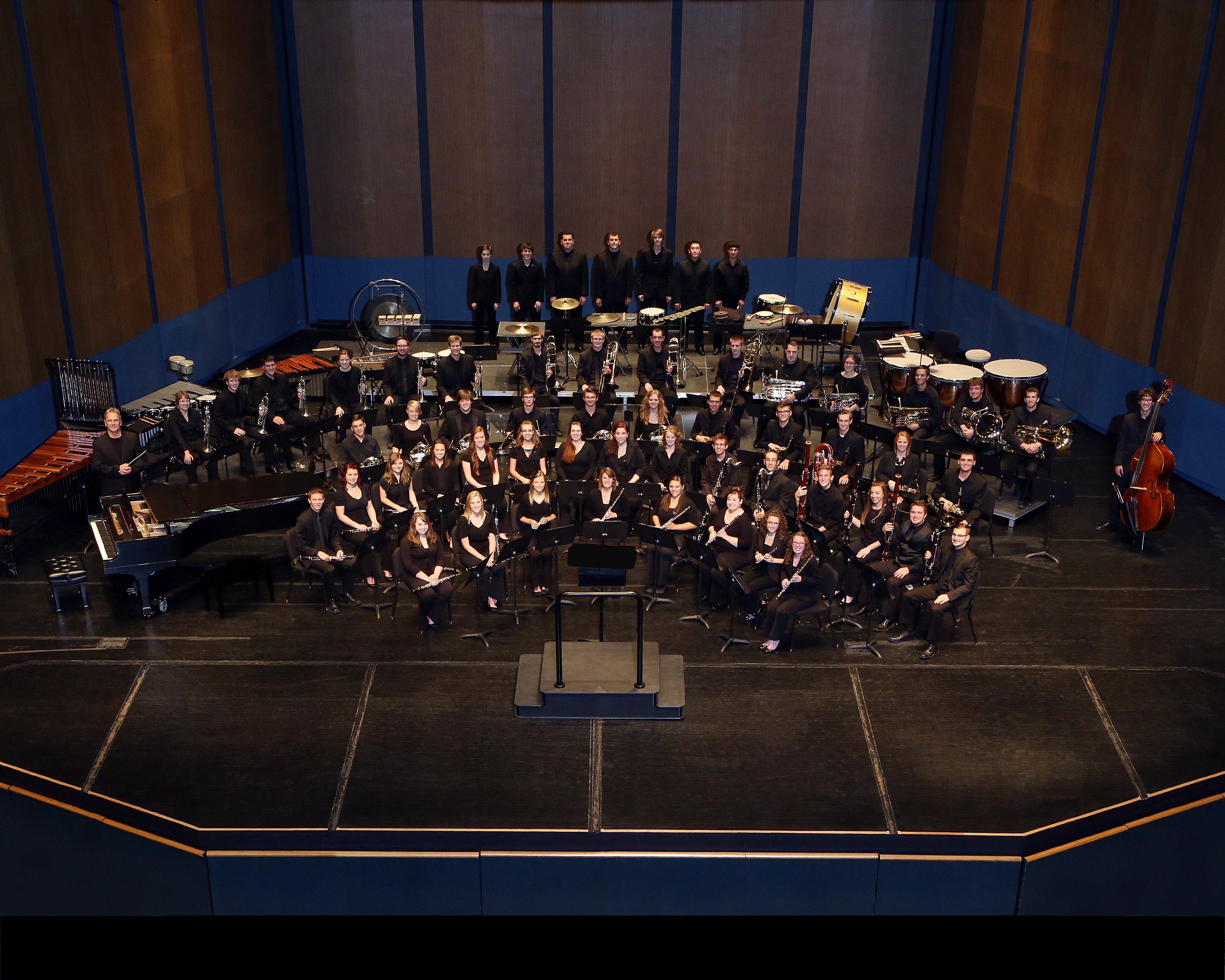 Come hear the Wind Ensemble as they make preparations to play on one of the world's greatest stages. Their trip to New York City and performance at Carnegie Hall will represent hours of hard work and great musicianship put forth by these incredible students. Repertoire will include works by composers: Paul Richards, David Maslanka, Gustav Holst, and Arturo Marquez. Special guest artists will include Dr. Anna Wytko on Saxophone and Dr. David Littrell on Cello. The band is under the direction of Dr. Frank Tracz. The group will depart this Friday for New York and will perform on Tuesday, April 7th to close the New York International Music Festival.
The presentation of the Sudler Trophy to the 2015 Pride of Wildcat Land will be at halftime on September 19th, K-State vs. Louisiana Tech
Special Announcement (1/21/15): The Classy Cat College Dance Team Workshop will be held on February 08, March 8 and April 12, 2015. The clinic will be held at the Ahearn Gym, KSU Campus and is open to all High School and College ladies interested in trying out now or in the future for the KSU Classy Cats or any college dance team. For more information and paper registration CLICK HERE. For online registration, please Follow this link.
Special Announcement (1/13/15): The 5th Annual KSUMB Marching Pride Scholars Golf Tournament will be Friday, June 19th at Colbert Hills Golf Course in Manhattan, Kansas. More details and registration will be coming this spring. Mark your calendars and start getting your team together!
Registration for the 2015 Summer Music Camp is now active! This is a great camp where students can participate in one of two great honor bands, find other musical outlets, have fun, and meet new friends from all across Kansas and beyond. The camp is available to all band students grades 5 through 12. This camp is hundreds less than other camps in the region and will be held from June 14 - 18, 2015. Please click this link for more information and online registration.
The Phillip W. Hewett Marching Band Alumni Scholarship
GOAL: $75,000 to endow the three drum major positions
HOW TO DONATE: Please give generously by check, gift, stock transfer, or pledge:
KSU Foundation http://www.found.ksu.edu 1-800-432-1578
Designate your contribution: 'Hewett Scholarship' / Fund Number: Q 69198
Click on the
Give Online
link found in the left column, or by mail:
2323 Anderson Ave, Suite 500, Manhattan, KS 66502.
And remember to check with your employer to see if your place of business has a matching gift program.
K-State Students and Staff Travel to Midwest Clinic in Chicago, IL

K-State bands students and staff traveled to the Midwest Clinic in Chicago, IL for recruiting and clinics by top professionals. The marching band was also presented with the 2015 Sudler Trophy!
Special Guests for 2014-2015
The Boston Brass
Lance LaDuke, Trombonist and author
Larry Blocher - Director of the School of Music,Troy University
Jim Oliver - Kansas City Music Educator
Phillip Payne - Music Education, Kansas State University
Dave McKee - Director, Marching Virginians - Virginia Tech
Debra Traficante - Associate Director of Bands, Kennesaw State University
Travis Cross - UCLA
Danny Galyen - University of Northern Iowa
Joe Tornello - Boise State University
Brian Silvey - University of Missouri
Linda Huck, Farmington, Missouri
Travis Pardee - Foothills High School, Las Vegas, Nevada
Upcoming Events:
Mar. 30th - Wind Ensemble Carnegie Hall Send-Off Concert, 4:00pm, AFC
Apr. 7th - Wind Ensemble Carnegie Hall Concert, 8:00pm, NYC
Apr. 18th - Auxiliary Auditions, ALL DAY, Ahearn Field House
May 2nd - Drumline Mini-Camp, ALL DAY, McCain Auditorium
May 3rd - Wind Ensemble/Wind Symphony Concert, 3:00pm, McCain Auditorium
May 4th - Concert Band/University Band Concert, 7:30pm, McCain Auditorium
May 5th - Brass Ensemble Concert, 7:30pm, McCain Auditorium

June 14th-18th - Music Camp
June 19th - 5th Annual Marching Pride Scholars Golf Tournament, Colbert Hills
July 12th-15th - Leadership/Auxiliary Camp