K-State Marching Band Update from Dr. Tracz
November 16, 2020
To the PRIDE, their families, and all K-State Marching Band fans,
First, I understand the sadness and frustration over this situation we are in, I feel the same. I made this decision based on facts (KDHE, CDC, and other government health reports and predictions), as well as the situation within the marching band. Our exposure numbers have gone up faster in the last week than they have the entire semester. We have many students waiting for test results, many have already moved home, and the forecast for the major metropolitan areas like KC, Wichita, etc. are not promising. Most of our members come from these populated areas.
I also have received support from all University officials before making this call. Again, I made the call. No one asked or directed me to do this. I needed to do what is best for the band members, staff, and all their families. I believe I made the only call that I could considering all the facts, statistics, and present escalating situation.
I ask that you try to understand the situation, and to know that I take the health and welfare of these band students and their families seriously. I am also an extremely committed K-State Football fan and supporter.
I am sorry that the season has to end this way, I am so sad for the seniors, and disappointed for the entire Band Family that we cannot be there to support the team on December 5th.
With the help of the Band Staff, I will do my best to find an appropriate way to honor and thank the seniors and the band for a fantastic year. I am very proud of the fact that we lasted this long. We took extraordinary precautions to stay safe and continue playing band with great support from many on this campus. The President and Athletic Director were incredible in their support and moving us to the North End Zone so all students could participate.
WE will get through this, and we will be stronger for it when we get to the other side of this pandemic.
Thank you for your understanding and support of the K-State Marching Band.
Dr. Frank Tracz
Director of Bands
Director of the Kansas State Marching Band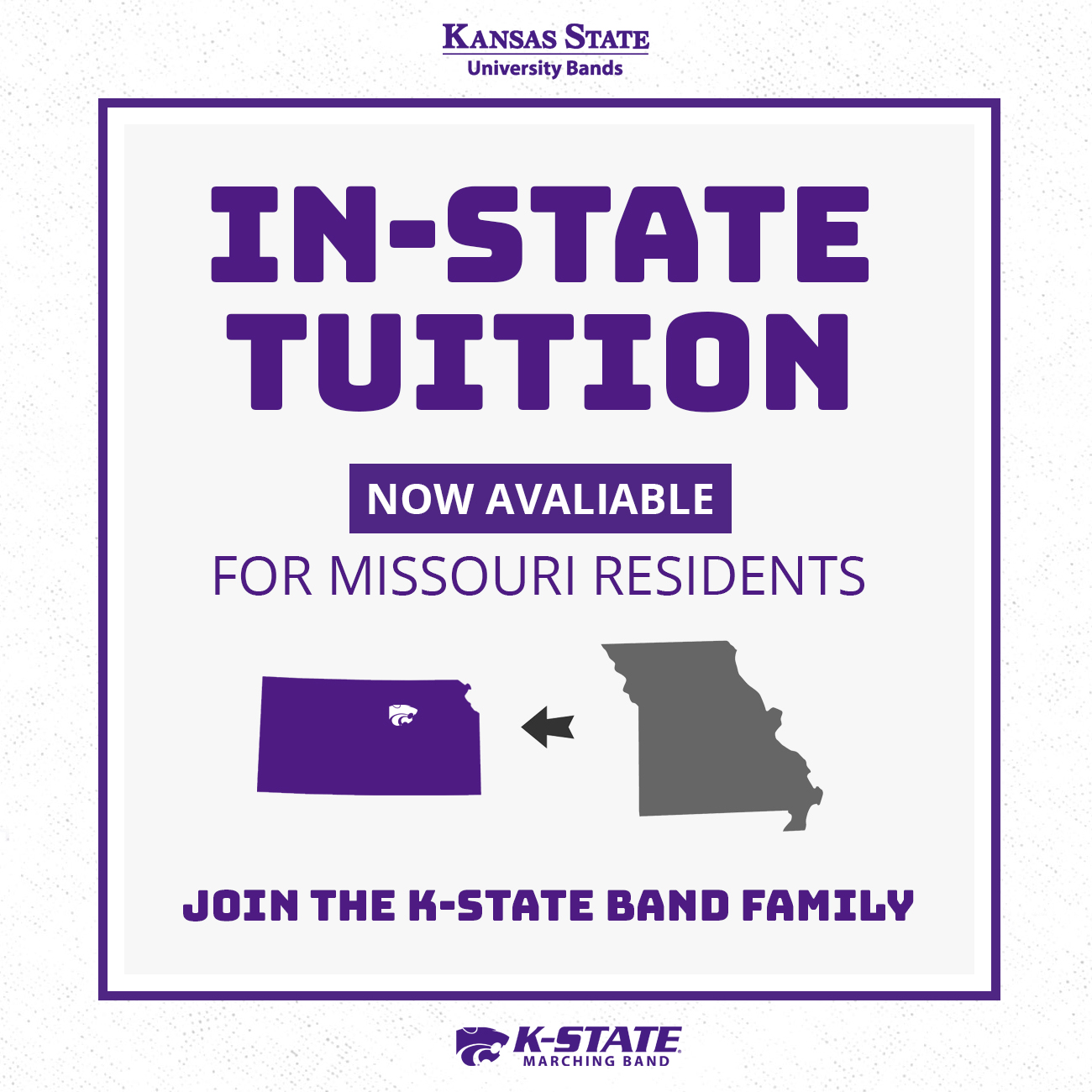 In-State Tuition for Missouri Residents
Live in Missouri and want to join the K-State Band Program? K-State has received approval for Missouri full-time undergraduate students to receive the resident tuition rate for fall 2021. All first-time freshmen or transfer students receive this rate. More details
Come join the K-State Band Family!
Midwest Student Exchange Program
Out-of-state students, check out the MSEP that is available to incoming Fall 2019 students! The program serves to reduce student tuition by a significant amount!!! To apply for the Midwest Student Exchange Program (MSEP) at Kansas State University, students must submit the application for admission/scholarships at: apply.ksu.edu
Click the link below to learn more!!!
https://msep.mhec.org/institution/kansas-state-university
2021 Kansas All-State Audition Repertoire Recordings
The Kansas State University music faculty have put together recorded excerpts and teaching videos for the Kansas 2021 All-State auditions. These videos are to help all teachers and students prepare for their auditions. Below this content contains faculty contact information for each instrument. Individual excerpts are linked below.
Fall 2020 KSUMB Schedule-Save the Date!
Save The Dates! - Fall 2020 KSUMB Events
Our fall 2020 marching band events have been finalized! Please save the dates and we will let you know when more information/registrations are available
Sept. 12 – K-State vs. Arkansas State
Oct. 3 – K-State vs. Texas Tech
Oct. 24 – K-State vs. KU
Nov. 7 – K-State vs. Oklahoma State
Nov. 22 – KSUMB Luncheon and Concert
Dec. 5 - K-State vs. Texas
Dec. 13 – KSUMB Band Banquet
Wildcat fans, Music Educators, Band Directors, and Band parents present and future: The following videos were filmed this past fall in partnership with REW Music in Kansas City along with Bob and Megan Woeppel. This video series was filmed and produced by a professional company out of LA and the result is fantastic. These videos will be used by band directors and music educators across the nation to get students excited about joining band and choosing an instrument to play in school. The KSUMB is proud to be associated with such a terrific project. Thanks to REW Music and music educators everywhere. The videos below will get kids excited about band, will let students learn about a few of the different instruments in the band, examine a day in the life of a college band student, and talk to the parents about the value of music education.
Where Are They Now?
What will you play
Starting Lineup
Day in the Life
For The Parents