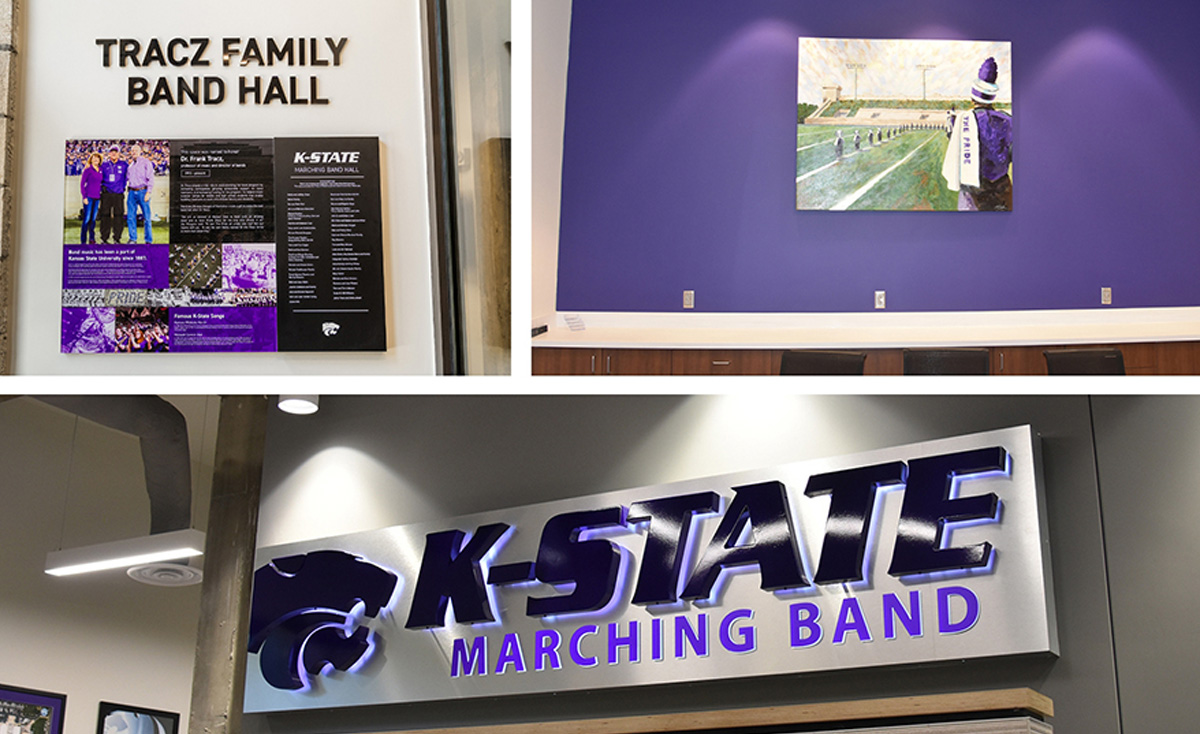 Tracz Family Band Hall OPENS
As you walk through the front entryway of the brand new K-State Tracz Family Band Hall, you'll immediately get a feel for what sort of place this is and just how much it's going to mean to the students who will soon occupy it.
"We're ready," says Frank Tracz, professor of music and director of bands at K-State. "It's a pretty amazing place. It's beyond description."
Band 'Cats Pantry Opens at the Tracz Family Band Hall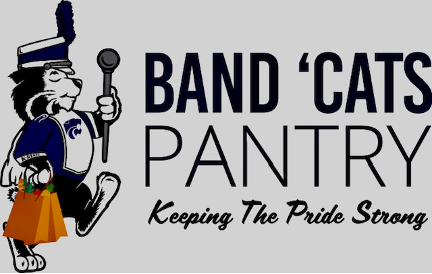 The mission of the Band 'Cats Pantry is to provide temporary, supplemental food, personal hygiene, and paper products to KSUMB members at not cost to them.

The Band Cats Pantry aspires to eliminate food insecurity for KSUMB students by providing readily available supplemental food before and after rehearsals, performances, and any other time that students need it. This will help ensure tat no student in our band program goes hungry because of a lack of income of access to food.

If you would like to donate to the Bad 'Cats Pantry, please consider using our Amazon Wishlist! As always, if you prefer to donate items in person for the Band 'Cats Pantry, you can deliver them to the Tracz Family Band Hall!

CLICK HERE to access the Band 'Cats Pantry Amazon Wishlist!
Tracz Family Brick Paver Sales NOW OPEN!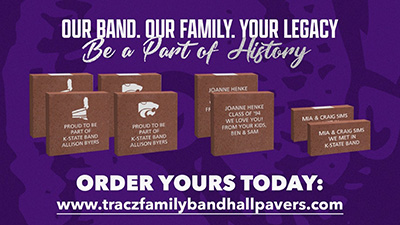 Back by popular demand, we've opened up the sales of brick pavers once again! These commemorative bricks are a great way to add your very own piece of history to the Tracz Family Band Hall! With your purchase, one brick will go in the brick walkway outside of the Tracz Family Band Hall, and you also get a replica brick to keep! To read more about this great opportunity and information on how to order your brick paver, click HERE!
Fall 2023 K-State Marching Band Information
Welcome to the K-State Band Family! We are excited and proud to have you join one or more of our great ensembles this coming Fall. If you have completed the "Prospective Member" form online you will be receiving a FEBRUARY SPRING NEWSLETTER which outlines what you need to be aware of for the next 6 months before Fall semester.

If you have NOT completed the "Prospective Members" form, CLICK HERE to complete it!
Click here to view the 2023 Februrary Tri-Fold Newsletter!
Click here to view the 2023 March Alumni Newsletter!

Click HERE to view the 2023 Summer Newsletter! This includes information about KSUMB leadership, the 2023 Fall Schedule, Secondary Uniform information and more!


Click HERE to register for the 2023 KSUMB!
2023 Important Dates
We have secured these dates for our annual Central States Marching Festival and Concert Band Clinic!

Central States Marching Festival - October 14th, 2023

Concert Band Clinic XXXI - January 19-21, 2024
Alumni Band Day/Band Director Day - September 9th, 2023
OFFICIAL TFBH GROUNDBREAKING CEREMONY - September 8th, 2023 at 3:30pm
Engineering Students Have Rhythm
"The Kansas State University Marching Band, known as the Pride of Wildcat Land, has always seen its fair share of students from the Carl R. Ice College of Engineering among its ranks. This year, a pair of engineering seniors are helping lead the band."
Click here for the full article featuring two of our drum majors, Gillian Falcon and Ben Murdock.
Noresident Tuition Discounts and Awards
Live out of state and want to join the K-State Band Program? Click here to learn more about the Wildcat Nonresident Award!
Come join the K-State Band Family!