Congratulations to the 2019-2020 Classy Cats!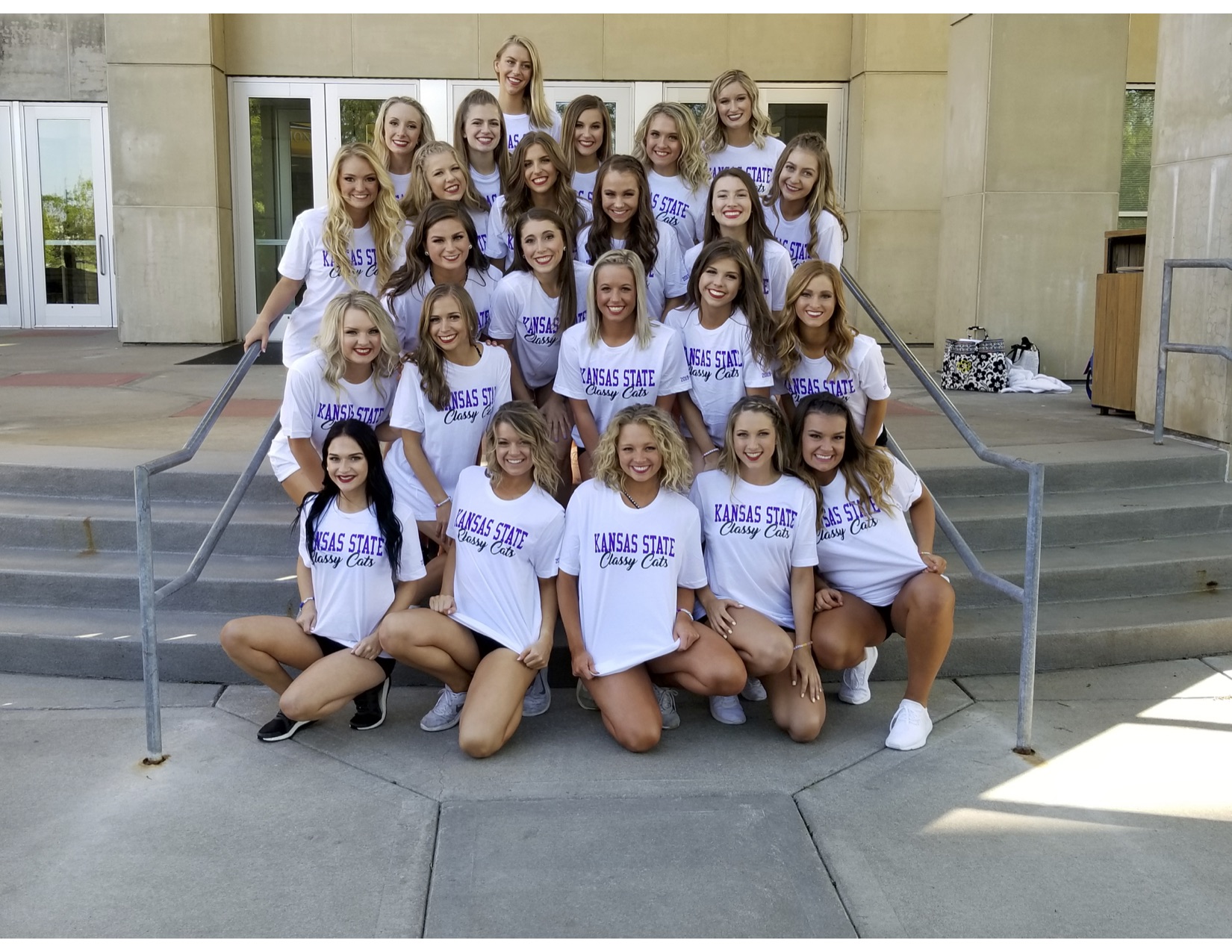 Brooke Allen, Samantha Anderson, Chloe Bartels, Emmy Bidnick, Grace Coleman, Katelyn Feist, Josi Frigon, Hunter Hansen, Kami Nickel, Maggie Kohlrus, Bailey Lincoln, Kelly Long, Emily McDonald, Mackenzie Nagel, Elleigh Peters, Caitlyn Rude, Layne Steffen, Ashton Thomas, Erica Transue, Kinsley Turner, Kia Warren, Grace Williams, Kaitlyn Woicke, Briana Wranosky
About The Classy Cats
The Kansas State University Classy Cats are part of the Kansas State University Marching Band (The Pride of Wildcat Land). They serve as ambassadors for Kansas State University and help promote spirit at athletic events including Football, Men's and Women's Basketball, and Volleyball. In addition, team members travel to post season football bowl games, Big 12 basketball tournaments, and NCAA/NIT tournament basketball games. You will also find the Classy Cats at many other events for the university and community.
The team enjoy meeting fans and love the opportunity to walk through tailgates before football games and participate in pep-bands all through Manhattan at special events and local businesses. The team encompasses the family atmosphere and shares their purple pride with everyone they meet.
"One of the few things I immediately loved about K-State was that it felt like home… Same thing goes for Classy Cats, at the first few summer practices there were so many smiles and helping hands around! Through the season, I met my best friends and got to cheer on the best school in the United States!!"- Kia Warren, sophomore, Vet
The Classy Cats practice year-round. Their hard work is matched with fun experiences and the opportunity to wear the Power-Cat uniforms on game day.
Classy Cat Auditions
Being a member of the Classy Cat Dance Team is an honor and a privilege that should be taken very seriously. We are looking for dancers who:
· have a great work ethic
· are fully committed
· have a "we" before "me" mentality
· are on time and prepared for the work they are doing
· dance full-out and with high performance quality/showmanship at all times
· perform consistently with energy, proper facial expressions, strong technique, musicality and solid style
· are team players interested in the overall success of the entire team, not just themselves or certain individuals
· are versatile, pick up material / adjust quickly and then can turn around and perform that material right away
· can be entertaining to a crowd of 54,000 + people
· are dedicated and committed to the goals of the Classy Cats, the Pride and Kansas State University
· are high level dancers who can execute consistently and with great technique / performance quality
· are professional at all times
· have good public speaking skills and ability to be an ambassador of the Classy Cats, the Pride and Kansas State University
· have high standards…in dance, academics, socially, in the community and as a person
· demonstrate potential to contribute and grow with the program
· will be positive role models of the Classy Cats, the Pride and Kansas State University.
2020-2021 AUDITION INFORMATION:
Pre-Audition Material Due Date: April 10, 2020
On Campus Audition Dates: May 1 and May 2, 2020
On Campus Audition Location: Chester E. Peters Recreation Complex
Click here to download the audition packet.
Click here to fill out the Classy Cat Audition Application.
Click here for the Coach / Teacher Evaluation.
Classy Cat Workshops

Click here to register.
WHO: All 8th grade to College dancers interested in trying out (now or in the future) for the KSU Classy Cats or ANY college dance team!
WHAT: An afternoon filled with technique, combinations, and helpful hints for college dance team tryouts
WHEN:
Saturday, February 8th, 2020
Saturday, March 7th, 2020
Saturday, April 18th, 2020
*Registration begins at 8:30 am
**All workshops will go from 9:00-12:00
WHERE: Chester E. Peters Recreational Center
COST: Each workshop is $20.00 per participant or $55.00 for all 3 workshops
*Workshop T-shirts are available to purchase for an additional $10.00
Don't miss out on this great opportunity! You will be working with current members of the KSU Classy Cats as you learn what it's like to be on a college dance team. You will find this workshop to be very beneficial, as you will receive one-on-one attention, with the opportunity to have all your questions answered! New and different material will be taught at each workshop, so you will find all workshops to be very valuable! We hope to see you there!
For more information e-mail Coach Heptig at saraheptig@gmail.com.
Walk-in registrations will be accepted at the door.
Please mail payment to:
KSU Classy Cats
Attn: Dance Workshop
KSUMB
226 McCain Auditorium
Manhattan, KS 66506
*Checks made payable to KSU Bands
**Include dancer's name in memo
Classy Cat Junior Clinic
Click here to register.
WHO: All dancers, grades K-9 (will be divided into age groupings)

WHAT: A fun-filled day of spirit and dance with the talented KSU Classy Cats, followed by a chance of a lifetime performance at the KSU vs. Texas Women's Basketball game at 2:00 PM.

WHEN: Sunday, January 19th, 2020

WHERE: Peters Rec Complex, 1831 Olympic Dr., Manhattan, KS 66506

COST: $25.00 per participant (price includes clinic, t-shirt, snacks and ticket for the game)

TIME:
8:30 AM - 9:00 AM: Registration
9:00 AM - 11:30 AM: Dance Clinic
11:30 AM: Junior Classy Cat Showcase at the Rec Center for Families and Friends
1:15 PM: Arrive at Bramlage Coliseum for Optional Basketball Game
2:00 PM: Optional Basketball Game and half-time performance

• Parents are invited back at 11:30 for special performance, featuring the KSU Classy Cats and all clinic participants.
• All participants are invited to dance with the KSU Classy Cats during half-time of the women's basketball game at 2:00.
• Participants will be admitted free to the basketball game.
• Family & friends have the option to purchase discount tickets.
PARTICIPANTS MUST PRE-REGISTER BY January 12th, 2020 to guarantee performance t-shirt at and opportunity to perform at Women's Basketball Game.
*Late Registration and Walk ins WILL be able to participate in the Clinic and Clinic Showcase. They will NOT be able to participate in the basketball game and will NOT receive a t-shirt.
For more information, e-mail Coach Heptig at saraheptig@gmail.com.
SEND PAYMENT TO:
KSU Classy Cats
Attn: Jr. Classy Cat Clinic
226 McCain Auditorium
Manhattan, KS 66506
*Checks made payable to KSU Bands
**Include participant's name in memo
COMING SOON:
For Families and Friends interested in purchasing discounted tickets to the KSU Women's Basketball Game vs Texas....
1. Visit www.kstatesports.com/grouptickets
2. Enter the promo code: (coming soon)
3. Click "Find Tickets"
4. Enter the quantity of tickets that you would like to purchase and click "Add to Cart"
5. Select Delivery Method and click Checkout.
The deadline to order tickets is Sunday, January 12th. If you have any questions about using the promo code please contact the K-State Ticket Office at 785-532-7606.
Classy Cat Social Media
Instagram: https://www.instagram.com/kstateclassycats/
Facebook: https://www.facebook.com/KStateClassyCats/
Twitter: https://twitter.com/KStateClassyCat
Youtube: https://www.youtube.com/channel/UCoFzl49fzGlQGNzeeNv8-1w