Classy Cats
2022 National Champions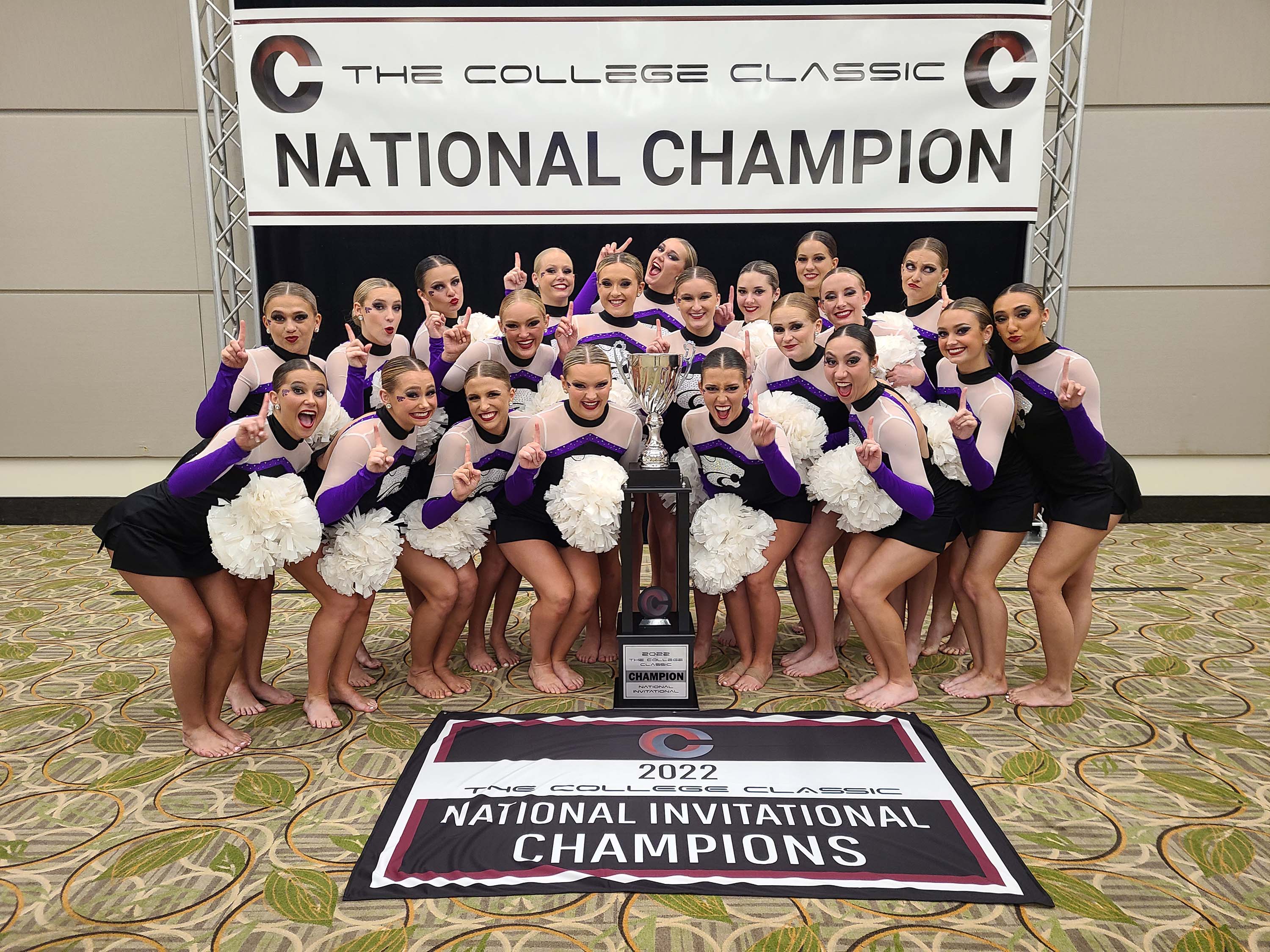 Congratulations to The K-State Classy Cats on their Division 1A National Championship at the College Classic National Invitational in Orlando, Florida this past April. The Classy Cats took first place in D1A Pom Division and fourth place in D1A Jazz Division. We are incredibly proud to call the K-State Classy Cats National Champions!
Thank you for your interest in the Kansas State Classy Cats. If you would like more information about the Classy Cats, please fill out this form.
The Kansas State University Classy Cats are part of the Kansas State University Marching Band (The Pride of Wildcat Land). They serve as ambassadors for Kansas State University and help promote spirit at athletic events including Football, Men's and Women's Basketball, and Volleyball. In addition, team members travel to post season football bowl games, Big 12 basketball tournaments, and NCAA/NIT tournament basketball games. You will also find the Classy Cats at many other events for the university and community.
The team enjoy meeting fans and love the opportunity to walk through tailgates before football games and participate in pep-bands all through Manhattan at special events and local businesses. The team encompasses the family atmosphere and shares their purple pride with everyone they meet.
"One of the few things I immediately loved about K-State was that it felt like home… Same thing goes for Classy Cats, at the first few summer practices there were so many smiles and helping hands around! Through the season, I met my best friends and got to cheer on the best school in the United States!!"- Kia Warren, sophomore, Vet
The Classy Cats practice year-round. Their hard work is matched with fun experiences and the opportunity to wear the Power-Cat uniforms on game day.
Classy Cat Auditions
If you are interested in auditioning for the 2023 Kansas State Classy Cats, e-mail Coach Heptig at ksuclassycats@gmail.com for an audition packet with more details!
2023 AUDITION WORKSHOPSJanuary 28th February 26th
2023 AUDITIONSApril 28th - 30th
Classy Cat Social Media
LinkTree: https://linktr.ee/KStateClassyCats

Instagram: https://www.instagram.com/kstateclassycats/
Facebook: https://www.facebook.com/KStateClassyCats/
Twitter: https://twitter.com/KStateClassyCat
Youtube: https://www.youtube.com/channel/UCoFzl49fzGlQGNzeeNv8-1w
Contact Us
For more information about the Kansas State Classy Cats, e-mail Sara Heptig at ksuclassycats@gmail.com