2014 - 2015
Special Announcement: New Secondary Uniforms for 2015
May 7, 2015
The KSUMB would like to announce that we are all getting new secondary uniforms next year. Every four or five years, we have to re-do the secondary design due to changing materials and updating designs. It is always exciting to update the 'look' and now is the perfect time. Every member (Vet and Rookie) of the 2015 KSUMB will have to purchase new secondary shirts and shorts. The shirts feature the Sudler Trophy design and the shorts feature updated styling with pockets! Check your Summer Newsletter (coming soon to your mailbox) for ordering information.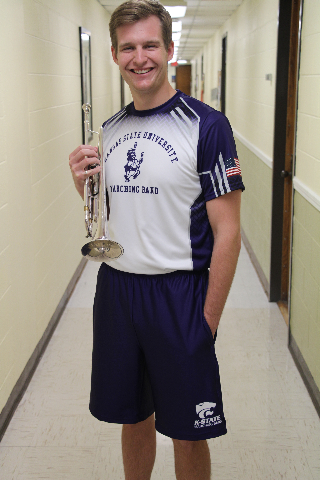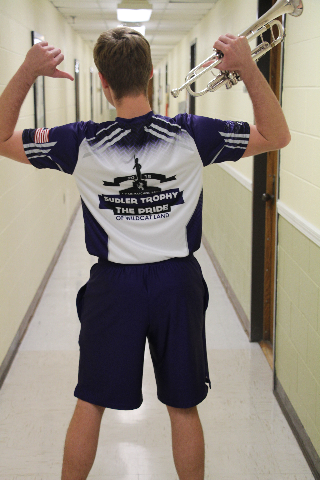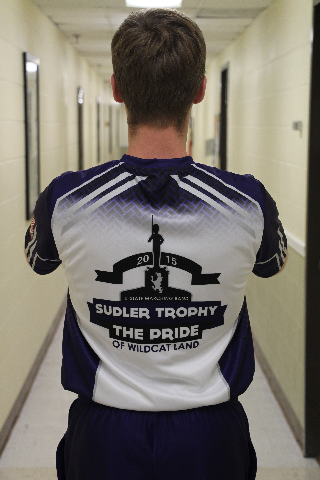 Come Support K-State Band Student Scholarships and Red Skelton's Marching Pride Scholars Program by Sponsoring a Hole in This Summer's K-State Band MPS Golf Tournament.
This is a great day of golf for all ability levels held at Manhattan's Colbert Hills Golf Course on June 19th. We are currently looking for businesses and individuals to sponsor golf holes and carts. We are also looking for players! All donations go directly to the MPS student scholarship fund! If your business can sponsor a hole, please let us know!
http://www.k-state.edu/band/specialevents/golf.html
Dr. Tracz Inducted into Phi Kappa Phi
April 28, 2015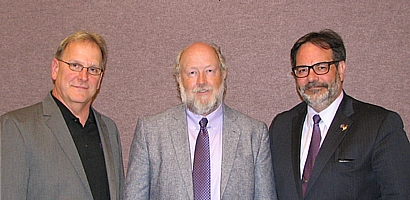 Dr. Frank Tracz, Director of Bands at K-State, was inducted this month into the prestigious honor society, Phi Kappa Phi. The mission of Phi Kappa Phi, which was founded in 1897, is to recognize and promote academic excellence in all fields of higher education. The Kansas State University chapter, the fourteenth to be organized, was established and formally installed on November 15, 1915. Membership in the Honor Society of Phi Kappa Phi is by invitation and requires nomination and approval by a chapter. Faculty, professional staff, and alumni who have achieved scholarly distinction are eligible for initiation.
Congratulations, Ashley!
Congratulations to Ash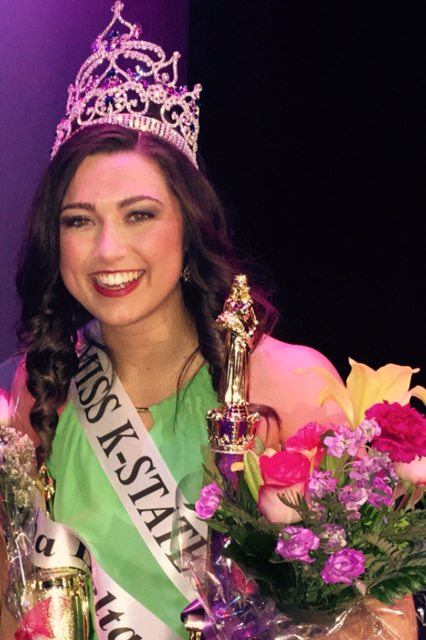 ley Wilmoth, Classy Cat in the KSU Marching Band, on being named the 2015-2016 Miss K-State!
Congrats to All Our Students Who Have Landed Jobs and Assistantships:
Brett Eichman - Shawnee Mission Northwest
Weston Cook - Washburn Rural
Jacob Miller - Dodge City
Chris Johnson - El Dorado
Emily Roth - Nebraska City
Michael Meier - Assistantship, KSU
Melissa Askren - Blue Valley North West
Deborah Caldwell - Fellowship, Georgia
Chris Miertschin - Assistantship, Georgia
Chelsea White - Assistantship, Florida State
Heather Gering - Assistantship, New Mexico
Jordan Parker - KU Medical
Katie Daniels - KU Law
Wildcats Take Manhattan
April 14, 2015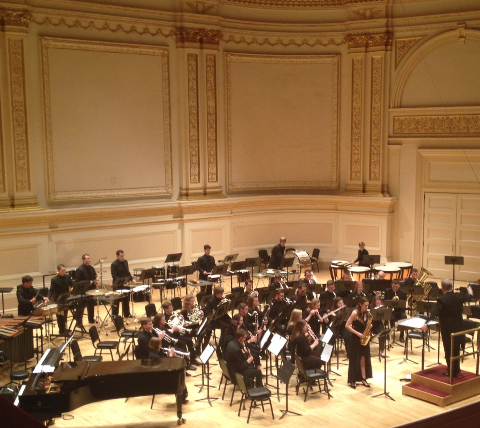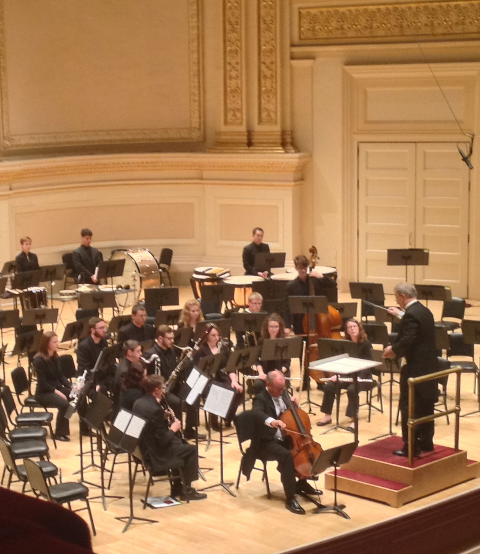 The Wind Ensemble had an amazing trip to the Big Apple and had the experience of a lifetime performing on one of the world's greatest stages. On April 7th, the K-State Wind Ensemble presented the works of Holst, Maslanka, Marquez, Richards, and Stravinsky in Stern Auditorium at Carnegie Hall. The concert was presented as the showcase performance of the New York International Music Festival. The band also performed on April 6th in Central Park at the famous Naumberg Band Shell to a very enthusiastic New York audience. The trip was a valuable learning and performance experience for the group and everyone left the city inspired and proud of what they had accomplished. We would like to take the opportunity to thank all who made this trip possible and the many family members who made the trip to see their loved ones perform in such a unique and wonderful environment.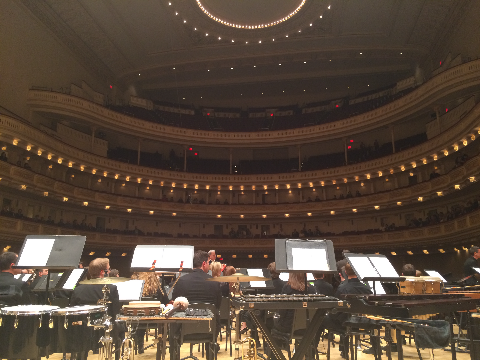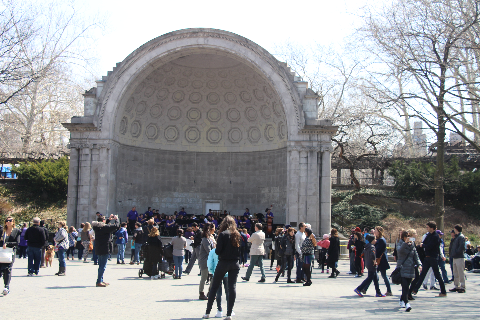 K-State Band Students and Staff Travel to Midwest Clinic in Chicago
December 21, 2014
The K-State band faculty, graduate assistants, and undergraduate staff traveled to the Midwest Clinic in Chicago, IL, to represent Kansas State University Bands, and to attend numerous clinics and concerts. The band staff provided a recruiting presence at the international conference that attracts musicians, educators, and top lecturers from the U.S. and abroad. In addition, the K-State Marching Band, along with directors Dr. Frank Tracz and Mr. Don Linn, was awarded the 2015 Sudler Trophy, an award given every two years to a marching band that has shown consistent exemplary performance. The trophy announcement was made at a ceremony for the John Philip Sousa Foundation, the presenting foundation for the award.
"For the past 66 years, musicians and educators of all skill levels have gathered in Chicago for the largest music conference of its kind. The Midwest Clinic International Band, Orchestra and Music Conference offers guests an array of clinics and exhibits as well as access to music and teaching icons while also focusing on industry trends and future topics in music education and business. With more than 17,000 attendees from all 50 states and more than 30 countries, The Midwest Clinic offers musicians and educators an unmatched networking opportunity." - Midwest Clinic website
Assistant Drum Major Receives the Tau Beta Sigma National Scholarship for Outstanding Student Leaders for 2013-2014!
August 9, 2014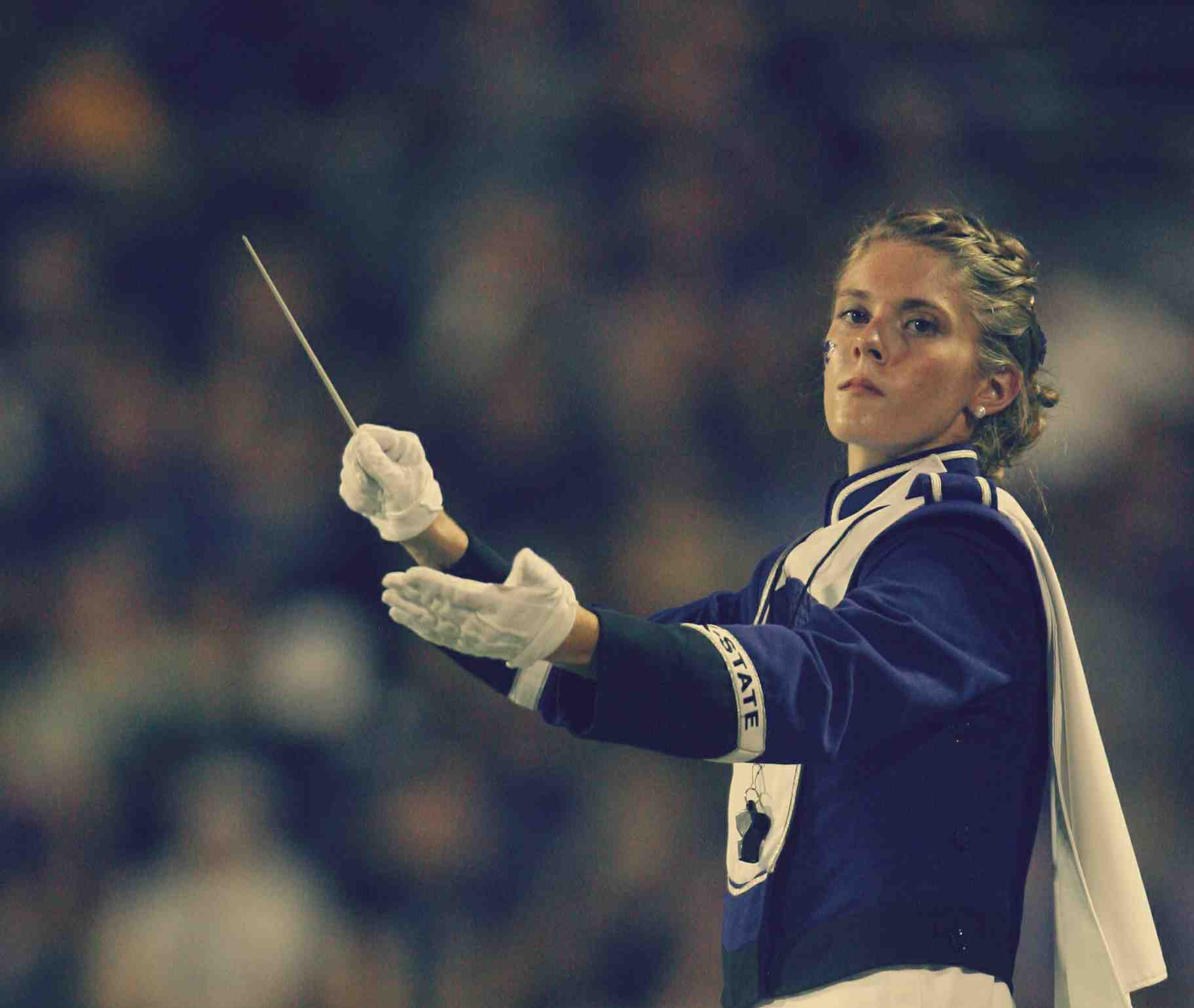 Congratulations to our own Jordan Parker for being the Tau Beta Sigma National Scholarship for Outstanding Student Leaders for 2013-2014! This award honors active members who have distinguished themselves as outstanding student leaders of Tau Beta Sigma, their band, their campus, and in academics. Recipients are awarded $750 and receive a plaque of recognition. Read a little bit about Jordan Parker below.

Jordan Parker is a senior in Pre-Medicine, Biology, and Gerontology. She became a sister in Tau Beta Sigma in the fall of 2011, and has served as both treasurer and president of the organization over the past three years. Jordan also is also the Pride Store Administrator (online KSUMB retail store ran by Kappa Kappa Psi and Tau Beta Sigma).

Outside of TBS, Jordan is a drum major for the KSUMB, an instructor of the university's cadaver dissection team, a mentor for KAWSE (K-State Office for the Advancement of Women in Science and Engineering), and works as a certified nursing assistant at a local healthcare facility. Additionally, Jordan is an undergraduate researcher in a laboratory on campus, in which she is currently investigating ischemia and reperfusion in mice.

Next year, Jordan plans to attend medical school, after which she hopes to open her own practice to treat patients, and continue to research diseases. In particular, she hopes to inspire young women to pursue their passions, no matter the field, and encourage them to never give up the joys that music can provide!

Congratulations again, Jordan, for receiving this prestigious scholarship!
2014 K-State Music Camp a Success!
June 13, 2014
The 2014 edition of the K-State Summer Music Camp was an incredible musical experience for the 140 campers participating. The guest conductors for the camp were Dr. Larry Blocher from Troy University and Dr. Jay Gilbert from Doane College. Campers participated in two large bands, various chamber ensembles, jazz bands, and sectionals. The campers, aged 5th - 12th grade, got a taste of college life at K-State by living in the dorms, eating in the dining halls, and attending rehearsals in McCain Auditorium. The brilliant music camp staff was comprised of former and current graduate students, Kansas band directors, recent alumni, and current K-State band leadership. The 2015 Music Camp will be held June 15th - 18th and registration will be coming soon!