K-State Color Guard
Congratulations to our 2019-2020 Color Guard! We can't wait to see this team take the field this fall!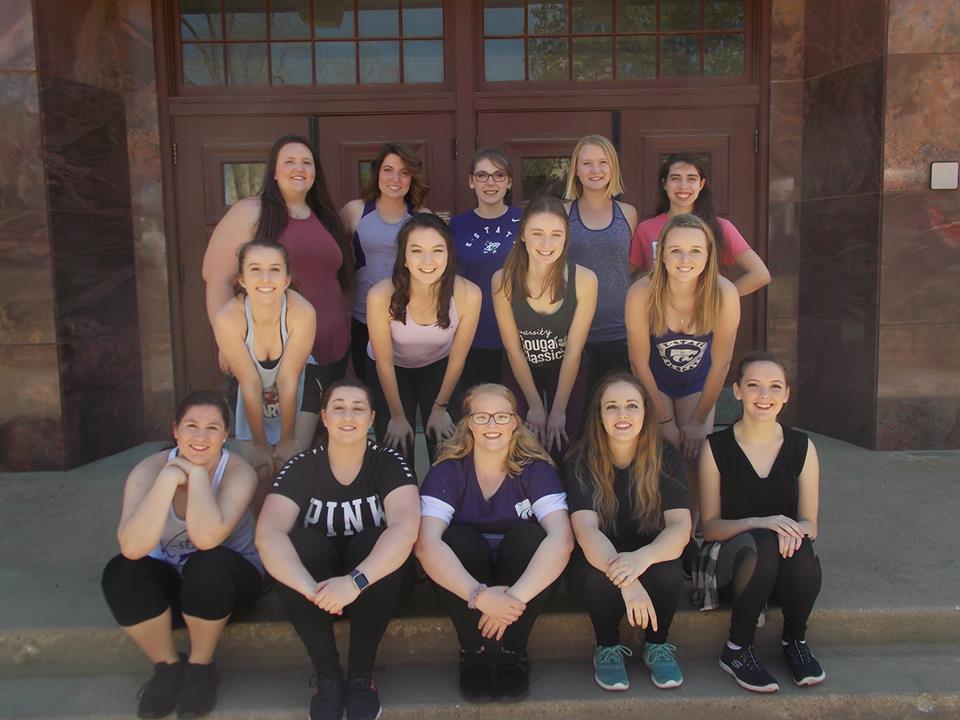 Zoey Dutcher, Grace Harms, Chandreah Hime, Hannah Kochevar, Maddie Lane, Sadie Lucier, Maggie Miksch, Madeline Myrick, Amber Montgomery, Julia Ott, Ellen Reardon, Rylie Toom, and Jessica Wheat
---
UNIFORMS:
The K-State Marching Band will provide Color Guard primary performance uniforms.
Color Guard members must purchase: Secondary uniforms to include but not limited to:shoes, shorts, t-shirt, long-sleeved cold weather top, wind pants, wind jacket, winter jacket, short black socks, long black socks, hair accessories, performance makeup. (An order form will be sent out after auditions and additional items will be specified. First year member's secondary uniform cost is approximately $350 based on last season.)
ATTENDANCE:
All Color Guard members will attend all summer camps, regular rehearsals, performances and parades. New members will be required to attend a weekend clinic during the summer to learn pre-game routines. As members of the band, the Color Guard will perform at all marching band functions unless determined otherwise by the Director of Bands and Color Guard Coordinator.
---
SCHEDULE (Required Events):
April 27th, 2019 Audition for 2019 team 11:30am-5pm
July 20 Rookie Camp 12:00pm - 8:00pm
July 21 Rookie Camp 8:00am - 3:00pm
August 17 Team Camp 12:00pm - 8:00pm
Week of August 20, 2019 Band Camp 9:00am every day
Aug 29, Aug 30, 2019 Purple Power Play TBA (evening)
August 31 vs. Nicholls State (Band Director Day, All-Star Marching Band, Alumni Day)
September 7 vs. Bowling Green
September 28 Central States Marching Festival
October 5 vs. Baylor
October 19 vs. TCU
October 25 Homecoming Parade
October 26 vs. Oklahoma
November 2 travel to Lawrence, KS for KU game
November 16 vs. West Virginia
November 30 vs. Iowa State
December 1 Marching Band Concert
December 15 Band Banquet
TBA Holiday Parade
TBA Bowl Game
WEEKLY REHEARSAL SCHEDULE:
Monday (sectionals) 6pm-9:00pm
Tuesday (full band rehearsal) 3:30pm-5:20pm
Wednesday No Rehearsal
Thursday (full band rehearsal; sectionals) 3:30-5:20pm; 5:30-6:30pm
Friday (tentative rehearsal--performance weeks only) 3:30pm-5:20pm
Saturday (performance) Average call time ranges from 6-8 hours prior to kick-off; determined by Director of Bands.
Please plan your fall class schedule around this rehearsal schedule!
Follow Us on Facebook @K-State Color Guard
Snapchat: ksumbcg
Thank you for your interest in the Kansas State University Pride of Wildcat Land!
Questions? Need more information?
Contact Dr. Tracz at ftracz@ksu.edu
or call the Band Office 785-532-3816