2022-23 Leadership

2022 Important Information
Course Enrollment Information:
All marching band members must be enrolled (listings below) for "zero" or "one" credit by Monday, August 22.
MUSIC 115 (freshman)
MUSIC 411 (upperclassman)
MUSIC 846 (graduate student)
Course override informaiton can found using this link.
Band Camp:
Attendance at all Band Camp activites is required by all members.
| | |
| --- | --- |
| August 12-13 | Leadership Team Camp |
| August 14 | New Members Report |
| August 15 | Veteran Members Report |
| August 16-21 | Band Camp Continues with All Members |
2022 Fall Events
Save the date for our upcoming 2022 Fall Events! More information will be communicated soon via this website and on our social media pages!
August 12-13

KSUMB Leadership Team Camp

August 14-21

KSMB Band Camp

Sepetmber 3 vs. South Dakota

Ring of Honor
September 10 vs. Missouri
All-Star Marching Band Day/Band Director Day
September 17 vs. Tulane
Ft. Riley Day
October 1 vs. Texas Tech
October 22
Central States Marching Festival
October 29 vs. Oklahoma State
Homecoming
November 5 vs Texas
Instrument Day/Harley Day
November 26 vs Kansas
Senior Day
November 27

KKY/TBS Family Luncheon
KSUMB Concert (Ahearn)
Kansas State University Marching Band
Welcome, and thank you for your interest in the Pride of Wildcat Land. Located at Kansas State University in Manhattan, Kansas, the 400+ member "Pride" performs at K-State Wildcat football games in the fall and represents Kansas State University at many other events. These events include bowl games and pep rallies as well as administrative, Alumni, and Foundation functions.
The K-State Marching Band is under the direction of Dr. Frank Tracz, Director of Bands, and Dr. Alex Wimmer, Assistant Director of Bands.
If you are a prospective student and are interested in obtaining more information about our band program and scholarship information, please click on the "Sign up Now" button to the left, to complete a Prospective Form. This form does not obligate you to K-State nor our program. From this form we are able to send you important information to help you make an informed decision.
Please explore the links to the left to learn more about our history, songs, traditions, personnel, organizations, and other resources of the Kansas State University Marching Band. If you are prospective band member and would like more information complete our online prospective member form, call us at 785-532-3816, or schedule a campus visit!


KSUMB Members Awarded At End-of-Year Concert
KSUMB students were selected for two different awards during the 2022 Pride of Wildcatland Marching Band Concert in Aheard Fieldhouse. The two awards that were given out were the Rod Funk Award and the Most Inspirational Award.
KSU Classy Cats are National Champions
Congratulations to the K-State Classy Cats on their Division 1A National Championship at the College Classic National Invitational in Orlando, Florida this past April. The Classy Cats took first place in D1A Pom Division and fourth place in D1A Jazz Division. We are incredibly proud to call the K-State Classy Cats National Champions!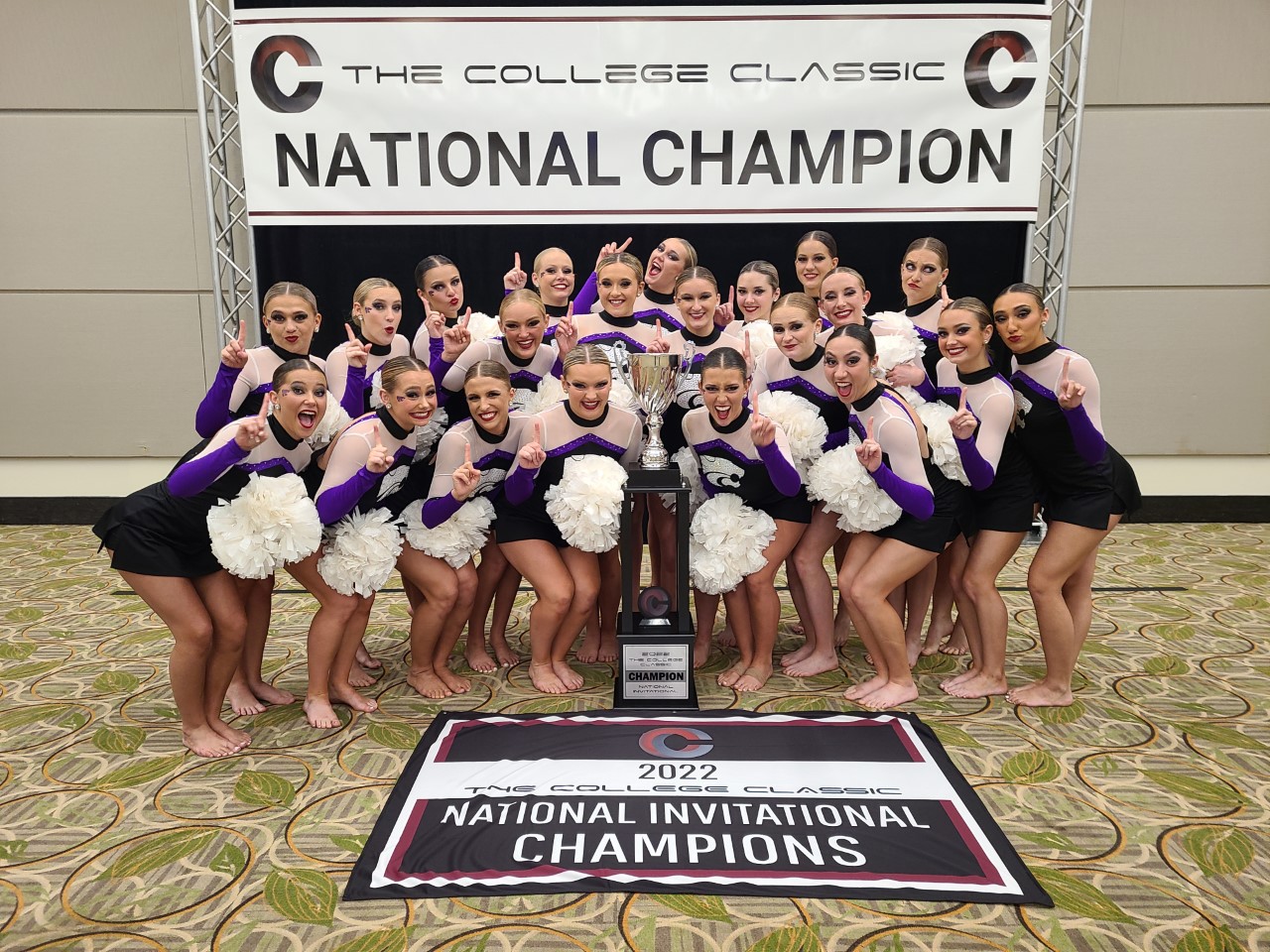 Twirler to Compete at World Twirling Championship
Congrats to our very own Balie Walke, K-State Feature Twirler, for being invitied to compete in the International Baton Twirling Federation's World Baton Twirling Championship in Liverpool, England! Click here to read more about this amazing opportunity for Baliey!!
KSU Twirlers Compete at College Twirler Nationals
CONGRATULATIONS to BAILEY WALKE, our K-State Feature Twirler, and LAUREN BIRSCHBACH, our Wildcat Twirler for their impressive performances at the COLLEGE TWIRLER NATIONALS this summer! There were over 100 Universities competing with over 1900 twirlers in competition, and over 100 of them at the University level.
Here is how they did:
Congrats
to Bailey and Lauren!
Lauren: Beginner 3-Baton 2nd Place, and her team from Wisconsin got 2nd place in their Production Routine. Bailey: Advanced World Open 1-Baton Solo - 4th Place, Advanced World Open 3-Baton - 3rd Place, Twirl-off Finalist: 1-Baton Solo and 3-Baton.
KSUMB Students Awarded at Concert
Congratulations to these hard working and inspirational students that were awarded at the 2022 Kansas State University Marching Band Concert in Ahearn Fieldhouse!

The Rod Funk Award recipients for 2022 are Blake Davis, Porter Herold, Josh Murdock and Brooke Prockish. The "Most Inspirational" Award recipients for 2022 are Daniel Smith and Josh Diazdeleon!


KSUMB Brings Purple Passion to Marysville, Kansas
During the week of band camp on August 19th, the KSUMB travelled to Marysville, Kansas and the Landoll Family Sports Complex to give an all-day clinic on all things band! The KSUMB gave a rehearsal clinic, broke down into sectionals, worked with area high school students on music, and gave a final performance later in the evening to the Marysville community! A special thank you to the Marshall County Arts Cooperative, United Bank and Trust, Blue Valley Technologies, Pony Express Catbackers, Marysville Community Foundation, USD 364 Foundation, Marysville High School, the Landoll family, and the Marysville community for giving us this great opportunity!