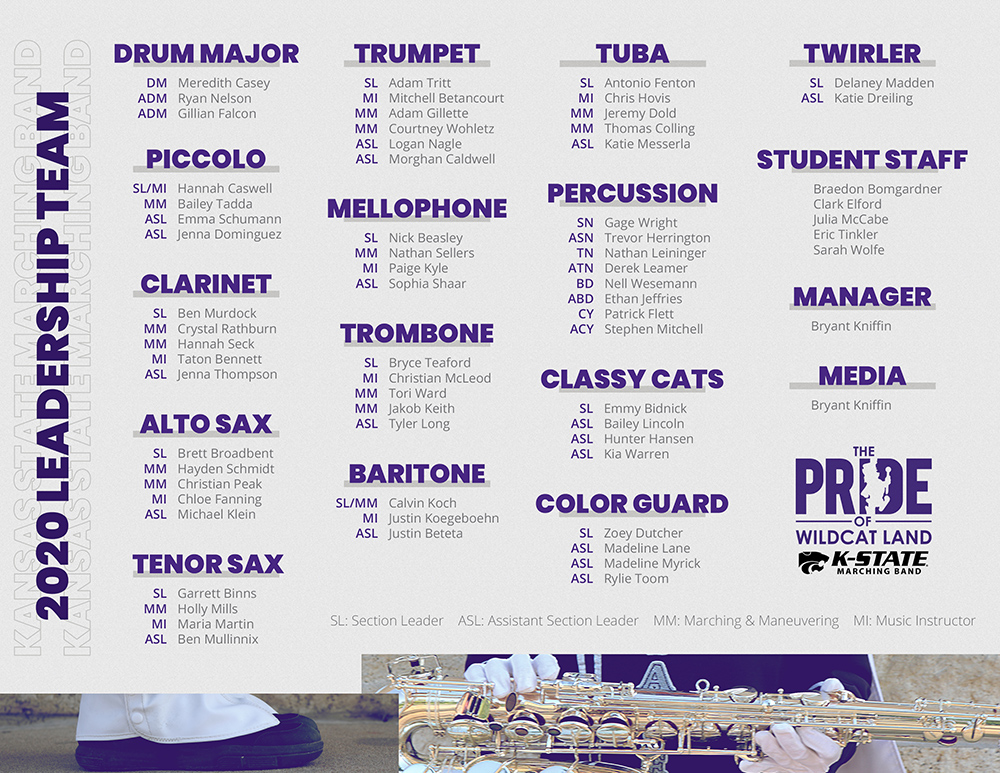 Join the Pride
For all the returning members and incoming freshmen looking to be part of the 2020-2021 Pride of Wildcat Land, please click HERE and fill out the confirmation form. We will send out more information and updates in the following weeks. We are looking forward to another incredible season!
Go Cats and Go Band!!!
Memorial Field Facelift!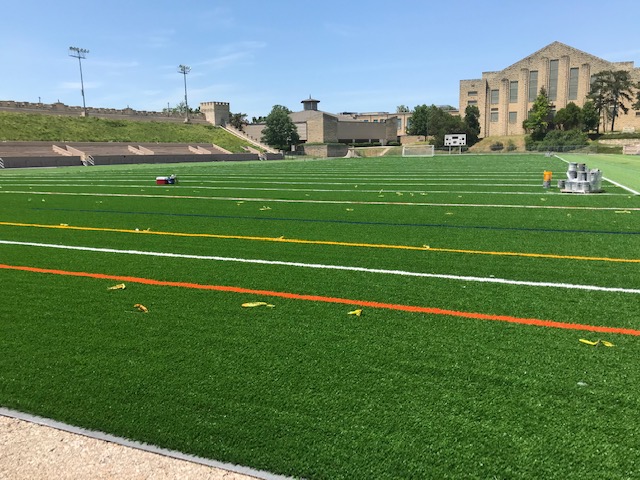 Facebook Live from Dr. Tracz's Backyard!
Join Dr. Tracz from 5:00-5:30pm on select Sunday evenings this summer to discuss all things Kansas State University Marching Band! From completing to your confirmation form, to Live Q&A, to special guests, you find it all HERE on the select Sunday evenings below!
Sunday, June 7, 2020
Sunday, June 28, 2020
Sunday, July 12, 2020
Sunday, July 26, 2020
Sunday, August 2, 2020
Sunday, August 9, 2020
2020 Newsletter Update
Good afternoon past, current, and future members/supporters of The Pride of Wildcat Land!

We hope you are all staying healthy and have adjusted to the current circumstances the COVID-19 pandemic has presented. The Band Staff and I are diligently working to continue "business as usual" so that all things "Purple are ready to roll"!

In light of the procedures put in place to keep everyone safe, we will be sending out our spring and summer newsletters via email and post them on our website. If you would like a physical copied mailed to you, please email Dr. Tracz (ftracz@ksu.edu) and we will send you a copy once the university returns to "normal" modes of operation. We will of course keep you posted with updates on our website, via email, and on our social media pages.

Until then, we hope you keep busy making progress on whatever your focus is right now. Sooner than you know it, we will no longer be distant but social in all things school, sports, and BAND! Hang tuff and we will get through this TOGETHER!

Go Cats and Go Band!!!

DT
2020 Spring Student Newsletter
Fall 2020 KSUMB Schedule-Save the Date!
Save The Dates! - Fall 2020 KSUMB Events
Our fall 2020 marching band events have been finalized! Please save the dates and we will let you know when more information/registrations are available
Sept. 5 – K-State vs. Buffalo
Sept. 12 – K-State vs. North Dakota - Band Director Day, All Star Marching Band Day
Sept. 19 – K-State vs. Vanderbilt - Fort Riley Day
Oct. 3 – K-State vs. Texas - Harley Day
Oct. 10 – K-State vs. KU - Homecoming
Oct. 17 – Central States Marching Festival
Nov. 7 – K-State vs. Texas Tech
Nov. 21 – K-State vs. Oklahoma State - Senior Day
Nov. 22 – KSUMB Luncheon and Concert
Dec. 13 – KSUMB Band Banquet
Say Hello to Red Skelton!
"Those of us that have been around the K-State Band for a few years will certainly know the name Red Skelton. Red was the founding father of the Marching Pride Scholars program where all Junior and Senior members of the Marching Band receive a $500 scholarship to play in the band. Red came to me one day many years ago and asked what "we" could do to help the band. I told him "we" needed scholarship help for those older members to keep them in the band. He went to work and rounded up his friends and the "Marching Pride Scholars" were born! We have all been blessed by Red's generosity and friendship and it would be great if you could all send him a card with some of your best "Red Skelton" memories and/or just say "thank you" and "hello." He is residing in a Memory Assisted Living facility in Wichita and would love to hear from you! I visit him as often as I can, and I spent some time with him a couple days ago and he spent a couple hours talking about "the best days of his life" with the K-State Band! Red Skelton is a good man and a great K-Stater. Drop him a line!" ~ Dr. Frank Tracz
Red Skelton
Memory Care
1859 N. Webb Rd.
Wichita, KS 67206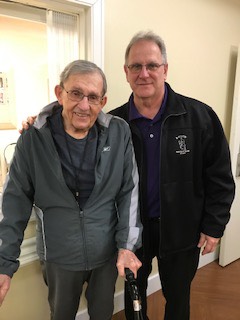 New Glowlogos for The Pride
Checkout this this link for the NEW light-up license plates for your car. Click HERE!!!
Kansas State University Marching Band
Welcome, and thank you for your interest in the Pride of Wildcat Land. Located at Kansas State University in Manhattan, Kansas, the 400+ member "Pride" performs at K-State Wildcat football games in the fall and represents Kansas State University at many other events. These events include bowl games and pep rallies as well as administrative, Alumni, and Foundation functions.
The K-State Marching Band is under the direction of Dr. Frank Tracz, Director of Bands, and Dr. Alex Wimmer, Assistant Director of Bands.
If you are a prospective student and are interested in obtaining more information about our band program and scholarship information, please click on the "Sign up Now" button to the left, to complete a Prospective Form. This form does not obligate you to K-State nor our program. From this form we are able to send you important information to help you make an informed decision.
Please explore the links to the left to learn more about our history, songs, traditions, personnel, organizations, and other resources of the Kansas State University Marching Band. If you are prospective band member and would like more information complete our online prospective member form, call us at 785-532-3816, or schedule a campus visit!