Kansas State Wind Ensemble
The K-State Wind Ensemble, directed by Dr. Frank Tracz, performs the finest original works and transcriptions for concert band and wind ensemble. As the premier concert ensemble at K-State, the Wind Ensemble regularly travels to perform at regional, state, national and international concert venues.
Fall 2021 Concert Ensemble Audition Information
Please sign up for an audition time on the bulletin board outside the Band Office (McCain 226) ONLY USING YOUR WID NUMBER. Auditions will take place Monday, August 23rd from 3:30-5:30pm. Please arrive early to your audition with everything you need prior to your audition (warmed-up, instrument assembled, audition music in hand, etc.)
Audition results will be posted by 3:30pm on Wednesday, August 25th outside of the Band Office. Folders can be picked up at that time and ensemble rehearsals will begin on Monday, August 30th.
Concert Ensemble Audition Schedule | Monday, August 23, 2021

Time:

Instrument:

Location:

2:30-4:30pm

Flute

McCain 132-Dr. White's Office

3:30-5:30pm

Oboe

McCain 017-Dr. Morris' Office

Clarinet

McCain 310-Dr. Guffey's Office

Bassoon

McCain 126-Dr. Maxwell's Office

Saxophone

McCain 131-Dr. Wytko's Office

Trumpet

McCain 223-Dr. Kilgore's Office

Horn

McCain 018-Conference Room

Trombone

McCain 124-Dr. Hunt's Office

Euphonium/Tuba

McCain 005-Dr. Maxwell's Office

*Percussion – Contact Dr. Gartner about auditions on Sunday, August 22, 2021
2021 Outstanding Musician Award Winners
This year 4 musicians have received the Outstanding Musician Award. Congratulations to Thomas Denk, Nosara Vargas-Gamboa, Meredith Casey, and Ryan Nelson!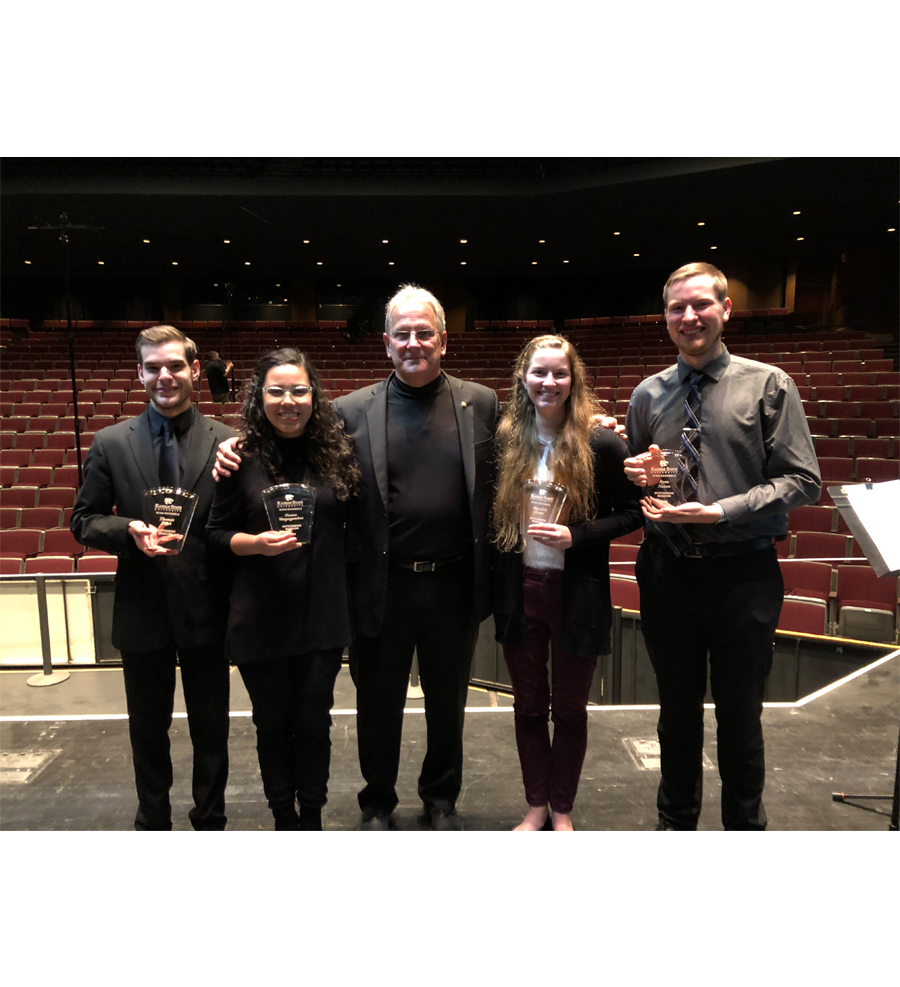 Side by Side Concerts
Each Spring semester, the K-State Wind Ensemble & Concert Band host a middle school and/or high school band to pair up for a concert in McCain Auditorium. This unique opportunity allows these young students a performance opportunity in a professional setting and to observe one of the top two concert ensembles on the K-State campus.
In Spring of 2020, we will have two high schools joining our Wind Ensemble. Derby High School will be performing on the March 4th concert. Rossville High School will be performing on the April 26th concert.
Participants have included:
Blue Valley Northwest High School, Adam Lundine and Melissa Askren
St. Charles East High School, Jim Kull
Rock Creek High School, Scott Bradley
Blue Valley Northwest High School, John Selzer
Blue Valley West High School, Daneil Kirk
Seaman High School, Cary Stahly
Salina South High School, Jared Rawlings
Manhattan Middle School, Scott Freeby
Manhattan High School, Rod Mangus
Maize High School, Jerry Stone
Buhler High School, Eric Stambaugh
St. Marys School, Warren Sikel
Highand Park High School, Luke Chaffee
Louisburg High School, John Cissitti
Riley County Schools, Joel Nagley
Marion High School, Mike Connell
Junction City High School, T.J. Taylor
Cowley College, Gary Gackstetter
Lansing High School, Luke Johnson (with Symphony Band)
Smokey Valley High School, Shawn Knopp (with Concert Band)
Manhattan Catholic Schools, Kim Thomas (with Symphony Band)
McPherson High School, Kyle Hopkins (with Concert Band)
Goessel High School, Mike Connell, director (with Symphony Band)
Arkansas City High School, Chris VanGilder, director (with Concert Band)
Goddard High School Marla Webber, director (with Symphony Band)
Clay Center High School, Matt Bradford (with Concert Band)
Rock Creek High School, Scott Bradley (with Concert Band)
Washburn-Rural High School, Luke Chaffe (with Wind Ensemble)
Haven High School (with Wind Ensemble