Prospective Members
Thank you for your interest in the Kansas State University Bands or Auxiliaries.
We are very pleased to be a part of your planning for college. We are
confident that you won't find a better place in the country to be a student,
as well as a part of an organization such as we have in the K-State Bands.
While K-State is a large enough institution that the resources and opportunities available to you are second to none, we are still small enough that you will certainly be an integral and familiar part of the complete Wildcat family. The experiences you will have, and the people you will meet on this campus are undoubtedly of the highest caliber and the decision to come to Kansas State and be a part of the bands will be one that you will not regret.
The first step in obtaining information on becoming a part of the K-State Bands is to complete and submit one of our Prospective Band Member forms, which can be done either online, by following the previous link, or in hard copy by contacting us directly through one of the methods listed below. Prospective Color Guard and Classy Cat members should also complete this form.
When completing the prospective form, please check ALL areas of possible interest. This commits you to absolutely nothing, but simply gives us a better idea of who you are.
Once we've received your information we will add you to our database and you will then begin receiving our mailings and newsletters, which will keep you informed about everything from schedules, upcoming events, music, camps, and audition expectations. Auxiliary auditions for Classy Cats, Color Guard, and Twirlers are held every Spring in April. You can follow the appropriate links to see schedules, information, and requirements for the squad that you are interested in.
From there, we hope you will remain in touch with us so that when the time comes, we can help you become a part of the KSU Bands and the K-State community.
Please contact us at:
K-State Bands
226 McCain Auditorium
Manhattan, KS 66506
(785) 532-3816
fax: (785) 532-3817
e-mail: ftracz@ksu.edu
Welcome from K-State President, General Richard Myers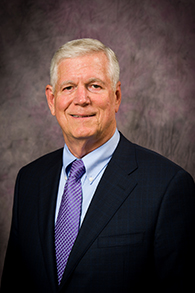 Dear Prospective K-Stater:
As you visit colleges and universities across the state of Kansas, you will certainly be gathering many facts and figures. As Interim President of Kansas State University, I am very proud of our outstanding academic accomplishments and program offerings and I am equally pleased with the excellence of K-State's University Bands.
From the Sudler Trophy Award winning marching band, to the nationally recognized Wind Ensemble, I encourage you to get involved in this outstanding band program. The staff and students of the band program are the best and brightest and augment their experience through fantastic musical experiences. Travel, guest artists, and much more await you as a member of this band program.
I encourage you to join over 1,000 student musicians in all walks of academic life in the joy and satisfaction of great music making. Whether its on the football field or McCain Auditorium, there is no better place to play your instrument. I hope that you will want to become part of a great K-State tradition.
Sincerely,
Gen. Richard B. Myers, Interim President
Kansas State University
Welcome from K-State Bands
Dear Prospective K-Stater:
Thank you for your interest in the KSU Band Program. Let us say now that we are also very interested in you! Once you submit a Prospective KSU Band Member form we will place your name on our mailing list and you will begin receiving all mailings pertaining to University Band activities at your home address until you arrive on campus. At that time, please let us know your university address so we can stay in contact!
If you express interest in the Marching Band, there is an audition. Classy Cat, Color Guard, and Twirler auditions will occur in April and Drumline auditions will occur in June. All other instruments will audition during the first two days of band camp. Assessment of individuals' playing, for the sake of part assignments, and marching, for the sake of squad assignments, is done by the KSUMB section leaders and staff during the preseason camp in the days leading up to the beginning of the Fall semester. Maximum effort, total involvement, and dedication to excellence are the primary requirements. In addition, if you are new to the KSU campus, we will have the opportunity at this time of helping you get settled, oriented, and introduced to many great people and resources at K-State!
If you are interested in playing in a concert band you will need to prepare audition material to be performed during the first 2-3 days of Fall classes. Please prepare a short lyrical example which best displays your musicality and a faster example to display your technical abilities. Audition sign up times, registration procedures, and the rehearsal and concert schedules will be posted on the bulletin board outside the Band Office (room 226 in McCain Auditorium) during orientation, so check as soon as you arrive on campus. These ensembles are outstanding and competitive groups aimed at the performance of the finest in wind literature, and we are looking for select groups of the best players (both music majors AND non-majors) on campus. The Wind Ensemble performs not only selected band works, but "one-to-a-part" chamber works written specifically for winds and percussion. The Wind Ensemble, Wind Symphony, and Concert Band meet in the Fall and the Spring semesters.
The University Band is a non-auditioned concert band open to both music majors and non-music majors. It offers an opportunity to perform outstanding large band works. The University Band meets during the second semester. Prior to the Christmas vacation, look for Concert Band information (rehearsal times, registration, and procedures), posted on the bulletin board outside Room 226 in McCain.
The Volleyball Band and Basketball "Catbands" are groups that meet during their respective seasons. The volleyball band is a select group of 13-15 players who are scholarshipped to provide the spark and excitement that makes the atmosphere at Ahearn Gymnasium truly magical. These same players also serve as the Aggieville Pep Band on Friday evenings before home games, stirring up the Wildcat faithful in preparation for gameday madness. The Basketball "Catbands" perform at all K-State home men's and women's basketball games and are an integral part of the crowd and spirit at Bramlage Coliseum. The Catband also travels with the teams for all postseason tournament action. Information will be posted outside Rooms 226 and 201 in McCain, mid-Fall semester. You need NOT be a member of the Marching Band to audition for the "'Cat Band."
We encourage you to complete one of our Prospective Band Member forms. You can do so either online, by following the previous link, or by mail. Simply contact us directly at (785) 532-3816 or by e-mail (ftracz@ksu.edu) and we'll send you appropriate KSU Bands literature and a Prospective Band Member form for you to complete and return.
We appreciate your interest and prompt response to our invitation, and look forward to meeting you in person. Until then, have a great year and GO CATS!
Dr. Frank Tracz
Director of Bands
Dr. Alex Wimmer
Assistant Director
Scholarships Info
Music Award Scholarships
The Department of Music annually sponsors Music Awards Days.
Students seeking scholarships may audition for the studio faculty.
Scholarship funds are available in the performance areas.
Interested students should contact the chairman of the Department of Music.
109 McCain Auditorium
Manhattan, KS 66506
(785) 532-5740
Scholarships Available to Band Students
Music Awards Scholarship:
Requires an audition, usually held in February and March.
Available to music majors and some non-music majors and based on ability.
This is a departmental scholarship.
To set-up an audition, call or write the Department of Music Office to schedule an appointment.

Alumni Band Scholarship:
This award is based on the instrument needs of the Band and the student's own financial need.
An audition is left to the discretion of the Director of Bands.
Marching Band/Concert Bands Scholarships:
These scholarships are based on the instrument need of the bands as well as the student's performance ability.
An audition is left to the discretion of the Director of Bands.
Marching Pride Scholarship:
The Marching Pride Scholars Program was begun in 2010 to help offset the rising costs of college for KSUMB members. Since 2013, third and fourth year veterans of the KSUMB have received a $500 scholarship. The Marching Pride Scholars Program is supported by private donations and by the proceeds raised by the annual K-State Marching Pride Golf Tournament (http://www.k-state.edu/band/specialevents/golf.html).
KSUMB Drum Major-Section Leaders Scholarships/Endowments:
All Drum Majors (Head, Assistant) and Section Leaders (Head, Assistant, Marching and Maneuvering, Music) receive a scholarship after auditioning and interviewing for these leadership positions. More than half of these positions are also endowed for at least $500. Depending on the endowment, students who have earned leadership position can receive anywhere from $250-$1,000 in scholarships.
KSUMB Student Staff Scholarships:
The KSUMB Student Staff is comprised of third/forth year KSUMB veterans who organize, facilitate, and execute the "behind-the-scenes" work that allows the KSUMB to function on a daily basis. They are comprised mostly of Music Education Majors. From setting up the field for rehearsals to picking up trash after KSUMB events, the Student Staff helps ensure that the KSUMB begins and leaves every event/venue better than they found it.
Midwest Music Award:
This scholarship is provided by the Midwest Music Company of Salina, Kansas.
The fund is intended to attract quality instrumentalists regardless of major
to perform in the K-State band. Scholarships are awarded by the Director of Bands.
Rod Funk Memorial Band Scholarship:
This scholarship is endowed in memory of Rod Funk by his family and friends.
Rod graduated from Goessel High School in 1972.
In 1978 he received the degree of Family Childcare Development from K-State.
As a member of the band Rod was named the Outstanding Bandsman
and served as the Vice President of Kappa Kappa Psi in 1978.
He was known as an individual who would always go the "extra mile" to get the job done.
This scholarship is provided for students enrolled in any curriculum
who are members of the Kansas State University Marching Band.
Preference is given to Kansas residents.
Horner Family Scholarship:
The Horner family, in memory of their parents Jack and Lorraine, sponsors this scholarship.
Stan Finck KKY/TBS Scholarship:
Sponsored by the endowment of the late Stan Finck, Director of Bands at KSU from 1982-1991.