2013 - 2014
KSU Marching Band Sousaphones Are as Good as New
March 14, 2014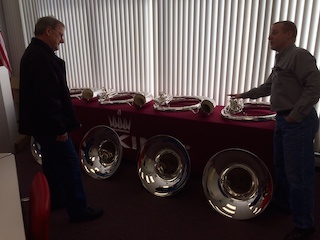 Shortly after the KSUMB's return from the Buffalo Wild Wings Bowl, four recently purchased sousaphones were sent to the Conn-Selmer Institute in Eastlake, OH for repairs and maintenance.
Dr. Frank Tracz and Dr. Tod Kerstetter are looking at the newly rebuilt sousaphones on a factory tour in between rehearsals with the W.D. Packard Concert Band.
Conn-Selmer rebuilt the bodies, replaced broken parts, refinished, and polished all four sousaphones; they look as good as new!
Thank you to Conn-Selmer for taking such good care of the KSUMB and for your superior customer service!
KSU Marching Band Receives $100,000 from Athletic Department for Scholarships
February 8, 2014
The K-State Athletic Department presented the Kansas State University Marching Band with a check for $100,000 for the Marching Pride Scholarship Fund before the K-State vs. Texas men's basketball game on Satruday, February 8. The Marching Pride fund provides scholarships to all section leaders and upperclass marching band members. With continued support, the Marching Pride fund hopes to provide scholarships for all members.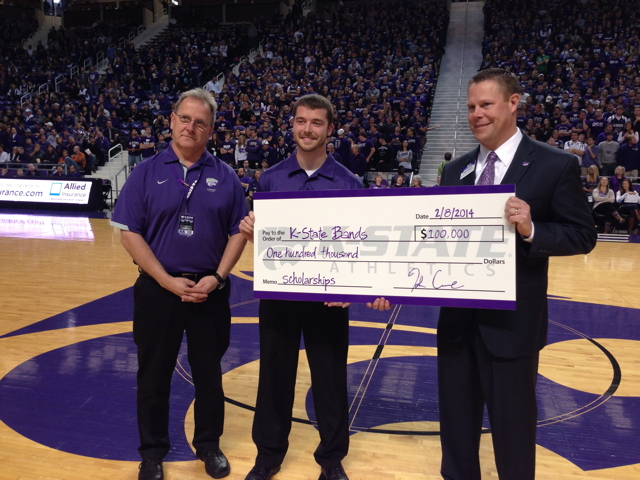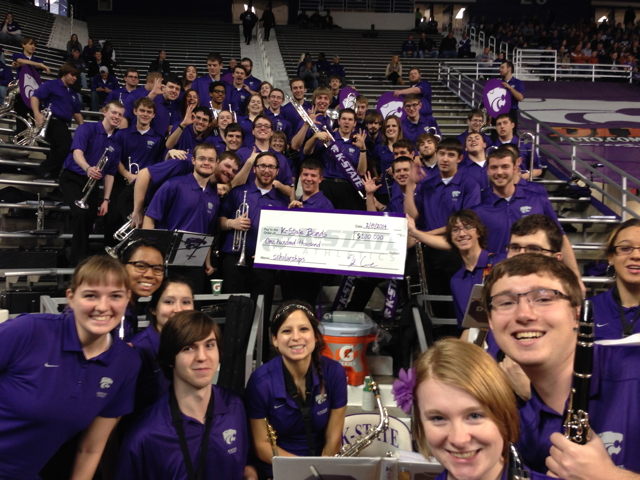 Over 670 Students Attend 2014 K-State Concert Band Clinic
January 30, 2014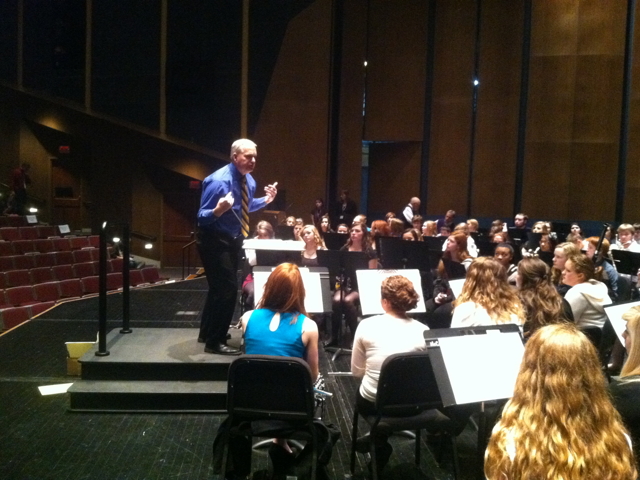 Over 670 Kansas high school musicians attended K-State's 21st annual Concert Band Clinic. The students were divided into six separate concert bands led by guest directors from across the Midwest and Oregon. Guest directors for this year's clinic included:
Dr. Chris Chapman - Oregon State University
Dr. Lance Nielsen - Doane College, Nebraska
Mr. Chris Hedges - Williamstown Schools, Kentucky
Dr. Susan Creasap - Morehead State University, Kentucky
Dr. Louis Menchaca - Concordia University, Wisconsin
Mr. Jim Kull - St. Charles East High School, Illinois
Students attending the clinic spend the weekend working on challenging music with the guest directors before presenting a concert on Sunday afternoon. In addition to student opportunities, the guest conductors also provide learning sessions for the band directors in attendance.
K-State Band Staff Travels to Midwest Conference in Chicago
December 22, 2013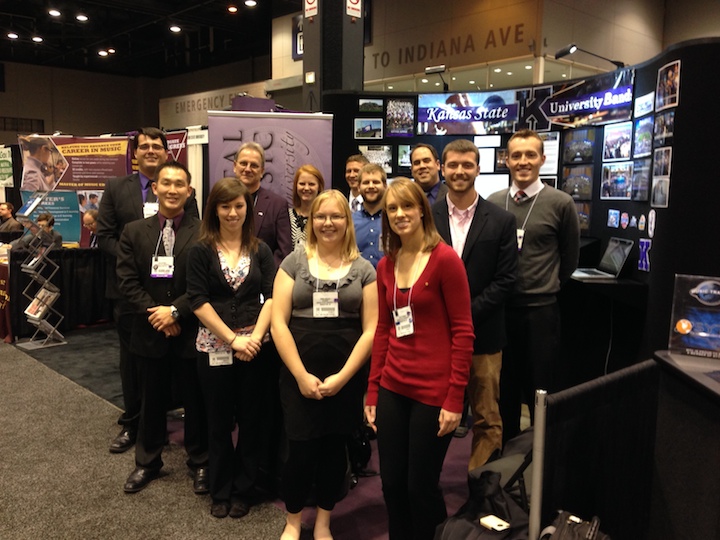 The K-State band faculty, graduate assistants, and undergraduate staff traveled to the Midwest Clinic in Chicago, IL, to represent Kansas State University Bands, and to attend numerous clinics and concerts. The band staff provided a recruiting presence at the international conference that attracts musicians, educators, and top lecturers from the U.S and abroad.
"For the past 66 years, musicians and educators of all skill levels have gathered in Chicago for the largest music conference of its kind. The Midwest Clinic International Band, Orchestra and Music Conference offers guests an array of clinics and exhibits as well as access to music and teaching icons while also focusing on industry trends and future topics in music education and business. With more than 17,000 attendees from all 50 states and more than 30 countries, The Midwest Clinic offers musicians and educators an unmatched networking opportunity." - Midwest Clinic Website
A Day in the Life of the K-State Marching Band
November 18, 2013
"If you think you know the K-State Marching band, think again. I spent my Saturday morning before the TCU game like never before, waking up early to meet up with Dr. Frank Tracz, Professor of Music and Bands at K-State, and see what being a part of the K-State Marching band is all about. From 7 a.m. meetings to warm ups to run-throughs and making sure the halftime show is, as usual, spot on, the K-State Marching Band takes 'game day' to a whole new level." Keep reading...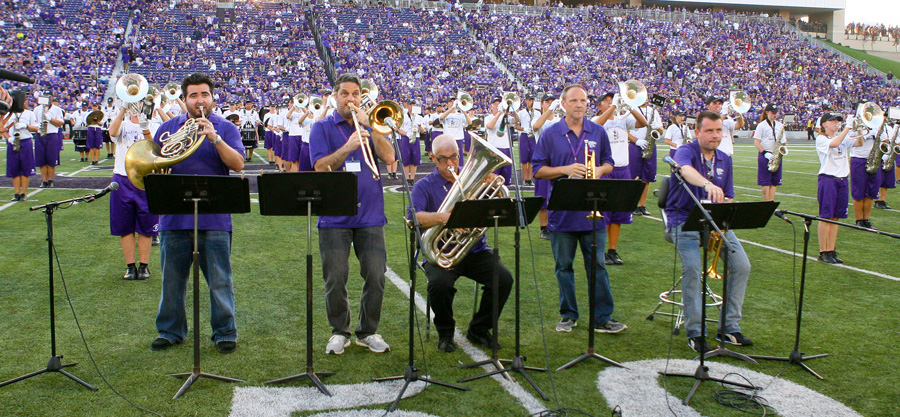 Thanks to the BOSTON BRASS for a Memorable Halftime Performance with the KSUMB!
The K-State Marching Band will be sharing the field with a legendary brass quintet, The Boston Brass. This electrifying group will be joining the KSUMB on September 7th at the Louisiana game halftime presenting the music of Blood, Sweat, and Tears. The Boston Brass performed with the K-State Marching Band in 2009 and we are excited to have them back.
K-State Marching Band Helps Over 34 Area Kids for Christmas
The Kansas State University Marching Band teamed up with the fraternity Delta Chi's "Adopt-A-Child" to help 34 Manhattan area children in need this holiday season. Initially, each of the 13 sections in the band was given $100 to help a child and fulfill their Christmas wishes. After learning of the program and the good that it does locally, all of the sections took it upon themselves to donate an additional $100 to sponsor a second and in some cases, a third child. The members of the KSUMB were given the children's names and Christmas lists and went shopping for clothes, shoes, toys, and other needs. The generosity and service of these outstanding band students brought smiles to kids and parents all over the area.
K-State Marching Band Drumline Mini-Camp!
On Saturday, July 13th, 2013, the K-State Marching Band hosted its annual Drumline Mini-Camp for prospective drumline members for the 2013-2014 season. 53 prospective members were in attendance for the 6 hour camp and were under the direction of Ben Yancey, the K-State Drumline Instructor. If you have any questions about the materials covered during the camp or about the 2013-2014 Drumline Audition process, please email Ben Yancey at bpyancey@k-state.edu. Thanks to everyone who attended and we look forward to seeing you at auditions on Tuesday, August 20th!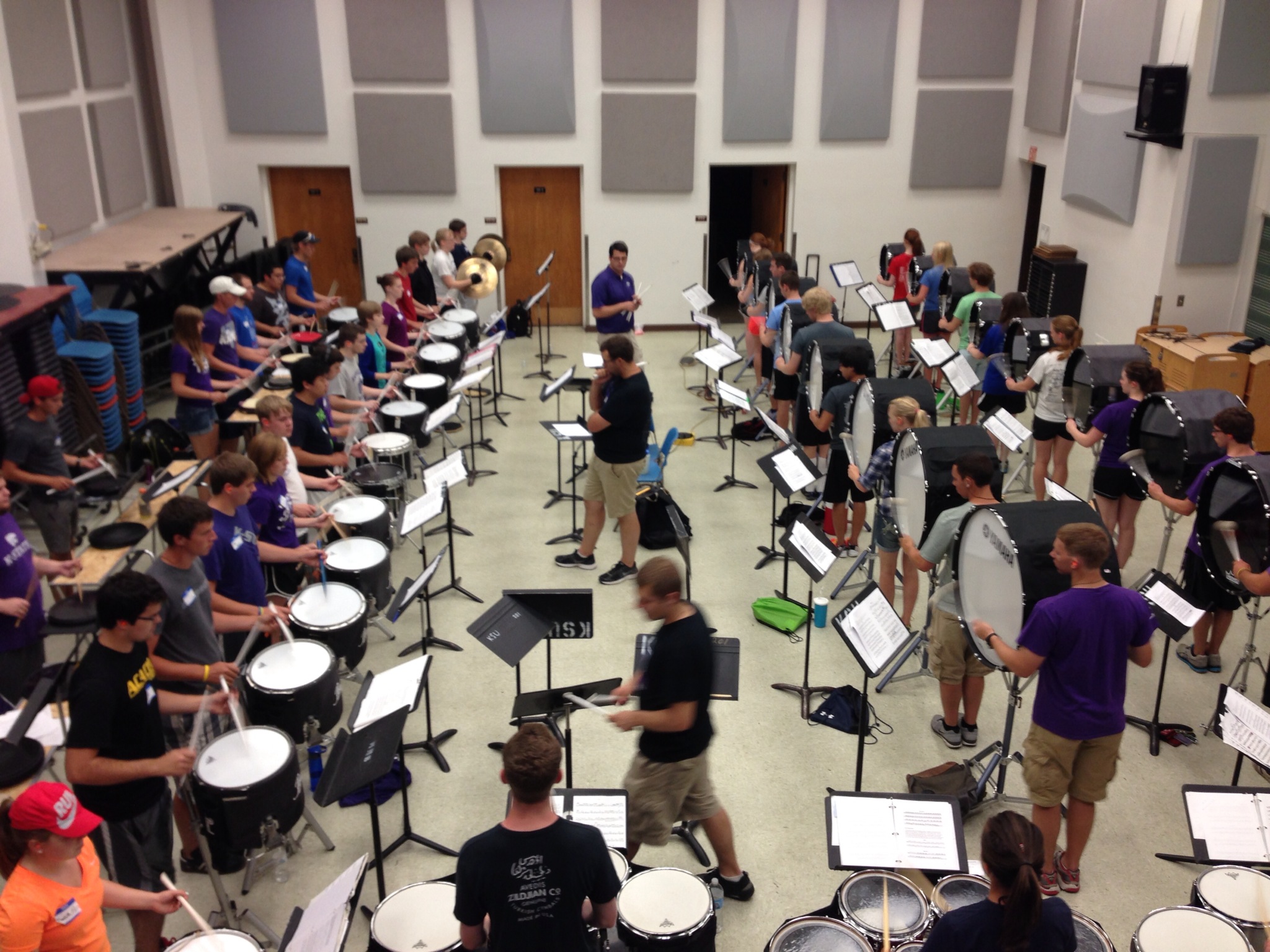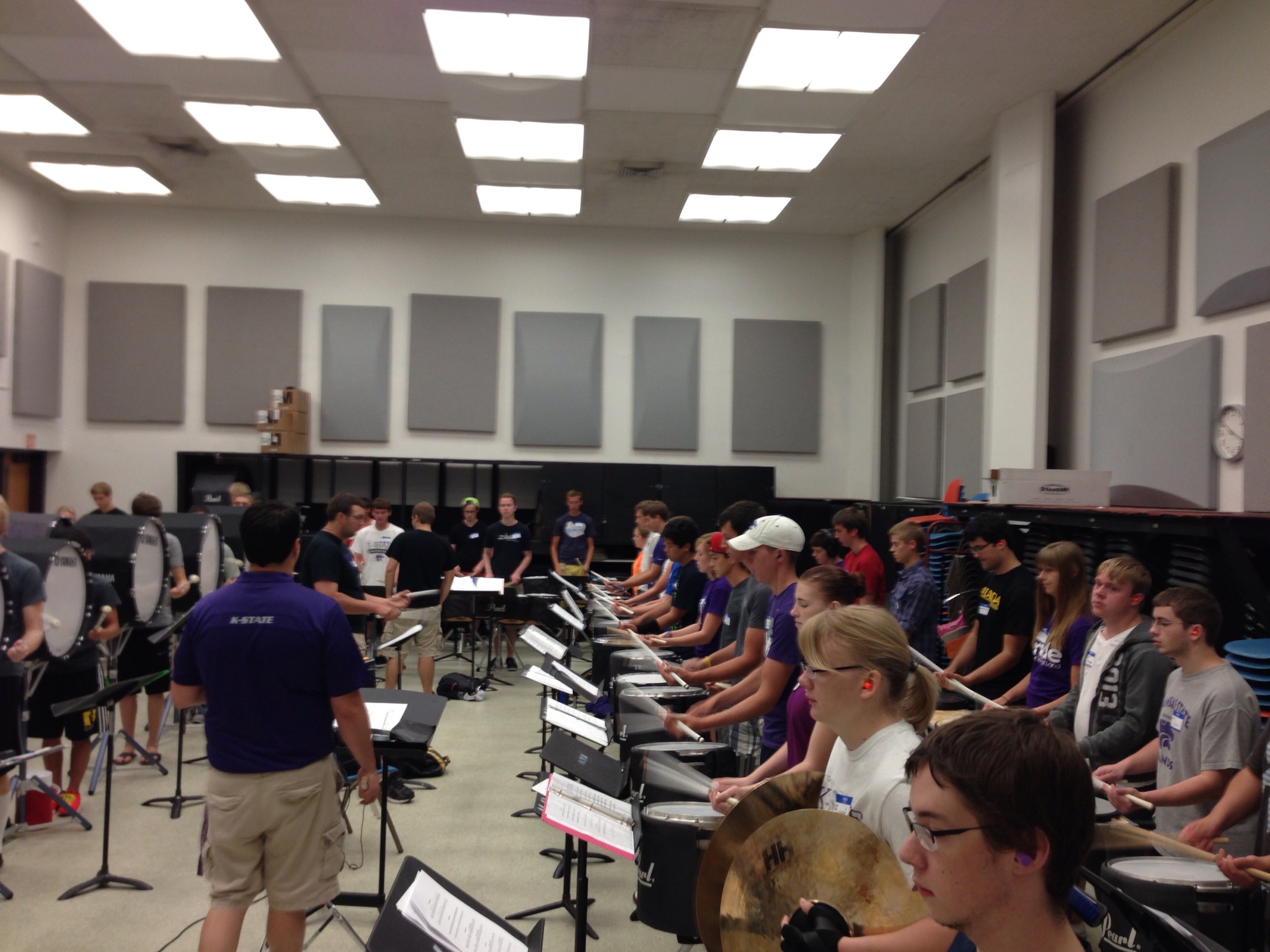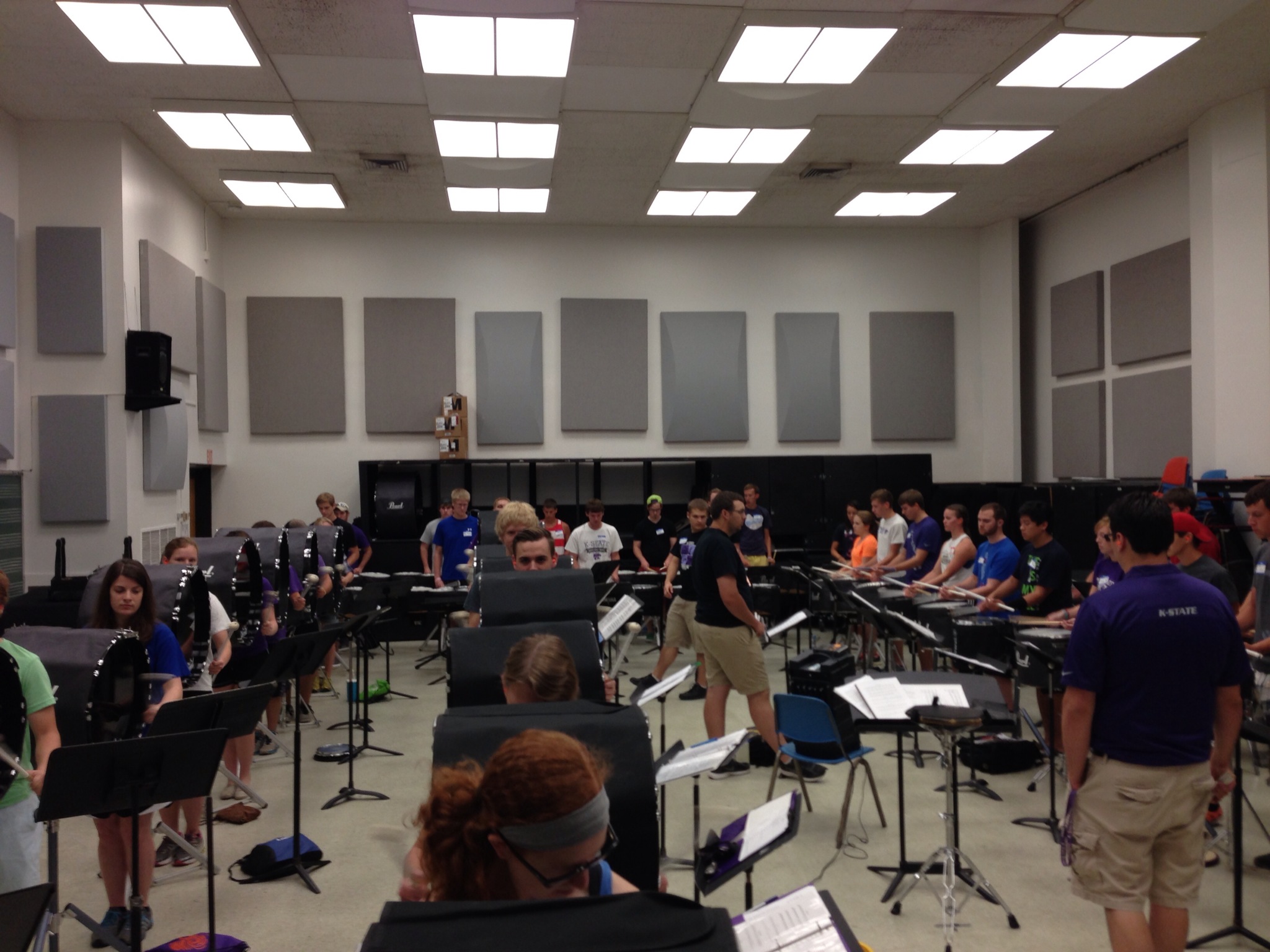 Composer Michael Schelle, Guest of the K-State Bands in December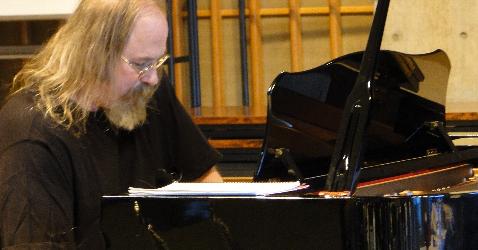 The K-State Band program and the School of Music, Theatre, and Dance will be welcoming composer Michael Schelle on campus this December to work with students and talk about his music. This visit is in conjunction with a special performance of his recent work titled "End of the World", which will be performed by our top university Wind Ensemble on December 4th in McCain Auditorium at 7:30pm.
Schelle's music has been commissioned and/or performed by over 300 orchestras, symphonic bands and professional chamber ensembles across the U.S. and abroad, including the Chicago Symphony, the Minnesota Orchestra, the Detroit Symphony, the Buffalo Philharmonic,and the major orchestras of Pittsburgh, Cincinnati, Milwaukee, Indianapolis, Louisville, Dayton, Kansas City, Honolulu and Springfield (MA).
He has held composition residencies at dozens of leading American universities, conservatories and new music festivals, and at Spoleto USA, Wolf Trap, the MacDowell Colony (NH), and many extended residencies abroad - including the Czech Republic, Austria, Amsterdam, Costa Rica, Japan and China. Schelle holds degrees from Villanova University (theatre), the Hartt School of Music (CT), Trinity College of Music, London, UK, (diploma), and a Ph.D. from University of Minnesota. His composition teachers have included Aaron Copland, Arnold Franchetti (student of Richard Strauss in 1940's Munich), Paul Fetler (student of Paul Hindemith and Boris Blacher), and Dominick Argento.