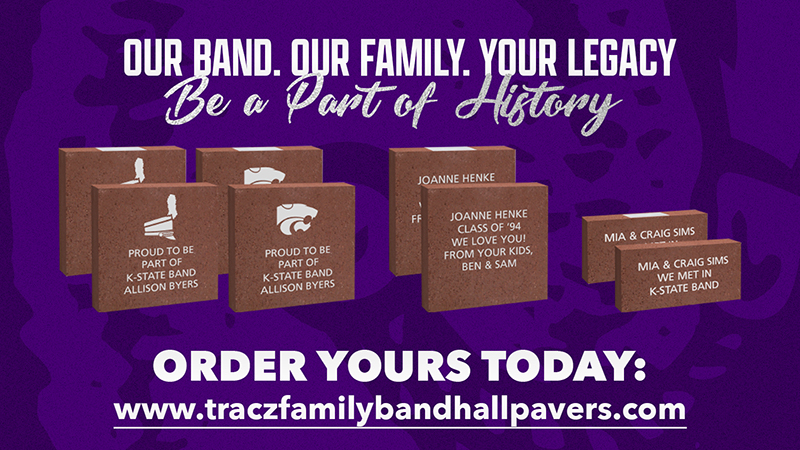 Tracz Family Band Hall
Tracz Family Band Hall Updates
Construction has finally begun on our new home!! Check back often for updates on construction on the Tracz Family Band Hall!

9/15/22 - Walls are coming down, cleaning out interior.

9/20/22
- Installing reinforcement posts.
10/7/22
- Sandblasting the interior.
10/21/22
- Knocking down walls, laying pipe and hoses, and a new fence wrap for the construction site!
10/24/22
- We
completed the remaining demolition work by removing the last of the existing concrete floor slabs. We also are nearly done with demolition to create the new field access portals. This involved removal concrete walls, slabs, and excavation. And, with the release of permit status, the mechanical and electrical contractors were able to begin underslab plumbing and electrical rough-in. These contractors really did a nice job and hit the ground at full stride. Because of that, their underslab rough-in work completed in less days that originally planned.

11/4/22
- Completed two concrete slab-on-grade sections, and the third and final section will be completed this week. Plumbing underslab rough-in work was completed ahead of the concrete work. Electrical underslab rough-in work also completed ahead of the concrete slabs. Demolition work wrapped up for the field access openings. Structural framing support material has been started ahead of the water shed metal ceiling structure. Every existing concrete step is slightly different dimension and deflects at different rates so aligning this system takes great care and time. Mechanical contractors are currently working on support hangers for some of the heavy ductwork and piping throughout the new buidling.
11/14/22
- More work on the concrete slabs is finally finished! Currently working on finishing the last bit of concrete for the walkway to Memorial Field. Also tying up the last bit of metal supports for the secondary ceiling as well! The "Director's Office" is coming along nicely (with windows for the first time!!)!
11/18/22
- Construction crews from Hutton
completed the remaining floors slabs including ramps and stairs which create the elevation changes necessary to tie into the surrounding site conditions. It's nice to walk on firm ground instead of dirt!
Structural framing support material continued ahead of the water shed metal ceiling structure. These provide support for an internal metal ceiling system. They also provide elevation control for all future ceiling systems.
Mechanical contractors are currently working on support hangers for some of the heavy ductwork and piping.
The insulation contractor mobilized this week and started spraying foam insulation directly to the concrete risers. This is sprayed to different thicknesses depending on what part of the building they are applying.
Hutton's crews also mobilized last week to start installation of metal ceiling systems. This is an internal metal roof system that is installed to provide protection in case the green roof system overhead fails. This is certainly a unique application and approach that is somewhat hard to describe even to our installers because they are typically working on the top side of these materials, not from the bottom.

Kansas State University band program to get new space named in honor of band director
The Tracz Family Band Hall is named in honor of Dr. Frank Tracz, professor of music and director of bands. Ward and Brenda Morgan, Manhattan, Kansas, made a gift to name the new band hall at Kansas State University.
This gift, along with other philanthropic support, will fund the renovation of the northwest side of Memorial Stadium, providing one designated rehearsal, storage and office space for the K-State marching band.
| | |
| --- | --- |
| Existing Spaces | New Band Hall Promo |
Thoughts from Students and Staff:
"Everybody loves a home, and everybody deserves a home. This would be ours. A facility like this would help us recruit and retain band members and staff. We are the only Power Five conference school without a designated home for the marching band. This facility, as we envision it, would be a symbol of respect and pride in our organization from our alumni, K-State staff, donors and community supporters." -Dr Frank Tracz
"Having an indoor space that allows us to have rehearsals would mean never having to guess where we will be for a rehearsal on a rainy day in Kansas. Students would know that they have a safe space, no matter the weather, for their instruments, gear and for themselves. So many times, the directors have to wait until an hour before rehearsal to decide what the best option is for that day and hope we can be in a big enough space for the entire ensemble. This facility would ensure that we can keep doing what we are doing at a high level for our university." - Allegra Fisher, graduate assistant for K-State Bands
"Having an indoor space right next to Memorial Stadium would be incredible. I know this would ease a lot of the pressure band staff and band members have in carrying large speakers, field markers, first-aid equipment, drum major stands and instruments back and forth from McCain. Band rehearses three times a week, and if the time spent transporting things was eliminated, we could be so productive and continue to use that time to work hard." - Ashton Thomas, Classy Cats Alumni
"Having indoor and outdoor rehearsal spaces right next to each other would save a lot of time and money. We could spend time working on the music indoors, all together in one place, and then quickly transition outside to work on our marching skills. This would save us the time it takes to walk from McCain to Memorial Stadium." - Brett Butler, graduate assistant for K-State Bands
"To all our donors, every musically involved student at K-State thanks you. The gift you may give us will not only benefit the marching band students, it will support the entire School of Music, Theatre and Dance. Our ensembles and classes have overwhelmed the capacity of our one music building. Realistically, we only have two major ensemble rehearsal spaces to somehow host more than 15 different groups each week. With an entire building dedicated to The Pride, classrooms and space in McCain Auditorium will be free to host other ensembles, music classes, community programs and performers for all K-State students to enjoy. This project is the permanent mark of your love and selflessness to our music program that will last for decades." - Meredith Casey, '21
"The marching band is a family to all who join. A facility for the band, one that allows us to rehearse, to safely store our gear in a clean facility and be together as a group displays the pride we already feel for our band. The band works extraordinarily hard on every performance. We love our community, we love our school, and we love each other. This facility would ensure that we can keep doing what we are doing at a high level for our university." - Allegra Fisher, graduate assistant for K-State Bands