Viewing files on the K-State Content Management System
When you log into the CMS, you are taken directly to the page action view. To see the website's full directory structure you have two options, the pages list view and the split-screen view.
Page action view
This view offers functionality specific to a file. The available functions depend on whether or not the user has the file checked out.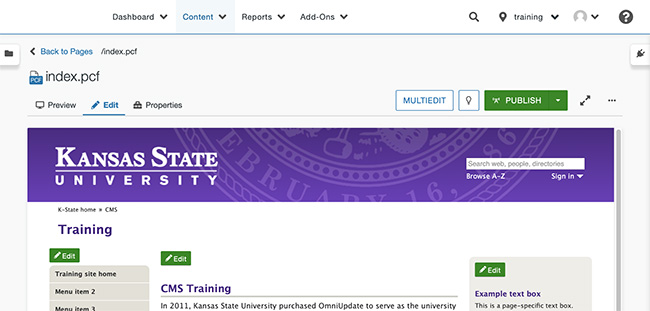 Pages list view
This view provides access to functionality relating to creating new content, uploading, and editing new content. It provides a view of the pages, files, and folders, as well as additional available features.
Under the Content tab, click Pages.
Split-screen view
Click the Expand split-screen icon.

Files are listed on the left half of the page and remains constant as the right side display changes. This is a great way to move quickly from one file to another. However, it does not have the same functionality as offered in the pages list view.

To collapse the split-screen window, click the arrow in the upper right of the box.