Managing large proposals: Kimberly Kirkpatrick, principal investigator for $10.6 million NIH COBRE grant, shares lessons learned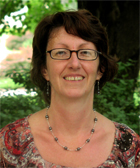 K-State was recently awarded a $10.6 million Centers of Biomedical Research Excellence, or COBRE, grant from NIH. COBREs support thematic, multidisciplinary centers that strengthen institutional biomedical research capacity. The new center's focus will be on cognitive and neurobiological approaches to plasticity, or C-NAP. Plasticity is how the brain responds to complexities in the environment, or changes with age. The COBRE-supported research will involve both humans and animals. The grant includes funding for laboratory renovation and upgrades; faculty, postdoctoral fellow, and graduate student recruitment; and professional development and training activities.
Kimberly Kirkpatrick, professor of psychological sciences and director of the Reward, Timing, and Decision Laboratory, is principal investigator of the new center, which is only the second COBRE grant K-State has ever received. Kim recently offered some advice for investigators who would like to work on center proposals and other large grant projects.
How far in advance should teams work on large proposals?
It's not really for someone who's in a hurry—you have to be patient and work at it.
We had our very first working group meeting to develop the project 5 years ago in October. We submitted our first application in February 2014. We got a pretty good score but just missed the cutoff for funding. Then we were going to revise and resubmit the following January, but NIH didn't take applications, so we had to hold our group together for another year and submit in January 2016. Our grant was reviewed in July 2016, and we then had to wait a full year after we knew our score before we received our award letter.
How do you develop your team and then keep it together for such a long time?
I had to be super-involved and a strong leader to make sure I was keeping contact and working with everyone closely. I read everything that was submitted and wrote a lot of the content. The PI needs to be heavily involved. You need a group with a good scientific interest match and also people who work well together and naturally get along. I selected the people I wanted involved based on talents, research interests, and people who work well with each other. A lot of thought needs to go into how you will construct your group. People enjoy working as a group will feel invested.
What general proposal development tips can you offer?
Start early—we started project development about 18 months out. A year out, we had our team and we knew our projects. We then had a full year to develop the application. You have to work out details at a pretty fine level so reviewers understand what you are trying to do. Plan to connect regularly and strongly with institutional resources—the Office of Research and Sponsored Programs, the dean's office, the Office of the Vice President for Research. You want robust institutional support for your proposal. Get it on their radar early and build relationships at the institutional level way in advance. We also have Wichita State University involved, so I got down there early and maintained contact and nurtured that relationship.
Experience with the funding agency is also crucial. I've had a lot of individual grants for my lab, and I know the NIH system well, but I had to scale up. I had to learn as I went. The first application, there were times when I felt a little overwhelmed. When we put in the revision, I felt a lot stronger. I had pretty extensive contact with the program officer to interpret the guidelines and ask what people generally do with different issues that cropped up. Cultivating a relationship with the program officer helps.
What tools or techniques can you recommend at the nuts-and-bolts level?
I made contact with other center directors in the neuroscience domain about how to build successful proposals. They were willing to share their successful proposals with me, and that was very helpful. Cultivating those relationships was really great. They are members of our scientific exchange program that we developed for the application—they were great at giving me a lot of help. I visited North Dakota State and got to see their successful center, which helped me create a vision for our center. People are amazingly nice! We also set up an internal advisory committee. I selected people with center or department management experience or faculty development experience, and we included them in our meetings.
I'm good about my calendars and my checklists—I set up a shared workspace and I made templates for everyone for their documents so they would be formatted the same (headings, fonts, and so on). I set all that up way ahead so everyone would have a structure to work within. I kept close track of what I needed to be doing and what others needed to be doing. As the PI, you need to model the behavior you want from others.
For the parts I wrote, I got extensive feedback from team members, and Mary Lou Marino [from the Office of Research and Sponsored Programs] read pieces. You are never too experienced to get feedback on your work. That's where working on the long timeline helps. You don't want to cut corners on that part of the process—those details need to get ironed out and everything needs to be very polished.
Now that you've received the grant, what are your first steps?
So it turns out that managing a COBRE is even more work than applying for one! I guess I'm not surprised about that. I decided to set goals and priorities for a few weeks at a time to keep from feeling too overwhelmed by the massive amount of work that needs to happen this year. For these first few weeks, my big priorities have included updating budgetary plans, assisting with setting up an accounting structure, recruiting an External Advisory Council, initiating searches for full-time center staff, consulting with project leads to work out preliminary plans for their individual projects, working with facilities to initiate plans for facilities renovations, and consulting with the core leads on plans for building the new research cores. I've definitely had to scale back on some of my own research activities to make room for the COBRE management, and I'm not planning to teach any classes this first year. But I hope to rebalance over time.