Regulatory compliance updates
October 1, 2019: National Biosafety Month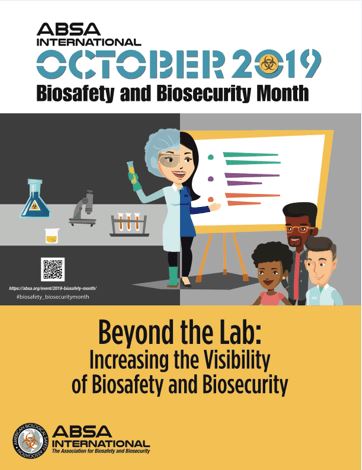 October is the 6th annual Biosafety Month, and the Kansas State University Research Compliance Office (URCO) is joining the American Biological Safety Association, or ABSA in the celebration. For more information, see the Institutional Biosafety Committee (IBC) page.
September 27, 2019: Resource Guide for International Travel
Resource Guide for International Travel on University Business
September 16, 2019: Letter to the United States Research Community
From Dr. Kevin K. Droegemeier, Director Office of Science and Technology Policy.
September 5,2019: Science and Security Regulatory Updates
Review the updated summary of regulatory reminders in regards to additional research security measures. (pdf)
August 21, 2019: The European Union's General Data Protection Regulation (EUGDPR)
The European Union's (EU) General Data Protection Regulation (GDPR) is a Data Protection Directive that is designed to harmonize data privacy laws across Europe, to protect and empower all EU citizens' data, outlining several rights of the individual for explicit consent on how personal data can be used, processed, transmitted, as well as how any such data must be protected. The GDPR applies to organizations located within the EU, and it also applies to organizations located outside of the EU if they offer goods or services to, collect data from, or monitor the behavior of individuals in the EU, regardless of the organization's location. It is intended to affect organizations worldwide, including universities. The GDPR went into effect for businesses outside the EU that process data on EU citizens on May 25, 2018.
We have developed documents to assist investigators with the collection of information with the collection of personal data from individuals located in the EU. Details can be found on the "EUGDPR Privacy and Consent" webpage, which can be accessed from the URCO main webpage.
July 16, 2019: Azure Availability for research involving controlled unclassified information or export-controlled material
Researchers whose studies involve working with CUI or CUI export-controlled items that fall under ITAR or EAR should be aware that K-State's officially approved electronic storage and communication method for such items is now Microsoft Azure. If you have questions about this or need to request access to Azure, email CUI@k-state.edu.
If an outside entity with whom you are working tries to use ANY other route to send such materials — e.g. unsecured email, unsecured website or cloud domain— do not open them and immediately report such attempt to CUI@k-state.edu.
July 11, 2019: NSF Disclosure Requirements
The NSF published new procedures and processes related to reporting foreign activities. NSF is proposing the use of an electronic format for submission of biographical sketches, including disclosure of all foreign appointments. As currently envisioned, this will become effective in January 2020.
Read the NSF memo.
July 10, 2019: NIH Disclosure Requirements
The NIH published a notice reminding the extramural community about the need to report foreign activities through documentation of other support, foreign components, and financial conflict of interest to prevent scientific, budgetary, or commitment overlap. Read the NIH memo.
June 7, 2019: Department of Energy Foreign Government Talent Recruitment Programs
Review the new DOE policy relating to contractor requirements regarding foreign talent recruitment programs. (PDF)
Jan., 21, 2019: Revisions to Human Subject Regulations
The revised Common Rule took effect January 21, 2019. A revised application, consent form, and additional informational documents are now available.