Research, Scholarly and Creative Activities, and Discovery (RSCAD) News
July 20, 2017
The weekly RSCAD newsletter provides the latest research news, funding opportunities, and academic trends.
Negotiating Agreements for K-State
Meet Lisa Duer, PreAward Services contract negotiations manager.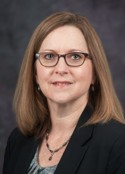 The PreAward Services contract negotiations team has a new manager. Lisa Duer joined the office in June.
She facilitates industry relationships and strategic partnerships by helping K-State establish master agreements and by supervising contract negotiators. Read on to find out more about her duties and how she helps K-State researchers.
What are master agreements?
Master agreements are umbrella agreements that are set up for a specified amount of time. Task orders can be added at any point in the relevant time period to do a particular piece of work for a specified amount of money. The result could be a master research agreement, a master testing evaluation and services agreement, or both. (Find basic agreement templates.)
What should researchers know about the contract negotiation process?
Universities and industry have different perspectives, but we are generally able to find common ground. The contract and negotiation process can feel intimidating to someone who is new to it. We help facilitate the process and negotiate the language so that it's consistent with the university policy and our public mandates. K-State is an institution of the State of Kansas, and we must follow state regulations; for example, contract verbiage requiring governance by another legal jurisdiction is very problematic and we work hard to make sure our funding agreements reflect acceptable governing law terms.
When should researchers contact you, and how long does it take to review an agreement?
Researchers should contact our office whenever they start talking about a specific project to find the appropriate contracting vehicle. They should contact us as early as possible — especially before they provide any budget information. The timeline varies depending on current workload already in the queue and the response time of the sponsor in reviewing requests for alternative contract verbiage. There are occasions when processing time is expedited because of the end of a sponsoring entity's fiscal year or budget period, or if there is a small window of opportunity for performance of fieldwork or work involving sensitive materials with a short shelf life. Agreements also vary widely in length — an agreement might be two pages or 100 pages — so that influences our turnaround time, too. Supplying comments takes longer than the actual review. We are careful to justify our changes with comments so sponsors and researchers know why we are making changes. Industry tends to be open to our proposed changes when we are able to justify why we can't agree to certain terms.
What is your experience in this field?
My research administration career started in 1997 here in PreAward Services. I was a grant and contract administrator, and I was the second person at K-State (and in the State of Kansas) to obtain the Certified Research Administrator credential. I worked in PreAwards for five years before moving to the College of Veterinary Medicine to serve as a grant manager for an NIH COBRE grant. I then moved into the dean's office as a grant specialist in 2006. From 2006 to 2017, I was the lead grant officer, as well as the program coordinator for Associate Dean for Research Frank Blecha.
What tips do you have for researchers?
Read the contracts, and don't hesitate to ask any questions about them. Pay special attention to the deliverables and reporting requirements. We do not expect faculty to be experts in contractual language. Agreements are sometimes closely tailored to the research or services, and definitions are tricky — sometimes it's tough to tell if they are doing research or providing services, and that determination is extremely important when choosing an appropriate contracting vehicle. If a sponsor sends you an agreement, please share it with us immediately to get the process started.
What changes have you seen in research administration and industry collaboration in your time at K-State?
When I first started at PreAwards, we mostly worked with department office personnel, who were responsible for a number of other duties. They did not have time to focus on grant administration issues. Today, we have grant specialists in many areas across campus. I feel this a major service to faculty and helps speed up the process. Industry collaboration is growing, and I expect it will continue to grow. PIs are considering industry more and more—they are looking for different avenues and funding for their research.
How do you like being back in PreAward Services?
I've always had great respect for everyone in the office. I know everyone works really hard, and I think it's an important piece of the sponsored activity process. It feels good to be back. I'm enjoying it!
Contact Lisa Duer at 532-6804 or duer@k-state.edu or view a full list of PreAward Services staff.

Announcements and Events
Don't miss training opportunities, resources, or other events or news for K-State researchers.
The Office of the Vice President for Research has moved; join BioKansas for BBQ, Bluegrass & Biotech; note KC Animal Health Corridor events, and more.
Office Move
The Office of the Vice President for Research has moved from Anderson 105 to Anderson 102. Telephone numbers remain the same, but we may be a little slow to respond to email and phone messages as we settle in this week. Read the full announcement.
BBQ, Bluegrass & Biotech
GBA and GBA builders in Lenexa is hosting the BioKansas monthly networking event July 27, 4:30 to 6:30 p.m. Free for members; non-members can attend for a fee. Register and find details.
KC Animal Health Corridor Events
Mark your calendar for KC Animal Health Corridor events during Global Animal Health Week. Find details about a Market Insights Seminar, the annual Homecoming Dinner, and in Investment Forum August 28 and 29.
Human Capital Services has confirmed fringe benefit rates for fiscal year 2018. These rates are effective immediately and should be used when preparing budget estimates to be included in proposals for extramural support. To facilitate the transition to these new rates, budgets that are in process will be accepted at the old rate until July 17, at which time PreAward Services will require adoption of fiscal year 2018 rates. Read a detailed chart illustrating the individual components of each of the rates.
Free Joint Investigations Course
The Federal Bureau of Investigation (FBI) Weapons of Mass Destruction Directorate (WMDD)-Biological Countermeasures Unit (BCU) and the United States Department of Agriculture-Animal and Plant Health Inspection Service (USDA-APHIS) have launched a new curriculum to teach the basics of animal and plant diseases and joint investigations. K-State will host the free Animal/Plant Health Joint Criminal-Epidemiological Investigations Course August 8-9, 2017 from 8:00 a.m. to 5:30 p.m. at the Union. Registration is required. Find more information and register.

RSCAD Results
ORSP awards Faculty Development Awards and University Small Research Grants each semester. Find out how K-State faculty used the funds to jump-start their projects.
Rosa Terlazzo has been awarded a $40,000 grant from Center for Ethics and Education.
Rosa Terlazzo, assistant professor of philosophy, has been awarded a $40,000 grant from the Center for Ethics and Educationto apply her work on decision-making to public schools, where teachers help children develop the skills to make transformational decisions.
Terlazzo has developed a general framework to analyze how people should make decisions in light of two things: first, we care about our own well-being; and second, who we are as people can change in important ways—both positively and negatively—in light of the decisions we make. For example, "Ten years from now I'll be a different person if I go on to have several children or if I decide not to have kids and to travel a lot," Terlazzo said.
Given that reality, the question becomes more complicated: If different things are good for different people, and what is good for us changes on the basis of the decisions we make, how do we decide what decisions to make?
Making decisions for children adds another layer of complexity because children are not able to imagine the people they could become or make informed decisions about their courses of action. Terlazzo will consider how public schools should be designed to help children develop the skills to choose among options while ensuring kids aren't transformed in negative ways before they can make decisions for themselves.
Terlazzo will use the grant support to produce a paper this fall and will present it at conferences for feedback before submission for journal publication. She also had a book project planned for which this grant-funded project will provide a case study.
The grant project is an extension of work supported by a spring 2016 Faculty Development Awardfrom the Office of Research and Sponsored Programs. Terlazzo said the FDA helped her develop her ideas.
"The FDA was really helpful because it gave me an opportunity to work through a lot of the ideas when they were initial and rough and get feedback on them. I gave four papers in Australia at various conferences and was able to hammer out the rough and ready ideas. That's the most crucial feedback you can get in philosophy," she said.
Terlazzo also met a colleague during another conference for which a Faculty Development Award supported her travel, and that colleague told her about the grant funds available through the Center for Ethics and Education.
Find more information about internal grant awards at K-State.

Funding Highlights
The Funding Connection is a weekly publication of the Office of Research & Sponsored Programs.
The NSF Emerging Frontiers in Research and Innovation program is this week's featured opportunity.
The National Science Foundation's Office of Emerging Frontiers and Multidisciplinary Activities (EFMA) in the Directorate for Engineering provides funding opportunities for interdisciplinary teams of researchers to rapidly advance frontiers of fundamental engineering research. The Emerging Frontiers in Research and Innovation program (EFRI), the signature program of the EFMA Office, seeks proposals with potentially transformative ideas that can significantly shift fundamental engineering knowledge with strong potential for long term impact on national needs or a grand challenge. For this solicitation, EFRI will consider proposals that investigate emerging frontiers in one of the following two specific research areas: 1) Chromatin and Epigenetic Engineering (CEE), and 2) Continuum, Compliant, and Configurable Soft Robotics Engineering (C3 SoRo).

Agency News and Trending Topics
Keep abreast of funding agency updates and trending RSCAD topics that are in the news.
Science communication and the partisan divide on higher education, the NIH budget, a legal fight over confidentiality of scientists' email and prepublication drafts, and more.
The scientific process is threatened by a lawsuit seeking to compel the disclosure of more than a decade worth of emails, some private, between two prominent University of Arizona climate scientists, says an amicus brief that the American Association for the Advancement of Science joined on July 17.
The US National Institutes of Health (NIH) would see its budget rise by US$1.1 billion in 2018, to $35.2 billion, under a spending proposal released on 12 July by lawmakers in the House of Representatives. The legislation explicitly rejects a plan by the administration of President Donald Trump to cut the NIH's budget by 18% in 2018. The president's proposal would achieve that largely by reducing how much the agency pays to reimburse its grant recipients' institutions for "indirect costs" — expenses such as administration and facilities maintenance. See also: NIH Fetal Research Plan Blocked in House Panel's Draft Bill.
"In particular, I think universities and colleges have to step up in ways that scientists have also not stepped up, just really [to] communicate," said Eric Isaacs, vice president for research, innovation and national laboratories at the University of Chicago. "I think we have not done a great job," he said. "I think we've sort of assumed, at the universities, that people understood what we're doing. And we think about education, people understand that, but less so [do] they understand the impact our research has."
Science communication was my antidote because it reconnected me to motivation. The first thing we practiced was how to talk passionately about why we love research, what inspired us, what problem we're obsessed with. The practicalities of biology sometimes look like drudgery, moving around a thousand drops of clear liquid. Seeing the big picture infused my day with magic: I was working on unsolved problems! We found external validation, too. Telling stories onstage let us hear gasps and applause from an audience. Writing a group blog let us celebrate when our articles were shared thousands of times. I saw my work through new eyes when it was illustrated by live music, improvised dance, chalk art, and poetry. When I shared what I work on, I felt part of something bigger because I saw my role in society as a creator of knowledge. I felt a new responsibility, too: The public funds our work; we owe people an explanation of what we've found.
The microgravity conditions of the International Space Station (ISS) may hold the key to improving our understanding of how to combat toxic nerve agents such as sarin and VX. That is the hope of Countermeasures Against Chemical Threats (CounterACT) project that is part of an initiative at the National Institutes of Health aimed at developing improved antidotes for chemical agents.
This month, 81 institutions around the country received a letter from the U.S. Department of Health and Human Services. It said that federal funding that they've been getting for teen pregnancy prevention programs and research is going away. HHS quietly pulled the plug on a five-year grant program started under President Obama, a loss of more than $213 million. Reveal from The Center for Investigative Reporting broke this story.