November 29, 2022
Seek magazine highlights K-State research in newest issue
Submitted by Office of the Vice President for Research and Division of Communications and Marketing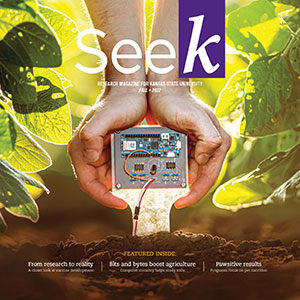 Seek out the fall issue of Kansas State University's research magazine to learn about soil-related research, vaccine development, building global resilience and pet nutrition and health programs.
Seek is K-State's award-winning flagship research magazine. It highlights university research, scholarly and creative activity, and discovery through a print publication as well as the website k-state.edu/seek.
The fall issue includes four feature stories:
• "Bits and bytes boost agriculture" explores how computer circuitry helps study soils.
• "From research to reality" takes a closer look at vaccine development.
• "Building resilience" shows how K-State researchers are unraveling global chaos to provide context and solutions.
• "Pawsitive results" describes programs that focus on pet nutrition and health.
The magazine also shows how Scorpion Biological Services will bring research opportunities to the state and university community and provides an annual update on K-State research funding.
Other stories highlight undergraduate scholars, graduate scholars, faculty researchers and university distinguished professors.
Seek is published twice a year and is a collaboration among the Office of the Vice President for Research, the Division of Communications and Marketing and other university communicators. The magazine received a gold 2021 Circle of Excellence award, which is a prestigious international award from the Council for Advancement and Support of Education, or CASE. The magazine also was recognized with several recent Best of CASE awards and was named a finalist in the prestigious Folio: Eddie & Ozzie Awards.