April 27, 2021
Seek magazine highlights K-State research in spring issue
Submitted by Office of the Vice President for Research and the Division of Communications and Marketing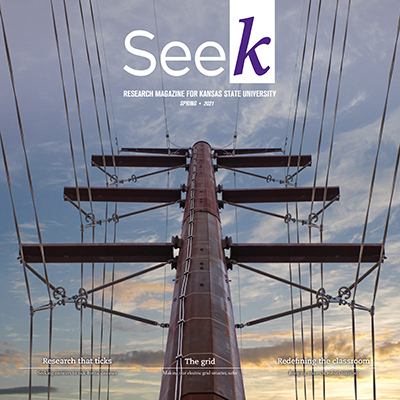 How are K-State engineers making our electric grid smarter and safer? Why is it important to study tick-borne diseases? How can we leverage technology to address teacher supply in rural areas?
Seek out these answers in the spring 2021 issue of Kansas State University's flagship research magazine, Seek. The award-winning magazine highlights university research, scholarly and creative activity, and discovery through a print publication as well as the website k-state.edu/seek.
The spring issue includes five feature stories:
• "The grid" explores how K-State engineers are helping to adapt and modernize our power grid.
• "Research that ticks" explains how scientists are seeking answers to tick-borne diseases.
• "Redefining the classroom" shows how the College of Education is bringing research and robots together and is answering many of education's most complex questions.
• "Behind the breadbasket" demonstrates how scientists are helping to drive the state's strength in wheat production.
• "Continuing the fight" describes how K-State scientists are working across disciplines to end the COVID-19 pandemic.
The magazine also shares how College of Veterinary Medicine outreach programs are helping communities while educating students and shows how K-State research is boosting the Kansas economy.
Other stories highlight undergraduate scholars, graduate scholars, faculty researchers and university distinguished professors.
Seek is a collaboration among the Office of the Vice President for Research, the Division of Communications and Marketing and other university communicators.