November 2, 2020
Reminder from President Myers to vote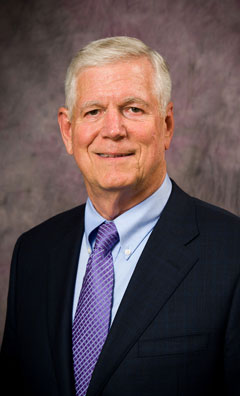 Tomorrow is Election Day, the final opportunity to cast your vote in the 2020 general election. Whether your legal residence is a K-State campus community, in another Kansas community or out of state, this is your opportunity to vote for our next president and vice president, as well as your representative for the U.S. House.
For Kansans, a U.S. Senate race is on the ballot, and most voters also will be asked to decide local and state races and approve judges. Some voters, such as in Manhattan, will have a local ballot issue to decide.
From top to bottom, it is important to ensure your voice is heard through your civic opportunity and responsibility to vote.
Last week, Provost Taber and I acknowledged the state of our election cycle and the importance of maintaining civil discourse in this time before — and after — the election. We can all have different views about which candidates to support, but we must ensure that we stay committed to the health of our community and nation by peacefully and respectfully engaging in the voting process.
Our Institute for Civic Discourse and Democracy serves as the home of our ALL IN Campus Democracy Challenge team and has information that can help you find your polling place tomorrow, Nov. 3. Kansas law requires polling places to open at 7 a.m. and close at 7 p.m. on Election Day. State law allows Kansas counties to open polling locations as early as 6 a.m. and close as late as 8 p.m., so make sure you check your specific county for details about the extended time frames.
Additionally, today is the final day to vote early here on the Manhattan campus in the Bluemont Room in the K-State Student Union from 10 a.m. to noon. Similarly, you can vote at the Riley County Office Building, 110 Courthouse Plaza, on the second floor from 8 a.m. to noon today.
While this election has been impacted by COVID-19, steps have been taken to ensure that voting in person will be safe, so don't waste this opportunity to vote tomorrow if you have not done so yet. And remember, when you go to vote, wear a mask to protect you and your fellow citizens.
Also important is to trust in the election system. Potential delays in results are possible because of the number of advanced ballots being returned by mail. This does not mean that anything is happening other than it taking more time to process each and every vote.
The Institute for Civic Discourse and Democracy has a resource page to better understand what we can expect immediately from this election and what will take a little longer. It also has resources for post-election discussions, whether they take place virtually or in person, that may be relevant to your classes or your workplace.
Sincerely,
Richard B. Myers
President