Kansas State Wind Symphony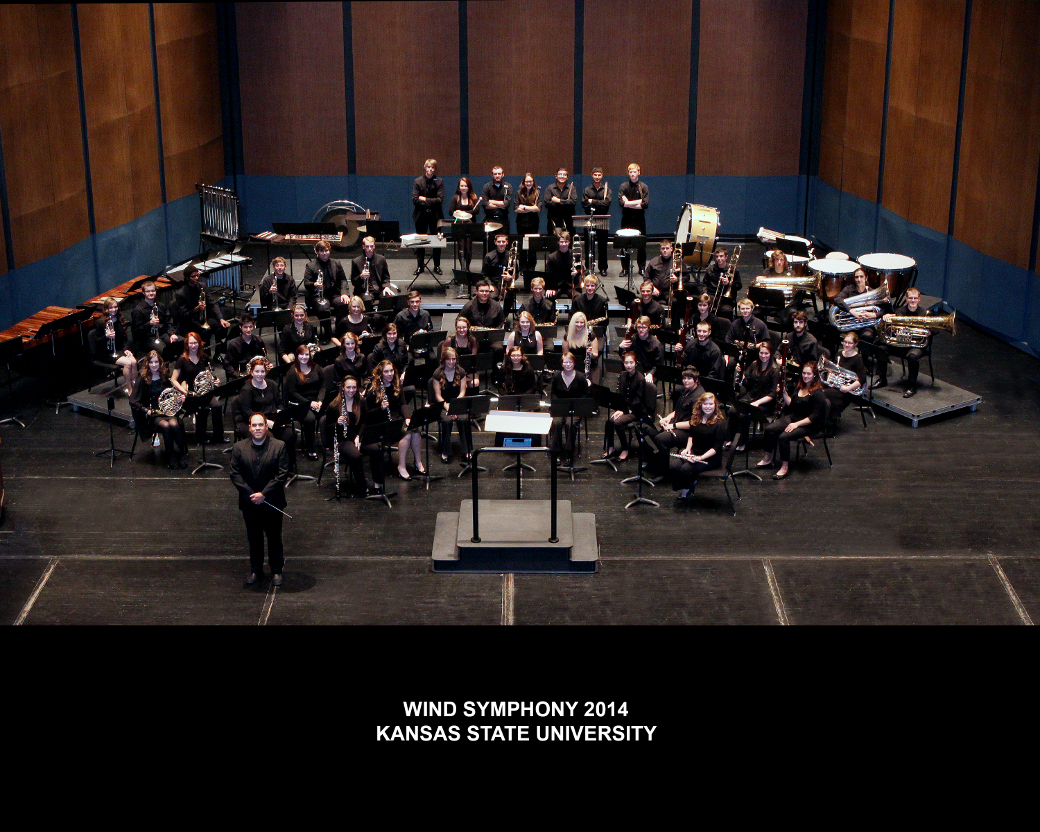 As the newest ensemble in the K-State Bands, this group boasts the talents of our Music Majors and gifted non-music majors. Students are exposed to challenging literature and standards of the repertoire.
Auditions for the Spring 2017 Concert Ensembles (Wind Ensemble, Wind Symphony, Concert Band, Brass and Woodwind Ensembles)
*Current Fall 2016 Concert Ensembles will audition on their current music after the concert. All WS and CB members not continuing in the Spring will still play for a grade during the assigned audition times.
For NEW members looking to join the concert ensembles for the Spring of 2016 -
Welcome! We hope to add your talents to the Concert Bands in the spring. Membership is open to all majors. There are several different bands to fit different skill levels and needs. Concert Band meets MWF 12:30 - 1:20 and the Wind Symphony meets MWF 3:30 - 5:20. Chamber groups meet Sunday night. Call us at 785-532-3816 if you have any questions!
Auditions for New Members will be held:
Wednesday, December 7th
3:30 pm - 5:20 pm
Audition Sign ups for NEW MEMBERS will be posted on the bulletin board outside of McCain 226. Existing CB and WS members will not need to sign up for a time.
If you cannot make any of theses times, please contact Dr. Tracz at ftracz@ksu.edu to schedule an appointment.
Percussion:
If you are interested in audition for percussion, please email Jack Donovan at : donovanjm@ksu.edu
Auditions Requirements -
1. New members - Sign up for an Audition on the bulletin board outside of McCain 226.
2. Major Scale
3. Sight Reading
4. Prepared Pieces:
Oboe (Do not prepare English Horn Excerpt)
Sax (All saxophones audition on this part)
2016-2017 Concert Schedule
October 12, 2016
AFC
7:30pm

Symphonic Movement - Nelhybel
William Byrd Suite - Jacob
Overture for Winds, Op.24 - Mendelssohn
Carnival Day - Chang Su Koh

December 4, 2016
AFC
7:30pm

Forever Summer - Markowski
Songs from the Catskills - de Meij
all stars are love - Bryant
Alleluia Laudamus Te - Alfred Reed

March 5, 2017
AFC
7:30pm

On This Bright Morning – Maslanka
Flash! – Daniel Dorff
Liturgical Dances - David Holsinger, Phillip Payne, Guest Conductor
The Gum Suckers March - Percy Grainger

April 30, 2017
AFC
3:30pm


Manhattan Beach - Sousa
The Promise of Living - Copland/Singleton
Supernova - Gaydeski
Candide Suite - Bertnstein