Kansas State Wind Symphony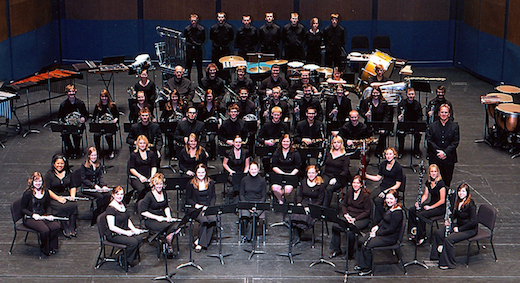 As the newest ensemble in the K-State Bands, this group boasts the talents of our Music Majors and gifted non-music majors. Students are exposed to challenging literature and standards of the repertoire.
2014 - 2015 Audition Information
Winds: Audition information will be posted by the last week in July. Auditions will be August 25th - August 27th

Percussion: Percussion Auditions will be Monday afternoon, August 25th from 3:30 - 6pm in McCain 201
Auditions are open to any student of any major at the university, just contact our percussion professor Dr. Gartner for information, sign ups, and requirements.
2014/2015 Percussion Audition Required Materials: (non music majors may contact Dr. Gartner for PDFs and audition requirements)
Marimba
The Happy Farmer (Gaines** p. 66-67)

Timpani
Etude No. 18 (Peters+ p. 143)

Snare Drum
#5 (Cirone* p. 7)

Xylophone
Hansel und Gretel
3. Bild, 3. Szene ("Hexenritt")
Ulrich++ p. 49

Cymbals
Tchaik 4 mvmt.4 270-end
Ulrich++ p. 75

Tambourine
Carmen 2. Akt, Nr. 12
Ulrich++ p. 76

*Cirone, Anthony. Portraits in Rhythm. Miami: Warner Bros. Publications, 1999.

**Gaines, Julia. Sequential Studies for Four-Mallet Marimba, Level 1. Columbia, MO: Gaines Publications, 2011.

++Gschwendtner, Hermann, and Hans Jochen Ulrich. Orchester-Probespiel: Pauke/Schlagzeug. Mainz,
Germany: Schott, 1993.

+Peters, Mitchell. Fundamental Method for Timpani. Van Nuys, CA: Alfred Publishing Co., Inc., 1993.
2014-2015 Concert Schedule
October 15, 2014
McCain Auditorium
7:30pm

Prestissimo - King
Divertimento - Persichetti
Mock Morris - Grainger
Chester - William Schuman

December 2, 2014
McCain Auditorium
7:30pm

Toccata Marziale - Vaughan Williams
Songs of Paradise - Walczyk
City Trees - Markowski
Conniption - William Pitts

March 11, 2015
McCain Auditorium
3:00pm

Tunbridge Fair - Piston
Lads of Wamphray - Grainger
Contre Qui Rose - Lauridsen
Wild Nights - Ticheli



May 3, 2015
McCain Auditorium
7:30pm

Purple Pageant - King
New Century Dawn - Gillingham
And the Grass Sings in the Meadows - Cross
Ode to R.S. - Chang su Koh