Kansas State Wind Symphony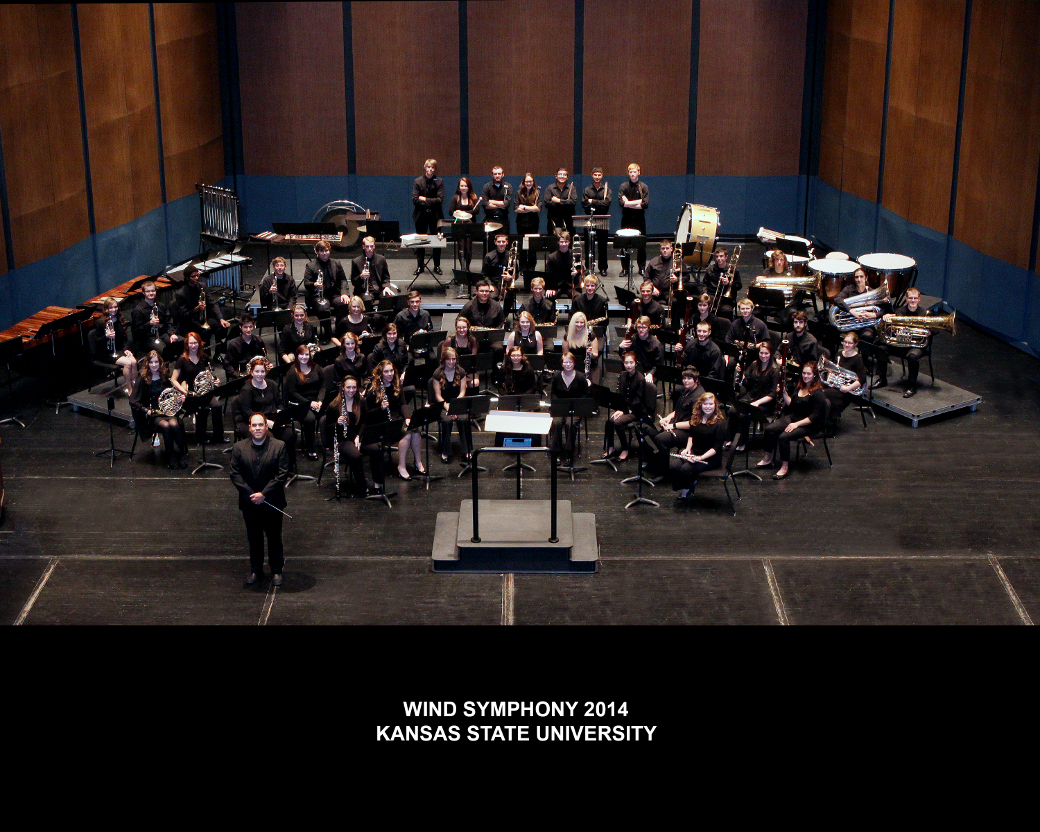 As the newest ensemble in the K-State Bands, this group boasts the talents of our Music Majors and gifted non-music majors. Students are exposed to challenging literature and standards of the repertoire.
2015 Auditions
KSU Concert Bands 2015 - (Wind Ensemble, Wind Symphony, Concert Band, Brass Ensemble)
Instrumental Ensemble Auditions - August 24th - August 26th, See audition schedule below.
Please sign up for an audition time at the McCain 226 Bulletin Board.
If you have any questions, please email Dr. Tracz at ftracz@ksu.edu or call 785-532-3816
Auditions in McCain 226. If you are receiving a scholarship from the K-State Bands, you must make either Wind Ensemble or Wind Symphony to retain that scholarship. Good luck with your practicing!
Audition Requirements: Please find, print, and prepare your instrument's part on the corresponding PDFs online at:
ksu.edu/band/ensembles/windensemble.html
Please prepare the requested measure range for each work. Major Scales and Sight Reading will also be asked.
Percussionists - please email Dr. Gartner (kgartner@ksu.edu) for percussion audition music and audition information.
Monday, August 24
12:30 - 2:00pm Oboes + Bassoons
Oboe Excerpts - Resplendent Glory, M. 184 - 203, met: 150, El Camino Real - M. 129 - 143

Bassoon Excerpts - Black Dog, M. 148 - 168, met: 120, Winter Ricercar - Beg. - M.19
3:30 - 6:00pm - Percussion (audition in McCain 201) - (Non Music Majors and Music Minors email/see Dr. Gartner, kgartner@ksu.edu - McCain 130)
3:30 - 5:00pm - Flute/Piccolo
Flute/Piccolo Excerpts - Honey Boys - M.63-78, met:120, Winter Ricercar - Beg. - M. 19
5:00 - 7:00pm - Clarinets/Bass Clarinet
Clarinet Excerpts - Honey Boys - M. 63 - 78, met:120, Winter Ricercar - Beg. - M.19
Bass Clarinet Excerpts - Black Dog M. 148-168, met:120, Irish Tune - M.1 - M.16
7:00 - 7:30pm : Break
7:30 - 9:30pm - Saxophones
(Everyone must audition on Alto Saxophone)

Saxophone Excerpts - Black Dog M.160 - M.190, met:120, Winter Ricercar - M.1 - 19
Tuesday, August 25
6:00 - 7:15pm - Low Brass (Tuba/Euphonium)
Euphonium Excerpts - Honey Boys M. 95 - End, met: 120, Black Dog M.148 - M. 149, M.165-M.166, M.194-197, Schuman - M.60 - M. 80
(TC Euphonium prepare trumpet parts)
Tuba Excerpts - Honey Boys M.95 - End, met:120, Black Dog M. 148 - 168, met:120, Lincolnshire Posy M.51 - M.67
7:15 - 7:45 : Break
7:45 - 9:00pm -Horns
Horn Excerpts - El Camino Real M. 89 - M.110, Met: 156, Winter Ricercar M.1 - 19
Wednesday, August 26
12:30 - 1:50pm - Trombones
Trombone Excerpts - Honey Boys M. 1 - M.22, met:120, Black Dog M. 148 - End, met:120, Bordogni Etude - entire etude
3:30 - 6:00pm - Trumpet
Trumpet Excerpts - Honey Boys M.63 - M.78, met:120, Winter Ricercar - M.5 - 19
2015-2016 Concert Schedule
October 21, 2015
McCain Auditorium
7:30pm

Variations on a Korean Folk Song - Chance
Psalm - Persichetti
Blue Bells of Scotland - Pryor
Domingo Pagliuca, Trombone Soloist
Lullaby for Kirsten - Bassett
Frenzy - Boysen

December 3, 2015
McCain Auditorium
7:30pm

Smetana Fanfare - Husa
Variants on a Mediaeval Tune - Dello Joio
Dramatic Essay - Williams
Jack Brndiar - Trumpet Soloist
Trauermusik - Wagner/Boyd
Symphony #2, III. Apollo Unleashed - Ticheli

March 8, 2016
McCain Auditorium
7:30pm

Ecstatic Fanfare - Bryant
Romance - John Zdechlik
Rachel Villareale, graduate student conductor
Wayfaring Stranger - Nelson
Tempered Steel - Charles Rochester Young
Alex Cook, graduate student conductor

May 1, 2016
McCain Auditorium
7:30pm

Flute Concerto - TBA (Chamber)
Looking at the Stars - Cross
An American Elegy - Ticheli
Lads of Wamphray - Grainger