Kansas State Wind Symphony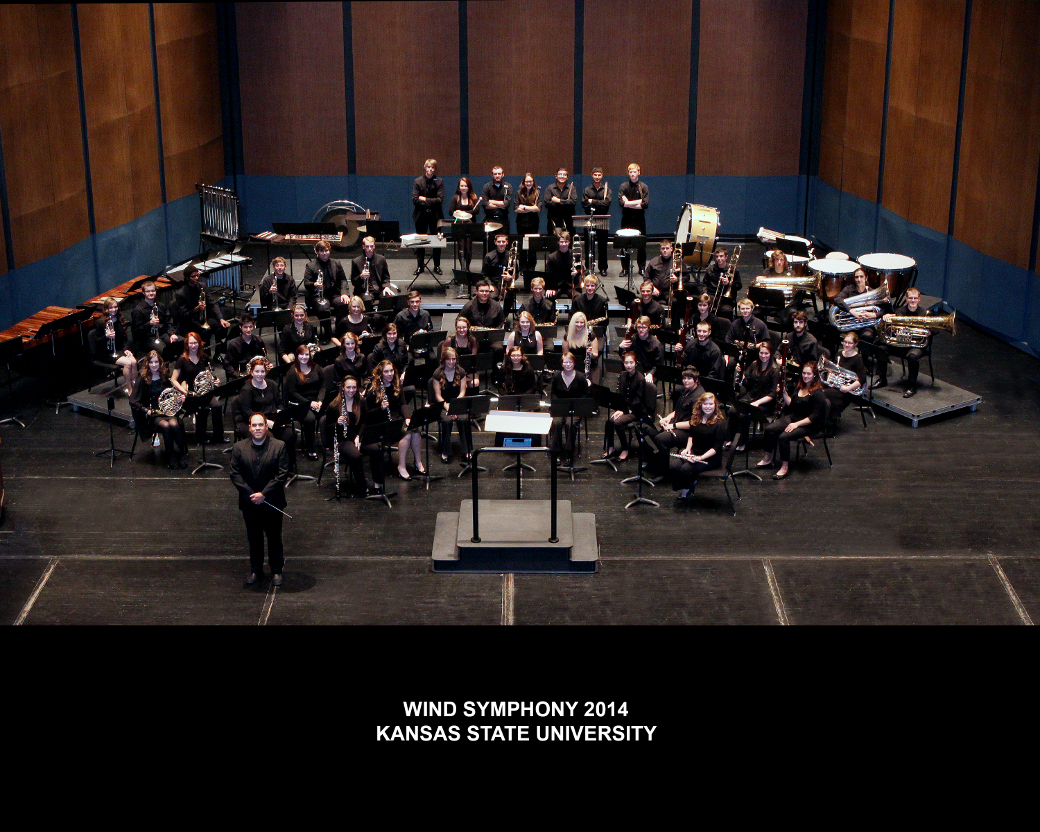 As the newest ensemble in the K-State Bands, this group boasts the talents of our Music Majors and gifted non-music majors. Students are exposed to challenging literature and standards of the repertoire.
Auditions for the 2016-2017 Wind Ensemble, Wind Symphony, Concert Band, Brass Ensemble, Woodwind Ensemble
More Detailed Information and Excerpts Coming Soon.
Music Will be posted August 1st
Required: Prepare Piece, Scales as Requested, Sight Reading
Required Meeting: Aug. 22nd, Monday - 3:30pm meeting in McCain 201 for all students auditioning

Fall 2016 Audition Schedule
Monday, Aug. 22nd
3:30 pm - Meeting in 201
Dr. Tracz's Office:
4pm - Flutes
6pm - Oboes
7pm - Bassoons

Mr. Linn's Office:
4pm - Trumpets
6pm - Horns


Tuesday, Aug. 23rd

Dr. Tracz's Office:
6:30pm - Saxophones
8pm - Clarinets

Mr. Linn's Office:
6:30pm - Trombones
8pm - Tubas
9pm - Euphoniums
Kansas State University Wind Symphony
2016/2017
Instrumentation – Total: 49
1 Picc
4 Flutes
2 Oboes
2 Bassoons
7 Bb Clarinets
2 Bass Clarinets
3 Alto Saxophone
1 Tenor Saxophone
1 Baritone Saxophone
5 Horns
6 Trumpets
3 Trombones
2 Euphoniums
2 Tuba
1 Piano
7 Percussion
2016-2017 Concert Schedule
October 12, 2016
AFC
7:30pm

Looking at the Stars - Cross
William Byrd Suite - Jacob
Lads of Wamphray - Grainger
Carnival Day - Chang Su Koh

December 4, 2016
AFC
7:30pm

English Dances Set I - Arnold/Paynter
Songs from the Catskills - de Meij
all stars are love - Bryant
Mambo Furioso - Karrick

March 5, 2017
AFC
7:30pm

On This Bright Morning – Maslanka
Meditation at Lagunitas – Paul Dooley
Flash! – Daniel Dorff
Supernova – Michael Gaydeski

April 30, 2017
AFC
3:30pm


The Jig is Up – Kallman
Pale Blue on Deep – Perrine
Bullets and Bayonets – Sousa
Candide Suite - Bertnstein