Welcome to K-State Bands! If you are a prospective band member and would like more information complete our online prospective member form found on the left side of this page, call us at 785-532-3816, or schedule a campus visit!
Check out this great article about the KSUMB from Halftime Magazine!
Congratulations to the K-State Wind Ensemble on being selected to perform at the 2016 CBDNA Southwest Regional Conference in Boulder, Colorado!
2015 K-State Marching Band - New Members and Vets: Confirm your membership in the 2015 Pride of Wildcat Land

SECONDARY UNIFORM UPDATED INFORMATION:
Updated Secondary Wind Pants Cost: $20.00

Updated Secondary Shirt Cost: $30.00 for EACH SHIRT
*Price adjustment due to electronic printing material and new high-tech fabric.
Alumni: Alumni Band Day will be September 19th! This will also be the presentation of the Sudler Trophy to the band, a trophy that every single alumni of the band has earned. Please register for the KSUMB Alumni Band and 2015 Reunion taking place at the September 19th game. Your support of the band and participation keeps us strong! For information and registration please visit: KSU Alumni Band
K-State Summer Graduate Study:
Practical, Affordable, Enriching, Life Changing! Come get your Master of Music with an Emphasis in Music Education Degree in just 3 summers at Kansas State University. We have tracks for Instrumental, Choral, and General Music. Get your degree in just three summers or take the classes that interest you in order to fulfill continuing education requirements.
In addition to studying with our fantastic, nationally-recognized K-State faculty such as Dr. Frank Tracz, Dr. Julie Yu, Dr. Fred Burrack, and Dr. Phil Payne, we have some special guests teaching this summer. Jay Gilbert from Doane College will be here this summer to talk about band literature, and John Benham from Save School Music will be here to talk about advocacy and fighting for your program. The marching band techniques class will be held at the same time as our Leadership and Auxiliary Camp where directors will get a chance to interact with student leaders from all around Kansas. Larry Blocher, composer, arranger, conductor, and co-principal author of the Teaching Music Through Performance in Band Series will also be a guest lecturer this summer. This program is practical and is designed to serve you and your immediate needs as an educator.
You can register today! For more information go to : http://www.k-state.edu/musiceducation/summergrad/ or email Dr. Fred Burrack at fburrack@k-state.edu. Increase your potential this summer at K-State!
5/7/2015: Special Announcement: New Secondary Uniforms for 2015
The KSUMB would like to announce that we are all getting new secondary uniforms next year. Every 4 or 5 years we have to re-do the secondary design due to changing materials and updating designs. It is always exciting to update the 'look' and now is the perfect time. Every member (Vet and Rookie) of the 2015 KSUMB will have to purchase new secondary shirts and shorts. The shirts feature the Sudler Trophy design and the shorts feature updated styling with pockets! Check your Summer Newsletter (coming soon to your mailbox) for ordering information.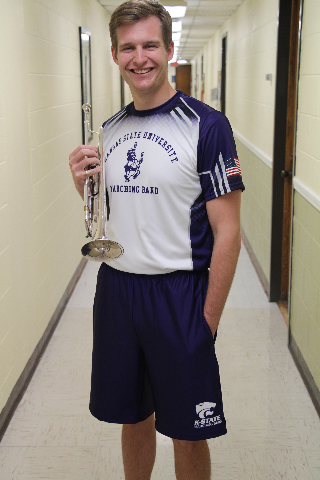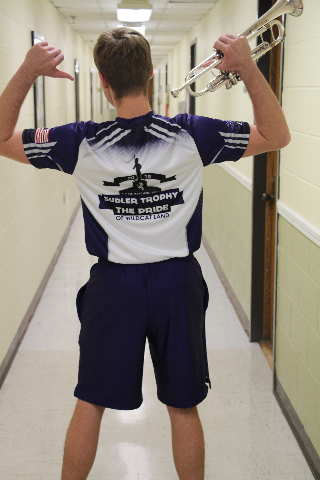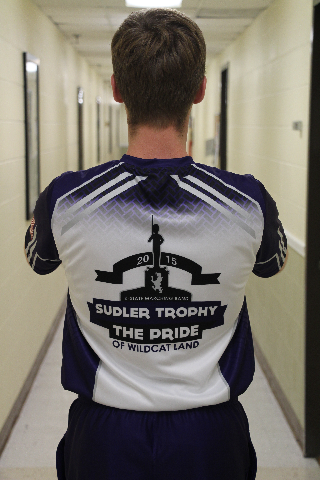 May 6, 2015 * Special Band Day Announcement*
Band Day is currently full - Band Day will also be called SUDLER TROPHY DAY and will be on September 19, 2015
2015 Band Day Tunes:
1. Happy by Pharrell Williams/arr. Paul Murtha (available from Senseney Music)
2. Sudler Trophy Presentation
3. Alma Mater
4. 1812 Overture
5. Wabash Cannonball
6. Wildcat Victory
Happy must be purchase by the high school band directors for their band. All other music will be provided in August.
Come support K-State Band student scholarships and Red Skelton's Marching Pride Scholars Program by sponsoring a hole in this summer's K-State Band MPS Golf Tournament. This is a great day of golf for all ability levels held at Manhattan's Colbert Hills Golf Course on June 19th. We are currently looking for businesses and individuals to sponsor golf holes and carts. We are also looking for players! All donations go directly to the MPS student scholarship fund! If your business can sponsor a hole, please let us know!
http://www.k-state.edu/band/specialevents/golf.html
4/28/15 - Dr. Tracz inducted into Phi Kappa Phi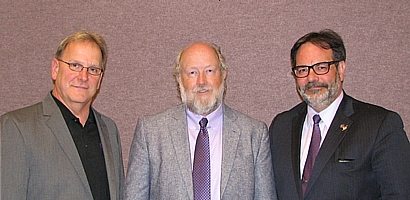 Dr. Frank Tracz, Director of Bands at K-State, was inducted a few days ago into the prestigious honor society, Phi Kappa Phi. The mission of The Honor Society of Phi Kappa Phi is to recognize and promote academic excellence in all fields of higher education. The Honor Society of Phi Kappa Phi was founded in 1897. The Kansas State University chapter, the fourteenth to be organized, was established and formally installed on November 15, 1915. Membership in the Honor Society of Phi Kappa Phi is earned. Admission is by invitation and requires nomination and approval by a chapter. Faculty, professional staff, and alumni who have achieved scholarly distinction are eligible for initiation.
4/24/15 - Special Announcement: HORN DAY!! NOV. 21st
The KSUMB would like to announce that K-State Horn Day will be November 21st at the K-State vs. Iowa State game.
All high school French Horn/Mellophone players are welcome to spend a day with the KSUMB. Live the life of a K-State Horn as you experience Gameday with the K-State Marching Band! Interact with the KSUMB, take part in the traditions, attend a special clinic, and perform at halftime for over 50,000 fans. We will be announcing our guest horn artist very soon! A free ball cap and t-shirt will be provided to each participant. Discount tickets will be available to parents. This even is FREE for all participants.
Congratulations, Ashley!
Congratulations to Ash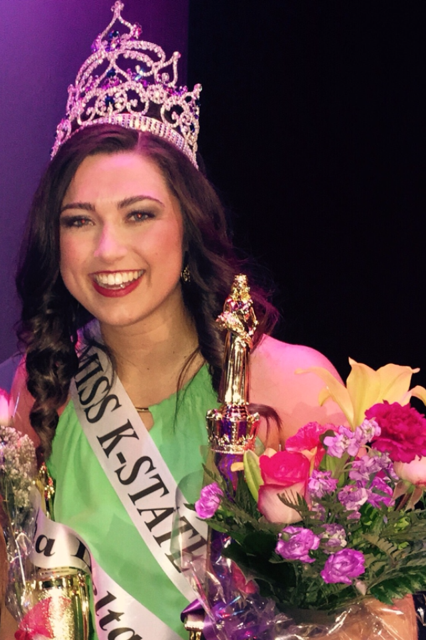 ley Wilmoth, Classy Cat in the KSU Marching Band, on being named the 2015-2016 Miss K-State!
Registration for the 2015 Summer Music Camp is now active! This is a great camp where students can participate in one of two great honor bands, find other musical outlets, have fun, and meet new friends from all across Kansas and beyond. The camp is available to all band students grades 5 through 12. This camp is hundreds less than other camps in the region and will be held from June 14 - 18, 2015. Please click this link for more information and online registration.
The Phillip W. Hewett Marching Band Alumni Scholarship
GOAL: $75,000 to endow the three drum major positions
HOW TO DONATE: Please give generously by check, gift, stock transfer, or pledge:
KSU Foundation http://www.found.ksu.edu 1-800-432-1578
Designate your contribution: 'Hewett Scholarship' / Fund Number: Q 69198
Click on the
Give Online
link found in the left column, or by mail:
2323 Anderson Ave, Suite 500, Manhattan, KS 66502.
And remember to check with your employer to see if your place of business has a matching gift program.