Welcome to K-State Bands! If you are a prospective band member and would like more information complete our online prospective member form found on the left side of this page, call us at 785-532-3816, or schedule a campus visit!
2017 Members

If you are going to be a new member of the Pride of Wildcat Land, the Kansas State University Marching, and DID NOT receive the proper inserts with our Spring Newsletter, we apologize. Please use the links below to access those inserts.
KSU Bands Summer News Letter
Download here
Attention Alumni Band Members

Use the link below to register for Alumni Band Day on September 9, 2017
Alumni Band Registration
The Family Tradition

Posters now available.

Can be picked up at the band office for $10 or can be mailed for $25. All proceeds goes to the Marching Pride Scholarship fund.

Checks can be mailed to:
Kansas State University Bands
Kansas State University
226 McCain Auditorium
Manhattan, KS 66506

Also now available: Desktop Wallpapers and Social Media Banners



2017 Important Dates
Band Director Day
Will be held September 2nd, 2017 as the Wildcats take on the Central Arkansas Bears at Bill Snyder Family Stadium. More info

All Star Marching Band
We are excited to announce this new event to replace band day. It will be part of a very special halftime performance, during the second home game of the season as K-State battles the Charlotte 49ers on September 9th at Bill Snyder Family Stadium.
More info

Central States Marching Festival 2017
Will be held Saturday, October 7th, 2017 at Bill Snyder Family Stadium. With great feedback, video clinics, and optional hour clinics, this is the perfect early-season marching festival. More info

Trombone Day 2017
Will be held Saturday, November 11th at Bill Snyder Family Stadium. More info
2017 Camp Announcements
Leadership & Auxiliary Camp

July 9-12, 2017

Camp is open to all students currently in grades 9 through 12. Applications are accepted on a first-come, first-served basis. The staff of the Kansas State University Leadership and Auxiliary Camp is comprised of the KSU Marching Band (KSUMB) Drum Majors, Color Guard, and various KSUMB staff. Daily activities include team building exercises, breakout/leadership sessions, sectional rehearsals (drum majors, leadership sessions, percussion, color guard), recreational time, and full ensemble rehearsals. A final performance by the Drum Major & Leadership Candidates, Percussion, and Color Guard campers will be given at the conclusion of the camp.
Wildcat fans, Music Educators, Band Directors, and Band parents present and future: The following videos were filmed this past fall in partnership with REW Music in Kansas City along with Bob and Megan Woeppel. This video series was filmed and produced by a professional company out of LA and the result is fantastic. These videos will be used by band directors and music educators across the nation to get students excited about joining band and choosing an instrument to play in school. The KSUMB is proud to be associated with such a terrific project. Thanks to REW Music and music educators everywhere. The videos below will get kids excited about band, will let students learn about a few of the different instruments in the band, examine a day in the life of a college band student, and talk to the parents about the value of music education.
What will you play
Starting Lineup
Day in the Life
For The Parents
Special Announcement: Dynamic saxophone performing group, The Moanin Frogs, will be our featured guest artists for the 25th Concert Band Clinic in January 2017. Information and Registration for the 25th CBC will be coming in the Fall.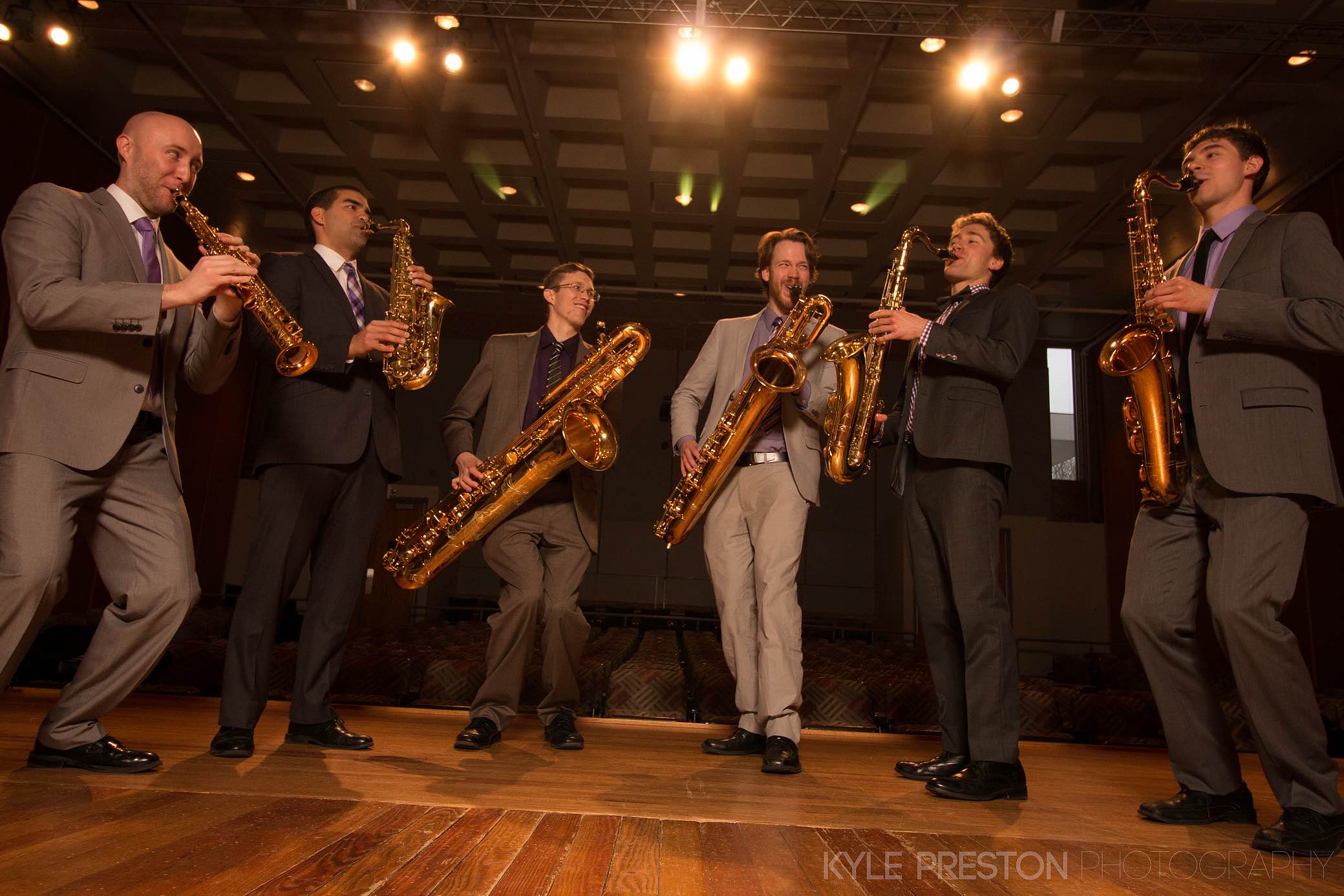 Wildcats @ Conn-Selmer Institute
Established in 1997, the Conn-Selmer Institute is an event focused on instructing and guiding current and future instrumental educators and music professionals. Sessions at the institute focus on teaching methods, recruitment techniques, retention, student engagement and motivation.
Kansas State University was represented at this conference by our director of bands, Dr. Frank Tracz, and ten Music Education students. The students in attendance were: Jessica Brummel, Brett Butler, Bailey Eisenbraun, Sara Gift, Madison Hines, Wes Lewis, Alex Meek, Kodi Shouse, Preston Thomas, and Trace Woods. They traveled to the campus of Bethel College in Mishawaka, IN for the June 11th-14th event. Over the course of the three days, the students were given practical information to take into the music classroom, skills to develop as future teachers, and strategies to implement with their own students. They also had the chance to take part in inspiring, motivational, and touching lectures by world-class clinicians and educators. After a day of clinic/workshop sessions, the students were treated to concerts by performing artists such as, Canadian Brass and the Truth In Jazz Big Band. These concerts were motivational and entertaining.
In addition to the clinics and workshops, Conn-Selmer allowed the students to tour their instrument manufacturing facilities and see first-hand the amount of pride that the employees have in their product. Skill, craftsmanship, and precision were on display. All of the students involved commented on the eye-opening nature of this tour.
Dr. Tracz was among the instructing faculty and lecturers at this year's 20th anniversary conference. He presented nine clinics during the week, geared toward improving organization and instruction in the instrumental music classroom. Dr. Tracz has been a part of the Conn-Selmer Institute for the past eight years and he continues to guide music education here at Kansas State and across the globe.