Welcome to K-State Bands! If you are a prospective band member and would like more information complete our online prospective member form found on the left side of this page, call us at 785-532-3816, or schedule a campus visit!
The entire K-State Band Family is deeply saddened by the passing of Haven Stambaugh. Haven's dad, Eric Stambaugh, earned his BME and his MM from K-State and served as a band GA. Haven was a beautiful, bright, and happy young lady, who after a very long and difficult battle, left us way too soon. Our thoughts, prayers, and support go to Eric, Amanda, and Ethan as they work their way through these difficult times. Please keep them in your prayers.
We love you Eric, Amanda, and Ethan, and our sincere condolences to you and the entire family.
Frank Tracz and the K-State Band Family.
2017 Members

If you are going to be a new member of the Pride of Wildcat Land, the Kansas State University Marching, and DID NOT receive the proper inserts with our Spring Newsletter, we apologize. Please use the links below to access those inserts.
The Family Tradition

Posters now available.

Can be picked up at the band office for $10 or can be mailed for $25. All proceeds goes to the Marching Pride Scholarship fund.

Checks can be mailed to:
Kansas State University Bands
Kansas State University
226 McCain Auditorium
Manhattan, KS 66506

Also now available: Desktop Wallpapers and Social Media Banners



2017 Audition Info
Drumline
Auditions for the 2017-18 season will take place on June 3rd, 2017.

The auditions will consist of exercises from the K-State Drumline Handbook and an audition piece which will be posted in the near future.
2017 Important Dates
Band Director Day
Will be held September 2nd, 2017 as the Wildcats take on the Central Arkansas Bears at Bill Snyder Family Stadium. More info

All Star Marching Band
We are excited to announce this new event to replace band day. It will be part of a very special halftime performance, during the second home game of the season as K-State battles the Charlotte 49ers on September 9th at Bill Snyder Family Stadium.
More info

Central States Marching Festival 2017
Will be held Saturday, October 7th, 2017 at Bill Snyder Family Stadium. With great feedback, video clinics, and optional hour clinics, this is the perfect early-season marching festival. More info

Trombone Day 2017
Will be held Saturday, November 11th at Bill Snyder Family Stadium. More info
2017 Camp Announcements
Summer Music Camp

June 11 - 15, 2017

The 2017 Kansas State University Summer Music Camp will be held on June 11-15th and is open to all band students grades 5 through 12. A typical daily schedule during camp includes a full group rehearsal in the morning, followed by a sectional (small group) rehearsal with instruction by a specialist. Lunch is followed by supervised recreation time at either the K-State Union or the brand new Manhattan City Water Park, another full group rehearsal, then small group instruction. The campers perform with the Manhattan Municipal Band on Tuesday evening and camp culminates with a final performance by the camp ensembles Thursday afternoon.

The guest conductors for the 2017 KSU Music camp will be Dr. Jay Gilbert, Director of Bands at Doane College in Crete, Nebraska, and Dr. Larry Blocher of Troy University (Alabama). There is also the possibility of adding a 3rd band due to increased interest in the camp. The five-day camp exposes students to a variety of ensemble and rehearsal settings, including concert band, small ensembles, and jazz ensembles.

Leadership & Auxiliary Camp

July 9-12, 2017

Camp is open to all students currently in grades 9 through 12. Applications are accepted on a first-come, first-served basis. The staff of the Kansas State University Leadership and Auxiliary Camp is comprised of the KSU Marching Band (KSUMB) Drum Majors, Color Guard, and various KSUMB staff. Daily activities include team building exercises, breakout/leadership sessions, sectional rehearsals (drum majors, leadership sessions, percussion, color guard), recreational time, and full ensemble rehearsals. A final performance by the Drum Major & Leadership Candidates, Percussion, and Color Guard campers will be given at the conclusion of the camp.
Wildcat fans, Music Educators, Band Directors, and Band parents present and future: The following videos were filmed this past fall in partnership with REW Music in Kansas City along with Bob and Megan Woeppel. This video series was filmed and produced by a professional company out of LA and the result is fantastic. These videos will be used by band directors and music educators across the nation to get students excited about joining band and choosing an instrument to play in school. The KSUMB is proud to be associated with such a terrific project. Thanks to REW Music and music educators everywhere. The videos below will get kids excited about band, will let students learn about a few of the different instruments in the band, examine a day in the life of a college band student, and talk to the parents about the value of music education.
What will you play
Starting Lineup
Day in the Life
For The Parents
Special Announcement: Dynamic saxophone performing group, The Moanin Frogs, will be our featured guest artists for the 25th Concert Band Clinic in January 2017. Information and Registration for the 25th CBC will be coming in the Fall.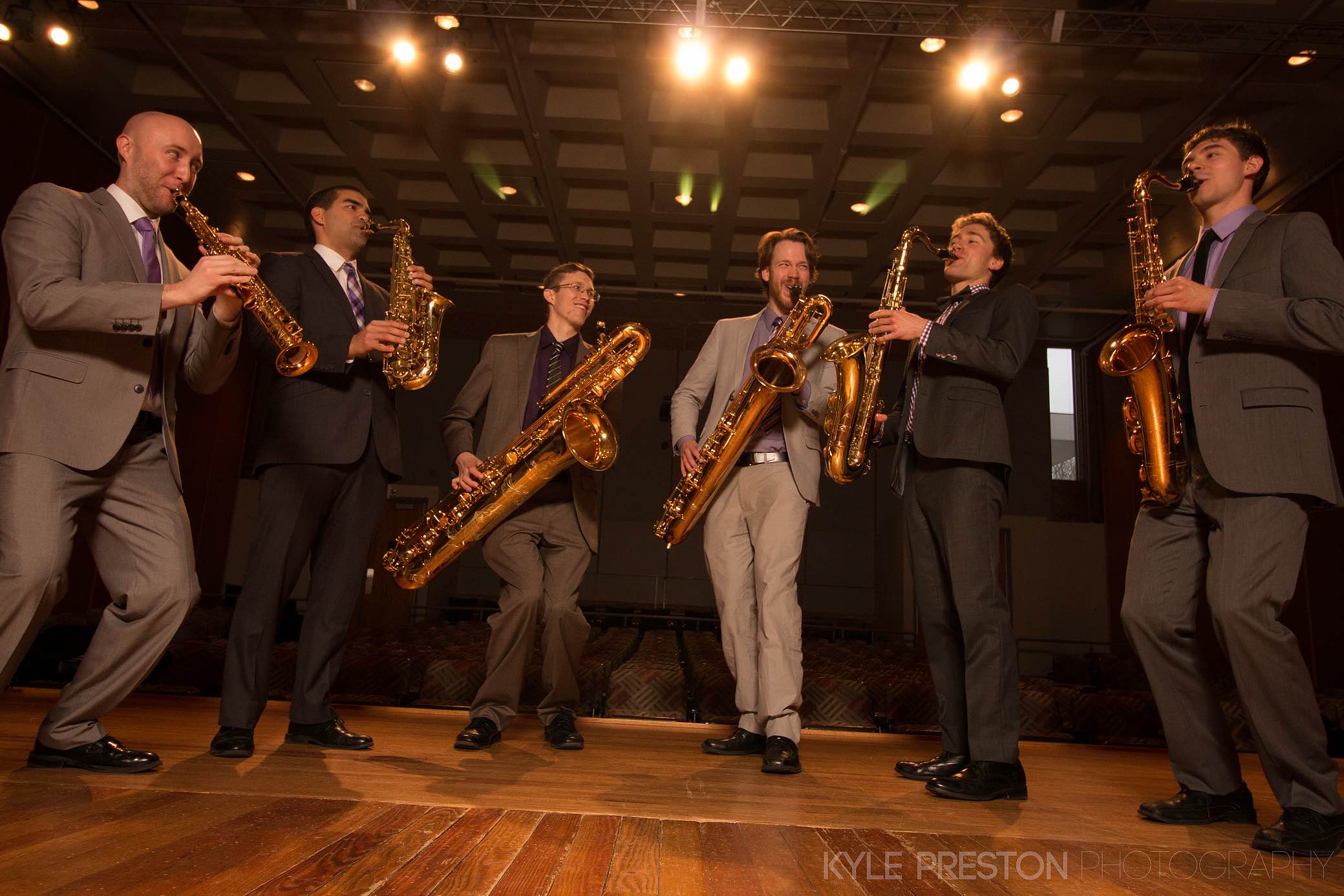 Frank Tracz inducted into the Conn-Selmer Institute Hall of Fame
Dr. Frank Tracz, Director of Bands and professor of music, was inducted into the Conn-Selmer Institute Hall of Fame this past Tuesday. The Conn-Selmer Institute is a three and a half day professional development conference for college students, directors, and music program leaders held every June on the beautiful campus of Bethel College in Mishawaka, Indiana. CSI equips current and future music educators with practical skills and relevant strategies addressing current trends in music education. The curriculum is comprised of inspiring workshops led by world-class clinicians.
Dr. Tracz has been on the faculty at the Conn-Selmer Institute every summer since 2006. He remains active as a conductor, clinician, and educator for Conn-Selmer throughout the year. Several K-State graduate and undergraduate students attended this past week's institute where they collaborated with music educators and music professionals from all across the country.
Conn-Selmer is the leading manufacturer and distributor of musical instruments for student, amateur, and professional use. They are currently the largest American musical instrument manufacturer. Their education division seeks to support band directors and students all over the world improve their classrooms, refine their musicianship, and inspire passionate teaching.