Welcome to K-State Bands! If you are a prospective band member and would like more information complete our online prospective member form found on the left side of this page, call us at 785-532-3816, or schedule a campus visit!
The KSUMB's Beat Cancer Formation was just featured in the most recent issue of K-State's Conquest Magazine. Check out the online version here. Let's Beat Cancer!
Join the 2016 KSUMB - Click HERE to Complete the 2016 KSUMB Membership Confirmation Form!!!
Congrats to the members of our Band Staff earning Master's Degrees this Spring!
Alex Cook - MM Music Education
Christina Quigley - Master of Public Administration
Rachel Villareale - MM Music Education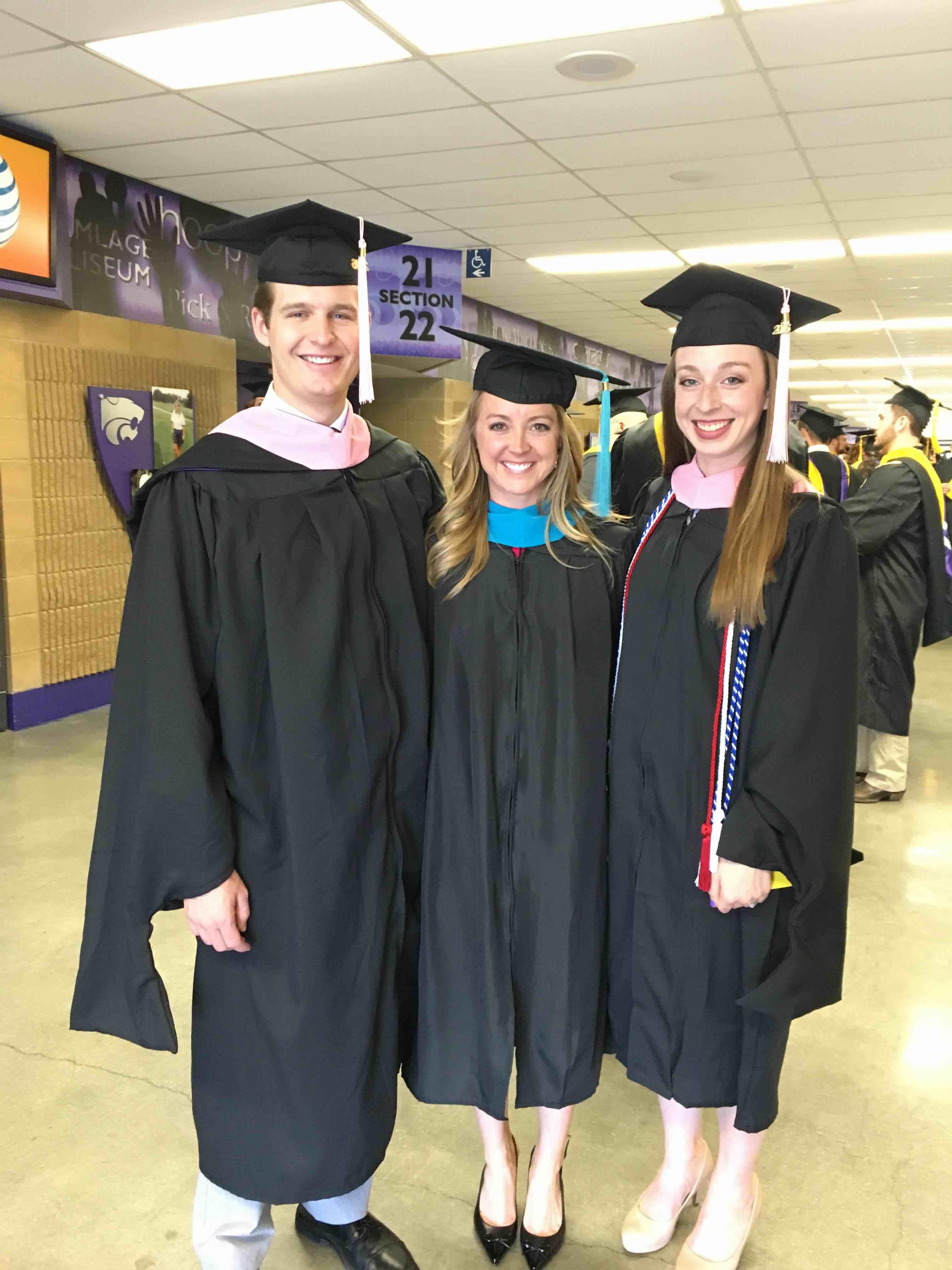 2016 Summer Camps at K-State - Registrations are open!!
2016 Music Camp will be June 12 - 16.
This is a fantastic honor band camp for students grades 5-12. Have fun in Manhattan, learn more about your instrument, meet students from all over the region, and have an unforgettable summer experience.
Click Here to Register for the 2016 KSU Summer Music Camp
2016 Leadership/Auxiliary Camp will be July 10 - 13
This is a great camp for Drum Majors, Section Leaders, Percussion, and Guard. You do not have to be a formal leader in your band to attend. This camp is open to students grades 9 - 12.
2016 Leadership and Auxiliary Camp Registration
Come play with "The Pride at the K-State Marching Band Tuba/Euphonium Day on October 8th! Register HERE!
All high school Tuba/Euphonium players are welcome to spend a day with the KSUMB. Live the life of a K-State Horn as you experience Gameday with the K-State Marching Band! Interact with the KSUMB, take part in the traditions, attend a special clinic, and perform at halftime for over 50,000 fans. A free ball cap and t-shirt will be provided to each participant. A certain amount of discount tickets will be available to parents. This even is FREE for all participants. A TENTATIVE schedule can be found HERE.
Congratulations to the new members of the 2016-17 Pride Auxiliaries! Twirlers, Classy Cats, and Colorguard.
Dr. Frank Tracz is awarded Kansas State University's Professorial Performance Award
Manhattan, Kansas – May 2, 2016 - Dr. Frank Tracz, professor of music and Director of Bands in the School of Music, Theatre, and Dance, has just been awarded the University's Professorial Performance Award. The award recognizes the significant achievements of Dr. Tracz over a sustained period of time with Kansas State University.
Frank Tracz is completing is 23rd year at the university and has developed a nationally recognized, award-winning band program. The athletic band and concert band programs have enjoyed amazing growth and sustained success during his entire tenure and experienced noticeable increases in quality and recognition in the past few years. In 2015, the Pride of Wildcat Land marching band was recently singled out as one of the nation's best marching bands by being awarded college marching's highest honor, the Sudler Trophy. Marching shows from the KSUMB have been featured at both athletic CBDNA and national CBDNA conferences. The Wind Ensemble, the university's top concert band under the direction of Dr. Tracz, has performed at Carnegie Hall, taken national concert tours, and has been selected to perform at prestigious wind band festivals, and at state and regional conferences.
Dr. Tracz enjoys an international reputation as a musician, conductor, motivational speaker, and clinician. He regularly guest conducts ensembles around the nation, averaging over twenty guest conducting appearances per year and performs close to fifty clinics for concert bands and marching bands each year. In the past six years, Tracz has made appearances in thirty states and has given clinics and concerts in Canada, Singapore, Australia, New Zealand, and Fiji. As a speaker for the university, he presents close to twenty lectures each year as part of the Presidential Lecture Series in addition to many other private speaking engagements.
Frank Tracz is an active member of the Manhattan community, serves on multiple councils and committees, and serves as director of the Manhattan Municipal Band. He is a Lowell Mason Fellow through NAfME, member of Phi Kappa Phi, has been awarded Phi Beta Mu's Outstanding Bandmaster Award through the Kansas Bandmaster's Association, and most recently was inducted in the very prestigious American Bandmaster's Association.
The KSUMB performed at the Houston Inspiration and Innovation event and had the opportunity to meet and speak with General Richard Myers, former Chairman of the Joint Chiefs of Staff, K-State Alumnus, and Interim President of Kansas State University!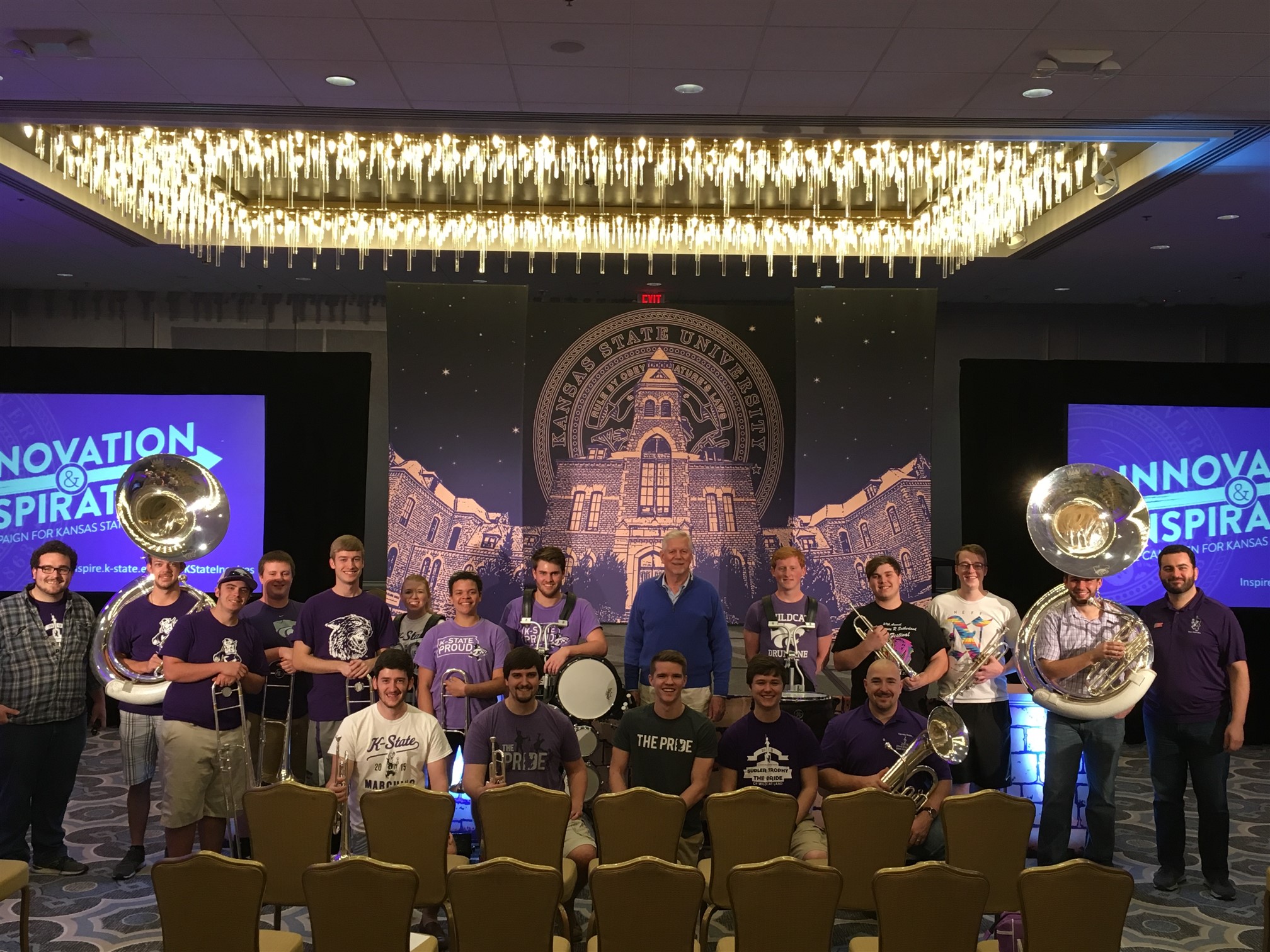 Perdaris Classy Cat Scholarships
Amanda Perdaris is proud of her time as a K-State student. Her classes in the College of Arts & Sciences were meaningful and her instructors were inspiring, but her favorite memories involve K-State games.
Perdaris wasn't in the stands. Rather, she was on the sidelines, court or the field as a Classy Cat.
"My entire K-State experience was exceptional, but the opportunity to develop personally and professionally with Dr. Tracz and the Marching Band as a Classy Cat was the experience of a lifetime."
So moved by her Classy Cat experience, Perdaris has opted to create an endowed scholarship that benefits Classy Cat leaders. Her gift includes both cash for current scholarships plus an endowed fund to ensure long-term support.
"There is no other experience on campus that combines a nearly 400 member team, dedication to perfection, and constant focus that develops poise. I want others to gain the experiences that help me grow and gain confidence that has benefited me daily since I left Manhattan."
The first four Amanda Perdaris Classy Cat Marching Band Scholarships will be awarded this fall.
"Amanda set a terrific example when she was on our squad and she is continuing that leadership," said Dr. Frank Tracz, director of the Marching Band. "Unfortunately, some students leave the band based on financial limitations, and Amanda's scholarship will both help bridge the financial gap and provide strong Classy Cat leadership."
"Creating my scholarship was remarkably easy and exceptionally meaningful," Perdaris said. "I challenge my teammates – and anyone who supports the band and appreciates their exceptionalism – to step forward. Under the leadership of Dr. Tracz and Mr. Linn, we have a great band and scholarships will help keep it that way."
For help creating a scholarship for any section or group, contact Dr. Tracz at ftracz@ksu.edu or call 785-532-3816.
Important Dates for Fall 2016
Band Director Day - September 17th
Band Day - September 24th
Tuba/Euphonium Day - October 8th
Central States Marching Festival Featuring the Boston Brass - October 15th
Keeping checking our website for details, information, and registration.
The Phillip W. Hewett Marching Band Alumni Scholarship
GOAL: $75,000 to endow the three drum major positions
HOW TO DONATE: Please give generously by check, gift, stock transfer, or pledge:
KSU Foundation http://www.found.ksu.edu 1-800-432-1578
Designate your contribution: 'Hewett Scholarship' / Fund Number: Q 69198
Click on the
Give Online
link found in the left column, or by mail:
2323 Anderson Ave, Suite 500, Manhattan, KS 66502.
And remember to check with your employer to see if your place of business has a matching gift program.