Kansas State Wind Ensemble

The K-State Wind Ensemble (formerly Symphony Band), directed by Dr. Frank Tracz, performs the finest original works and transcriptions for concert band and wind ensemble. The Chamber Winds program also focuses on a variety of original works written for chamber winds of varying instrumentation.
As the premier concert ensemble at K-State, the Wind Ensemble regularly travels to perform at regional, state, national and international concert venues.
New York Trip, 2015
Repertoire List - Carnegie Hall
Wildcats take Manhattan:
The Wind Ensemble had an amazing trip to the Big Apple and had the experience of a lifetime performing on one of the world's greatest stages. On April 7th, the K-State Wind Ensemble presented the works of Holst, Maslanka, Marquez, Richards, and Stravinsky in Stern Auditorium at Carnegie Hall. The concert was presented as the showcase performance of the New York International Music Festival. The band also performed on April 6th in Central Park at the famous Naumberg Band Shell to a very enthusiastic New York Audience. The trip ended up being a very valuable learning and performance experience for the group and everyone left the city inspired and proud of what they had accomplished. We would like to take the opportunity to thank all who made this trip possible and would like to thank the many family members who made the trip to see their loved ones perform in such a unique and wonderful environment.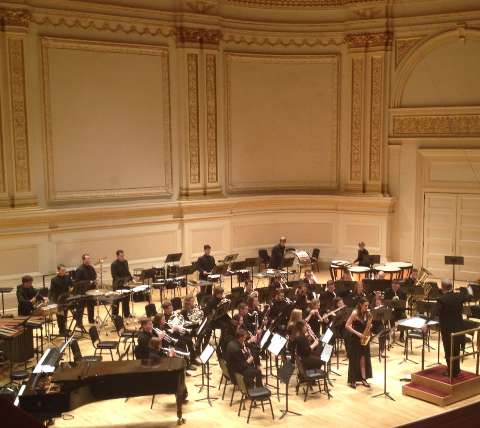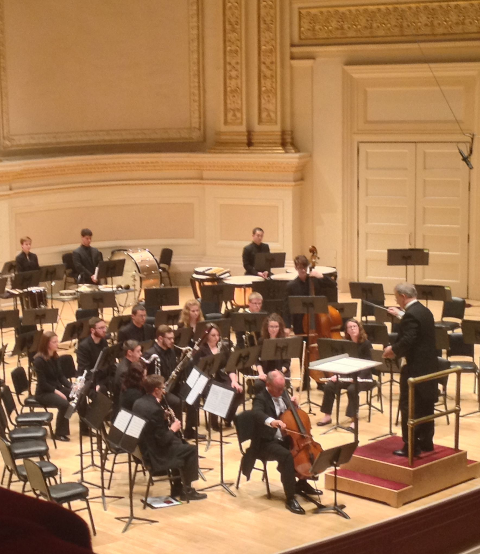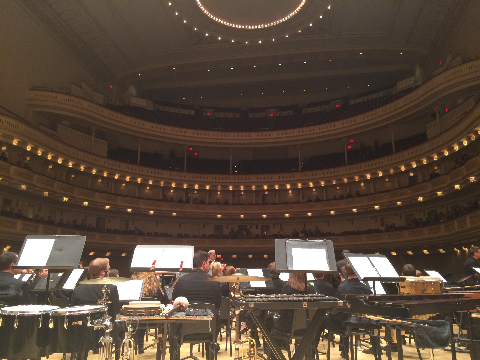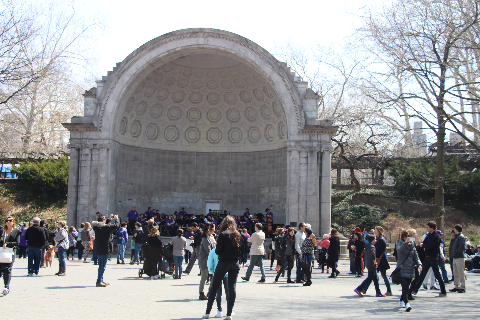 WE NY/CH RH Schedule "Post Spring Break" - This is subject to adjustment:
Day-Date, Time:
RH Info:

M-3/23, 3:30-5:20pm:

W-3/25, 3:30-5:20pm:

F-3/27, 3:30-5:20pm:


Su-3/29, 7:00-9:00pm:


M-3/30, 3:30pm:

W-4/1, 3:30-5:20pm:

Th-4/2, 8:00-10:00pm (Tentative):

F-4/3, Early:

Marquez, Stravinsky, Holst

Maslanka, Richards, Holst

(w/Dr. Littrell and Dr. Wytko) Maslanka, Richards, Holst

Stravinsky, Richards, Marquez, Maslanka, Holst (w/Dr. L and Dr. W)

3:30pm Call/Setup 4:00pm Pre-Concert Concert

All pieces as needed

All pieces as needed


Departure for Zanesville, Ohio
2014-2015 Concert Schedule
October 15, 2014
McCain Auditorium
7:30pm



Special Guest : The Boston Brass

"An American Anthem" - M. Max McKee
"A Fugal Overture" - Gustav Holst
"As One Listens to the Rain" - David French
"Bat Out of Hell" - Paul Richards
*Dr. Anna Wytko, Alto Saxophone Soloist
"With Pleasure" - John Philip Sousa
Wind Ensemble with "Boston Brass" - TBA

December 2, 2014
McCain Auditorium
7:30pm

"The Star Spangled Banner" - arr. Zaninelli
"Febris Ver" - Nancy Galbraith
"Remember Me" - David Maslanka
*Dr. David Littrell, Cello Soloist
"Symphony for Band" - Edward Green

March 11, 2015
McCain Auditorium
7:30pm

Millennium Cannons - Puts
Danzon #2 - Marquez/Nickel
One Life Beautiful - Giroux
A Childhood Remembered - Galante
Dionysiaques - Schmitt



Carnegie Hall Performance, NYC, April

Star Spangled Banner- Smith/Stravinsky
Bat Out of Hell - Richards
Danzon #2 - Marquez/Nickel
Remember Me - Maslanka
First Suite in Eb - Holst

May 3, 2015
McCain Auditorium
7:30pm

The Winged Stallion - Rossano Galante (conducted by Alex Cook)
Punchinello - Alfred Reed (conducted by Alex Wimmer)
Serenade No.10 in Bb (Gran Partita), Mvt. I - W.A. Mozart (conducted by Chris Johnson)
Suite in Bb, Op.4, Mvt. II Romanze - Richard Strauss (conducted by Emily Roth)
Shenandoah - Frank Ticheli (conducted by Mr. Bob Moews) (combined bands)
Symphony No.1 in G minor, Finale - Kalinnikov/Bainum (conducted by Dr. Frank Tracz)
Side by Side Concerts
Each Spring semester, the K-State Wind Ensemble & Concert Band host a middle school and/or high school band to pair up for a concert in McCain Auditorium. This unique opportunity allows these young students a performance opportunity in a professional setting and to observe one of the top two concert ensembles on the K-State campus.
Participants have included:
St. Charles East High School, Jim Kull
Rock Creek High School, Scott Bradley
Blue Valley Northwest High School, John Selzer
Blue Valley West High School, Daneil Kirk
Seaman High School, Cary Stahly
Salina South High School, Jared Rawlings
Manhattan Middle School, Scott Freeby
Manhattan High School, Rod Mangus
Maize High School, Jerry Stone
Buhler High School, Eric Stambaugh
St. Marys School, Warren Sikel
Highand Park High School, Luke Chaffee
Louisburg High School, John Cissitti
Riley County Schools, Joel Nagley
Marion High School, Mike Connell
Junction City High School, T.J. Taylor
Cowley College, Gary Gackstetter
Lansing High School, Luke Johnson (with Symphony Band)
Smokey Valley High School, Shawn Knopp (with Concert Band)
Manhattan Catholic Schools, Kim Thomas (with Symphony Band)
McPherson High School, Kyle Hopkins (with Concert Band)
Goessel High School, Mike Connell, director (with Symphony Band)
Arkansas City High School, Chris VanGilder, director (with Concert Band)
Goddard High School Marla Webber, director (with Symphony Band)
Clay Center High School, Matt Bradford (with Concert Band)
Rock Creek High School, Scott Bradley (with Concert Band)
Washburn-Rural High School, Luke Chaffe (with Wind Ensemble)
Haven High School (with Wind Ensemble)