October 28, 2021
K-State Gardens to host hybrid poinsettia sale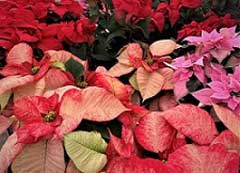 The K-State Gardens annual poinsettia sale, which benefits The Gardens, is a hybrid event with both online and in-person sales this year. Ten varieties of beautiful poinsettias are available, including a couple of different reds, cream and pink plants. The centerpieces are packed full of poinsettias and are striking.
The online sale is Nov. 1-12 with pick up on Nov. 18. The in-person sale is Friday, Nov. 19, between 10 a.m. to 2 p.m.
The plants are grown by K-State horticulture students as a class project. More information is on The Gardens website. The link to the online store will be available and live on Nov. 1.