October 30, 2020
Strategic Enrollment Management plan update
Submitted by Chuck Taber and Thomas Lane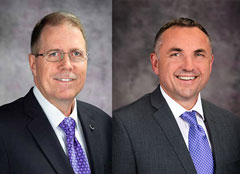 Dear colleagues:
It was in February, before COVID-19 changed our world, that we last shared an update on our multiyear Strategic Enrollment Management, or SEM, plan. As we enter our third year of strategic enrollment management, we want to highlight some of the progress made since then and talk about some key priorities moving forward.
In any given year, many factors shape enrollment at a university. This academic year will be remembered as historic because of the tremendous uncertainty related to the pandemic. As discussed in yesterday's Town Hall, there is no doubt that COVID-19 affected our enrollment as we continued to see enrollment declines, particularly of our in-state undergraduate students. Our prospective students experienced a college search that switched to virtual almost overnight, right in the heart of when many high school seniors make final college decisions. Traditional means of connecting with students — college fairs, in-person campus visits and recruitment events — were canceled. The experience for current students also switched to remote almost overnight. Uncertainty about the status of an in-person college experience during a pandemic affected everyone.
Despite these challenges, our university community demonstrated creativity and agility in pivoting to virtual offerings and improved means of communication to connect with prospective and current students and their families. Thanks to the efforts and resilience of many across the university, additional progress was made on initiatives throughout the spring, summer, and early fall that help the university meet the needs of students and lay the foundation for advancement of SEM goals in the future.
Highlights include:
New online resources were deployed, including virtual appointments and live chats with our admission reps, an online orientation platform for parents and students, and parent webinars and web chats.
Over $6.2 million in financial aid resources were distributed to over 3,400 students through the CARES Act.
Centrally-funded merit scholarships for incoming freshmen are now awarded at time of admission.
The student experience and donor stewardship were improved with gratitude statements for accepted Foundation awards now being accepted in the K-State Scholarship Network, or KSN, platform.
The Missouri Tuition Match agreement was approved by the Kansas Board of Regents, allowing in-state tuition for eligible new Missouri students.
Prospective students have a more transparent and easy calculation of net cost with improved Net Price Calculator.
We expanded our reach to prospective students through digital media.
The new Admissions website was launched.
Prospective students will experience a new inquiry form with personalized landing pages and communications.
The ability to communicate with prospective students was improved with new capabilities through the CRM, which included branded emails for new inquiries and admitted freshmen and new enrollment funnel reporting and strategies.
Students have new ways to explore our offerings since through career pathways and academic interest areas.
Colleges and departments have improved access to student enrollment and retention data through new business intelligence tools and a strengthened institutional research capacity.
Progress reports in SSC-Navigate are now being used to support student success.
Recruitment and admissions functions performed by the Offices of New Student Services, International Admissions and Recruitment, and Undergraduate Admissions were strategically realigned as the Office of Recruitment and Admissions.
These are just some of the highlights which represent a tremendous amount of work and collaboration across units since last February. As we move forward, our SEM initiatives are more important than ever. Here will be some of our key SEM priorities this year.
Need-based aid and retention grant and degree completion programs.
Fuller adoption of the KSN scholarship network to facilitate coordinated central and colleges/department awards.
Award of all centrally-funded merit scholarships at time of admission, including transfer students.
A test optional scholarship model in response to the testing challenges posed by the pandemic.
New Student Financial Aid (SFA) and college websites by start of the spring semester, using the new content management system (CMS) templates to provide a better user experience.
Optimized communication capabilities through our TargetX/Salesforce CRM for university recruitment and admissions, then expanded deployment to include the Graduate School, Global Campus, K-State Polytechnic, and K-State Olathe.
Expanded Care Network available through SSC-Navigate, including all academic advisors by May 2021.
Smart Guidance launch in April as a mobile app including academic planning available to students.
JED Campus initiative to support student mental health.
Multiyear data, metrics, recruitment and retention goals determined across all student segments to better assess progress.
Comprehensive enrollment reporting and improved data warehouse capabilities.
We want to thank everyone across the university who have worked so hard to meet the enrollment challenges we have been facing now for several years. As we move through this pandemic, it is more critical than ever that we continue to focus on enrollment, recruitment and retention. It is on all of us to make this a priority — central, college and departmental units; administrators, faculty and staff. The future of our university and the students we serve now and in the coming years depend upon it.
Sincerely,
Charles Taber
Provost and Executive Vice President
Thomas Lane
Vice President for Student Life