January 28, 2020
K-State professor to present at Profs 'n' Pints today
Submitted by Stephen Bridenstine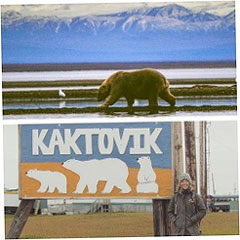 Students and faculty are invited to the inaugural Profs 'n' Pints program from 6:30-7:30 p.m. Tuesday, Jan. 28, at the Flint Hills Discovery Center.
Jessica Fefer, assistant professor of park management and conservation, will present "'I Wanna See a Polar Bear Before They're Gone!': 'Last Chance' Tourism and Sustainability in the Arctic National Wildlife Refuge."
Hear the story of Kaktovik, Alaska — a small, Native Alaskan village on the Northern coast of the Arctic National Wildlife Refuge — and how the increasing public allure of the polar bear has grown Kaktovik's tourism by nearly 1,200% over the last 10 years.
Fefer will highlight her work, which seeks to inform the sustainable management of an increasingly popular polar bear viewing program — one that will address ecological integrity, social responsibility and transformative tourist experiences.
Profs 'n' Pints is a new monthly gathering that pairs up innovative research with some amazing microbrews. Every month features a K-State faculty member sharing what they love in a fun and lively presentation, along with a featured microbrew from Arrow Catering.
Profs 'n' Pints is a partnership between the K-State Department of Horticulture and Natural Resources, Flint Hills Discovery Center and Parks N' Pints.