Anthropology student receives Gilman International Scholarship
Tuesday, Jan. 28, 2020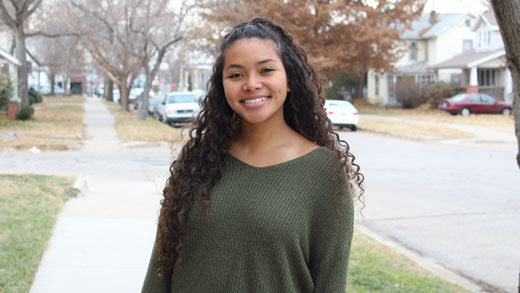 Kya Crocker, junior in anthropology at Kansas State University, has received a Benjamin A. Gilman International Scholarship to study in the Czech Republic for summer 2020. | Download this photo.


MANHATTAN — A Kansas State University student has received a Benjamin A. Gilman International Scholarship to study abroad in summer 2020.
Kya Crocker, junior in anthropology, Derby, will receive up to $5,000 to study in the Czech Republic where she will attend Charles University in Prague and teach English. Congressionally funded and established by the International Academic Opportunity Act of 2000, the Gilman Scholarship Program helps U.S. undergraduate students at two-year or four-year colleges or universities participate in study abroad programs worldwide.

"Linguistics and culture are my main areas of interest and I will have plenty of opportunities to learn about the Czech language and culture," Crocker said. "The rich history of Prague has enticed me since I am definitely a history buff. All in all, this program has every attribute that I could look for in a study abroad program, and I'm so excited."

As an undergraduate researcher, Crocker analyzed archaeological evidence — such as stone tools, hominid migration patterns and geographic/geological evidence — to interpret how early the Philippines were occupied by early hominids about 700,000 years ago. She also is working on a secondary major in international studies and a minor in political science.

In addition to the Gilman, she has received the Gilman-McCain Scholarship from the U.S. Department of State, as well as the Marching Pride Scholarship, Jack and Hilda Dunlap Memorial Scholarship and Medallion Scholarship. She also earned semester honors for the fall 2018, spring 2019 and fall 2019 semesters.

Crocker is a member of Tau Beta Sigma honorary band sorority, K-State Marching Band and K-State Cat Band. She is a teaching assistant for Intro to Biological Anthropology, the curatorial assistant in the university's archaeology lab, a student ambassador for anthropology club and a student intern at the Riley County Historical Museum. A graduate of Derby High School, she is the daughter of Willie Crocker II, Italy, and Cherrie Rattana, Derby.

The next Gilman Scholarship application deadline is March 3. K-State will host several upcoming events to give students more information and assistance with applying for the Gilman. The Gilman Scholarship Information Session and Alumni Panel is at 4 p.m. Jan. 30 in Room 207 of the K-State Student Union; the Gilman Scholarship Workshop is at 4 p.m. Feb.4 in the Room 206 of the K-State Student Union; and Gilman Drop-In Advising is from 11:30 a.m. to 1:30 p.m. Feb. 14 in 304 Fairchild Hall. Students may also email Sara Boro, education abroad advisor, at seboro@k-state.edu.