Managing your organization
New Student Organization Policies Coming Soon!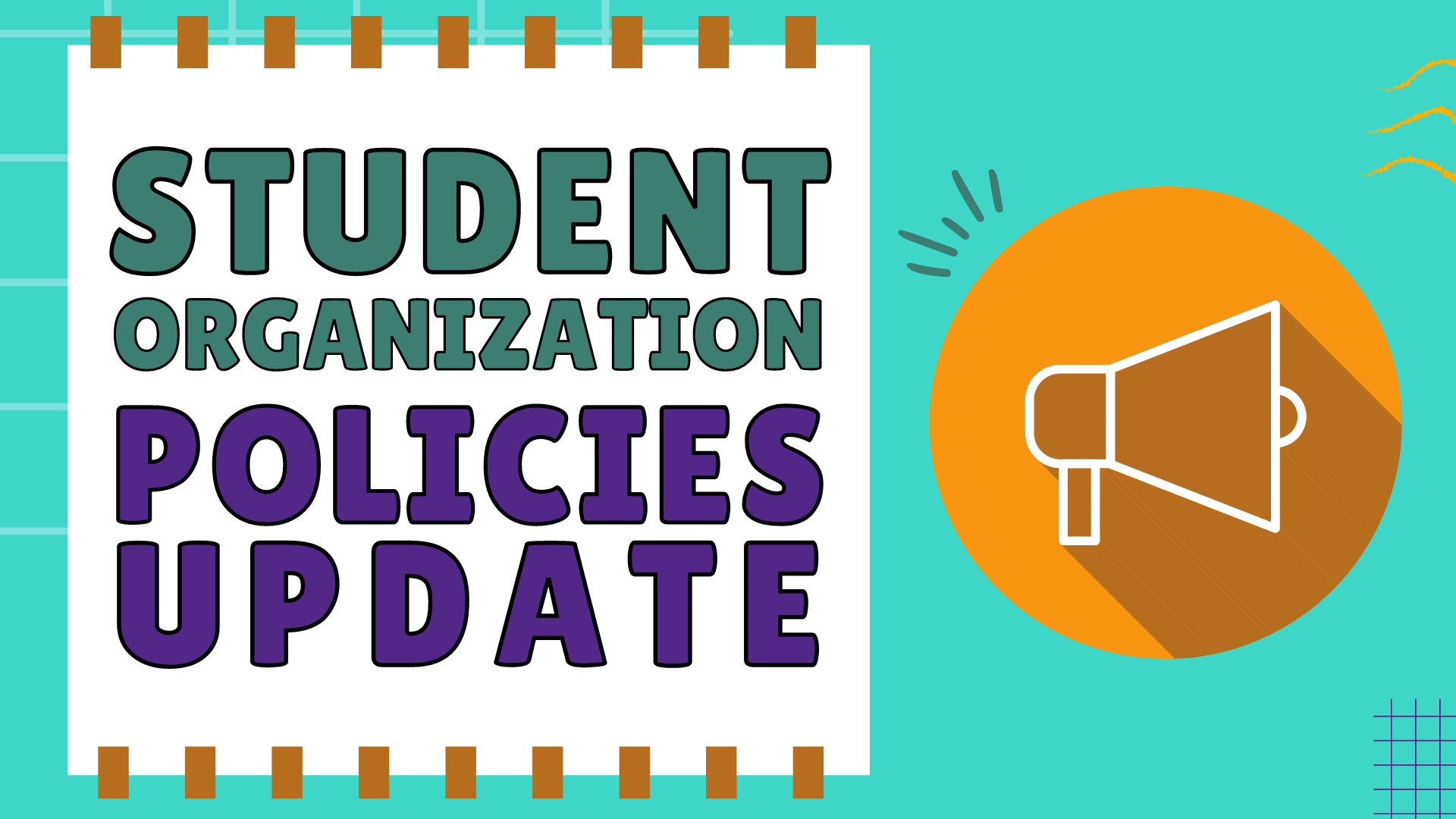 Student Organization Policies Update
The Vice President of Student Life and Dean of Students shared updates on anticipated changes to student organization-related policies to be implemented for the 2023-2024 academic year. Read highlights here.
COVID-19 Guidance for Student Organizations
Learn about university policies regarding events, travel, and more by clicking the link below. When planning events, organizations are encouraged to reach out to the K-State Student Union and campus facilities to learn more about the timelines associated with making reservations, as well as any information regarding potential limitations in place.
COVID-19 Guidance for Student Organizations
The Basics
There are a few things you should know about to successfully manage your student organization, starting with the CSI Update and OrgCentral.
The CSI Update: Official newsletter for student organizations
The CSI Update is a weekly newsletter providing official communication from K-State and the Center for Student Involvement to student organization leadership, including announcements, updates, events, resources, and other important information.
The CSI Update is sent out on a weekly basis to all student organization officers. Officers should read the CSI Update each week and pass along relevant information to the rest of their organization as needed.
Please note: Newsletter recipients are pulled directly from organization groups in OrgCentral. If your group's membership and officer assignments are out-of-date in OrgCentral they will not receive this communication.
OrgCentral: K-State's online student organization management platform
Every registered student organization has a website, or portal, created for them in K-State's organization management platform, OrgCentral. Log in with your K-State eID & password to manage your roster, organization description, events, files, forms, & more!
Leadership Development
Attend free workshops, meetings, and events focusing on a variety of leadership topics including career and self development, communication, critical thinking, equity & inclusion, leadership, professionalism, teamwork, and technology.
Find upcoming events & resources on the Resources for Student Organizations portal in OrgCentral and our Leadership Development website.
Organization Management Support
Access digital guides, worksheets, presentations, & more to help you manage your organization meetings, events, and activities.
Organization management resources
Services provided by the CSI
Activities Carnival: Semi-annual organization recruitment event
Recruit new members to your organization by hosting a booth at Activities Carnival, hosted by CSI the first week of class in the fall and spring semesters. Space is limited, sign up early in OrgCentral!
Meeting, practice, and event space
The CSI Conference Room
Registered student organizations may reserve the CSI Conference room, located in 114 K-State Student Union, for meetings and events. Contact studentinvolvement@k-state.edu
The K-State Student Union
Registered student organizations may reserve rooms and schedule tabling inside the K-State Student Union for free or reduced rates. Contact the K-State Student Union Director's Office.
Campus Facilities
Registered student organizations may reserve buildings and grounds spaces with approval by the managing unit. Contact Room Scheduling in the Division of Facilities.
Locker storage
Registered student organizations can store materials in lockers located in the K-State Student Union. Contact CSI Program Coordinator, Ashley Douglass, at aldouglass@k-state.edu, to learn more.
Mailboxes
While we encourage DSOs to have mail sent to their sponsoring department's address, all registered student organizations (DSOs & ISOs) may utilize the Center for Student Involvement as their permanent mailing address. This is a great way to keep mail from getting sent to an old apartment address!
Use your organization's name when having mail sent to CSI (see example below). Contact studentinvolvement@k-state.edu to learn more.
"Organization Name"
Center for Student Involvement
114 K-State Student Union
918 N. 17th Street
Manhattan, KS 66506
Grade checks
Does your organization have a GPA requirement for your members? CSI can help you facilitate grade checks if you meet the required criteria. Contact CSI to learn more.
Pepsi donations
You can request to have free Pepsi products at your campus-wide events by submitting a request form in OrgCentral.
Recognition
The Center for Student Involvement sponsors annual awards to recognize students, advisors, and organizations for their accomplishments each year. Learn more on our student organization awards webpage.