Recent News from the RTD Laboratory
November 2022
- RTD lab undergraduate student Lexe West is a featured undergraduate student in the latest issue of Seek magazine. Seek is published through the Office of the Vice President for Research. You can read more about Lexe's passion for research here. Nice job representing the lab, Lexe!
September 2022
- RTD Lab graduate student Kelsey Panfil was one of three graduate students selected for the University Distinguished Professors Excellence in Doctoral Studies Award. Kelsey will receive $3333 in funding to support the completion of her dissertation. This is the pre-eminent graduate student research award at K-State, so a very big deal for Kelsey. You can read more about the award and a summary of Kelsey's research here. A big congratulations to Kelsey for this amazing achievement!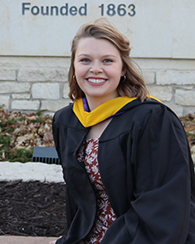 July 2022
- RTD Lab Undergraduate Lexe West completed the McNair scholars summer research program, topping it off on July 27 with a presentation of her project on intervention effects on timing. She's heading to Baylor University on August 3 to present at the National McNair Convention. Nice work Lexe!
- Abigail (Abbey) Keyser presented her final project on the DREADDs inhibition of prelimbic cortex effects on impulsive choices at the Veterinary Summer Research Scholars poster session on July 28. She's headed to St. Paul, MN on August 4-5 to present at the national symposium. Thanks for all your great work this summer, Abbey!
June 2022
- The RTD lab is hosting Abigail Keyser through the Veterinary Summer Research Scholars Program. Abbey (pictured below with Dr. Kirkpatrick) is helping with the ongoing DREADDs studies. She's doing a great job!
May 2022
-Several RTD lab members traveled to Boston, MA for the annual meeting of the Society for Quantitative Analyses of Behavior where the lab had four poster presentations. Dr. Kirkpatrick also stayed on and gave two talks at the Association for Behavior Analysis International meeting. Everyone had a great time in Boston and we learned a lot at the conference. Nice work everyone!
-The RTD lab had a great showing at the annual Psi Chi awards banquet held on May 9. Kourtney Rumback received the Peterson Prize for best overall graduating undergraduate student. Kelsey Panfil received the Psych Sciences Graduate Research Award. And, Robby Southern was elected as Treasurer of the Graduate Association of Psychology Students (GAPS). Great work everyone! You can read more about the awards banquet here.
- Grace Nelson received a Most Promising Student Award from the Division of Biology at their annual award banquet on May 7. Grace is definitely showing promise in research. She's heading off to a summer neuroscience program at LSU soon. Excellent work, Grace!
- A big congratulations to Kourtney Rumback, who is finishing off her senior year of undergraduate studies with a bang. Kourtney received four awards: a Psychological Sciences Travel Award, a College of Arts and Sciences Travel Award, a Nancy Twiss Scholarship, and the Peterson Prize, The first three awards will support her travel and attendance at the upcoming Society for Quantitative Analyses of Behavior meeting in Boston, MA. The fourth award is from the Psychological Sciences department to honor her achievements as an undergraduate student in the classroom, in research, and in her service to the community. Way to go Kourtney!
- It was so wonderful to be able to celebrate the end of semester together in person with a final lab meeting on May 4. We had awesome nachos and presentations from some of the newer lab members. What a great way to end the academic year!
- The RTD lab had a great showing at the Psychological Sciences Undergraduate convocation on May 3. We had two excellent posters, one co-presented by Grace Nelson and Maggie Yonker and the other presented by Lexe West. Kourtney Rumback gave a fantastic talk to round out the evening. Great work everyone!
April 2022
-RTD lab undergraduate Lexe West received travel grants from the College of Arts and Sciences, Office of Undergraduate Research and Inquiry, and McNair scholarship program. These grants will support her travel to attend the upcoming Society for Quantitative Analyses of Behavior meeting in Boston, MA in late May. Congratulations Lexe!
-RTD lab undergraduate Grace Nelson was selected to receive the Biology Most Promising Student Award for 2022. This award acknowledges Grace's excellent potential as a researcher. She will receive her award on May 9. Congratulations Grace!
March 2022
-RTD lab undergraduate Grace Nelson was accepted into the Summer Undergraduate Pharmacology Experience in Research Program at Louisiana State University for the upcoming summer. This will be a wonderful training experience for Grace. A big congratulations!
- RTD lab undergraduate Lexe West was selected to receive a Goldwater Scholarship for the 2022-2023 academic year. This will provide $7,500 in funding to cover her tuition costs. This is a very prestigious and highly competitive scholarship. You can learn more about Lexe's project and qualifications here. We're so proud of you, Lexe!
February 2022
-RTD lab undergraduate Ryan Jantsch was accepted in Physician Assistant programs at Le Moyne College and at Ithica College. She's still weighing her options but will be headed to PA school in the fall either way. Congratulations Ryan!
-RTD lab undergraduate Kourtney Rumback was accepted to the University of Kansas Scholars in Rural Health MD training program. She will be starting her studies in the fall. Kourtney will be working to fulfill her long-time dream of becoming a doctor. Way go to Kourtney!
2021 in Review
- We had many exciting accomplishments in 2021. Our NIMH R01 was renewed in September for a further 5 years and $1.9M in funding. We also received an SBIR grant with NXTech to develop a translation of the time-based interventions for use in humans. Kelsey Panfil received a Psi Chi grant and Cathryn Haas received a Sigma Xi grant, both of which focused on developing neurobiological assays for assessing time-based intervention effects on choice behavior. We also had several internal undergraduate awards, so overall a big year for grants and awards. In addition, we delivered 3 posters, presented 3 invited talks, and published 3 peer-reviewed journal articles. Most importantly, we entered a new phase of the pandemic in which we were able to return to pre-COVID levels of research activity (with masks), students returned to in-person learning, and we were able to recruit new students. Overall, a pretty productive year!
December 2021
- RTD lab undergraduate Lexe West is one of four K-State students that will be nominated for a Goldwater scholarship! The next step will be to submit for the national level competition. Congratulations and good luck Lexe!
- Lexe also won a College of Arts and Sciences Undergraduate Research Award. This award will support her to collect data on timing in choice tasks relating to markers of plasticity and activity. She will work on this project in the spring semester. Great work, Lexe!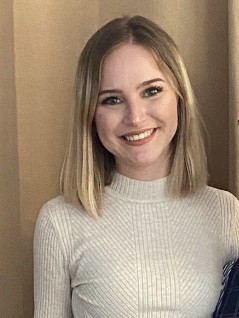 November 2021
-RTD lab undergraduate Kourtney Rumback presented a talk at the Kansas Honor's Connections Conference at Emporia State University on November 13, 2021. Her talk focused on diet-induced impulsive choices in rats.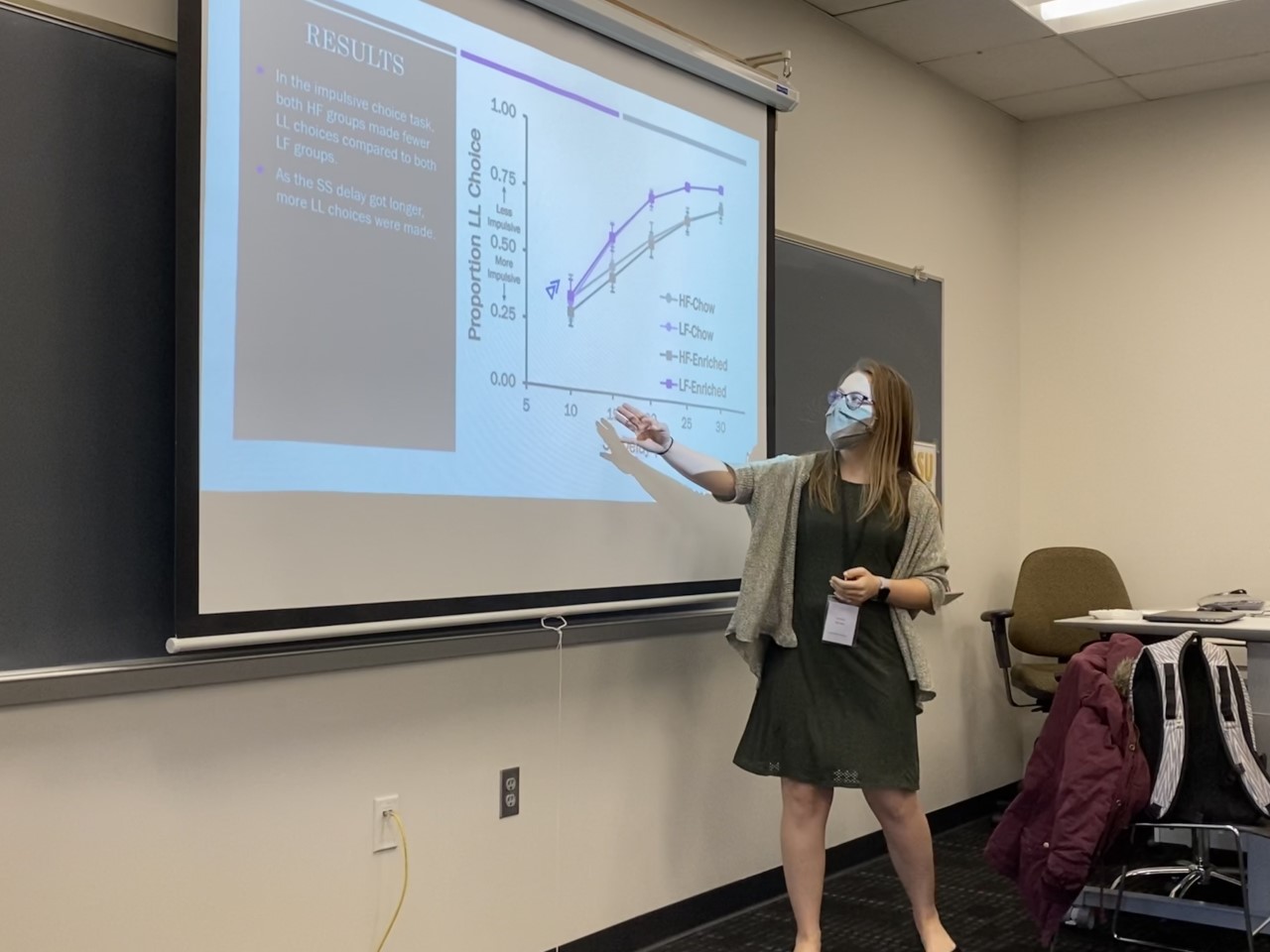 -RTD lab undergraduate Lexe West was selected to receive a McNair scholarship. Lexe will be completing her McNair research project in the summer. Here's an announcement with more details.
-Our paper on "Hazard function effects on promoting self-control in variable interval time-based interventions in rats" was published in the Journal of the Experimental Analysis of Behavior. Congratulations to Carrie Bailey and Kelsey Panfil, who were co-first authors on the paper!
October 2021
-Catherine Steele published another part of her dissertation research in Appetite. The paper, entitled "The relationship between dietary fat intake, impulsive choice, and metabolic health" was Catherine's translation of the diet-induced impulsivity pre-clinical model that she developed early in her graduate training. Nice work Catherine!
September 2021
-Our NIMH R01 grant was renewed, starting on 9/1/21 for another 5 years of support ($1.86M total) to continue our work on time-based interventions to promote self-control. Drs. Travis Smith and Sally Davis are co-Investigators on this award. For the next five years, we will be examining the cognitive and neural mechanisms of the time-based intervention using cutting-edge behavioral methods, ultra-high field MRI, and chemogenetics.
July 2021
-Kelsey Panfil received a Psi Chi Graduate Research Grant to support a project entitled "Effects of Time-Based Intervention Training on Neural Activity and Synaptogenesis." The award will $1500 in research support to aide Kelsey in collecting preliminary data for her dissertation research. Well done, Kelsey!
-The RTD lab is a sub-recipient on a Small Business Innovation Research award to support the development of a digitial therapy tool for translating our rodent time-based intervention to promote self-control. This award will support software development, validation testing, and a small-scale clinical trial with opiate use disorder patients. Our small business partner is NXTech, Inc., who specialize in developing digital applications for behavioral engineering.
-Dr. Kirkpatrick gave an invited talk at the annual meeting of the Merrill Advanced Studies Center in Nebraska City, NE. Her talk was focused on COVID-19 impacts on junior faculty research career development, drawing on her experiences as the COBRE director.
May 2021
-The RTD lab gave two virtual posters at the Society for Quantitative Analyses of Behavior annual conference, and a virtual invited talk at the parent meeting of the Association for Behavioral Analysis International.
March 2021
-RTD lab undergraduate Cathryn Haas will be staying at K-State for her graduate studies in Molecular Biology. She will be pursuing her PhD with Michi Toebler. Congratulations Cathryn, and good luck!
February 2021
-RTD lab undergraduate Kourtney Rumback is one of five undergraduates selected from across the university to represent K-State at the Kansas Undergraduate Research Days. This event showcases research to legislators at the Capital. Kourney will present research on the effects of high-fat diets on impulsive choices that forms a part of her microbiome project. Congatulations Kourtney! I'm sure you will do us proud!
-RTD lab undergraduate Anderson Fitch has accepted an offer for the graduate program at the University of Florida. Andy's senior project is examining the effects of time pressure and format (visual vs. textual) on impulsive decision making in people. He hopes to study decision making in the area of climate change and global warming. Good luck Andy!
January 2021
-Dr. Kirkpatrick was elected as a fellow of the American Psychological Association, Division 25. This division focuses on behavioral analysis research. Our lab has had two previous Division 25 dissertation awards (Andrew Marshall and Catherine Steele). Dr. Kirkpatrick was already a fellow of Divisions 3 and 6.