The Pride of Wildcat Land
2017 KSUMB CD-DVDs Are In:
If you ordered a 2017 KSUMB CD and/or DVD, they are available for pick-up in the Band Office (McCain 226) or they were already mailed to you!
If you would like to purchase them, you can (CD-$15/DVD-$20). Please bring cash or pay by check (written to KSU Bands)!
2018 Football Schedule:
September 1 vs. South Dakota State (Band Director Day, All-Star Marching Band)
September 8 vs. Mississippi State
September 15 vs. UTSA (Fort Riley Day)
September 21 - Wabunsee HS Football Game
September 22 at West Virginia
September 29 vs. Texas
October 6 at Baylor (Central States Marching Festival)
October 13 vs. Oklahoma State (Drumline Day, Homecoming)
October 20 BYE
October 27 at Oklahoma
November 3 at TCU
November 10 vs. KU
November 17 vs. Texas Tech (Senior Day)
November 24 at Iowa State
Sometimes Purpose Finds You
Check out this GREAT article about KSU alumn Ray Navarro and how generosity serves the KSUMB Family!
https://inspire.k-state.edu/your-support-in-action/campaign-news/Navarro.html
2017 KSUMB Award Recipients:
Wildcat Loyalty Award:
Steve Levine
Director's Award:
Keith Westerveldt
Lifetime Loyalty Award:
Geralyn Tracz
Rod Funk Memorial Scholarship:
Gabe Bazil
Dawson Johannes
Rachel Mallon
Ben Rajewski
Elaine Snowden
Most Inspirational:
Natalie Alton
Jacob Sweatt

Rookie's of the Year:
Sophie Filbert
Emma Karber
Michael Klein
Christian McCloud
Miranda Urban

Music Instructor of the Year:
Wes Crow
Abby Huck
Marching & Maneuvering Instructor of the Year:
Aaron Bloom
Alyssa Hupp
Natalie White
Assistant Section Leader of the Year:
Abigail Ayre
Jacob Dobbs
Steven Robinson
Ashton Thomas
Section Leaders of the Year:
Kirk Kennedy
Lucas Verscheldon
Preston Thomas
Ernie Barrett Award:
Eric Tinkler
Wabash Award:
Cedric Barnes
Max Stuckey
Harry Erickson Award:
Amy Dundas
Sara Gift
Kirsten Votaw
Alumni Band Award:
Natalie Alton
KKY/TBS Bandsman-Bandswoman Award:
Natalie Alton
Jordan Strickler
Marching Pride Award:
Alto Saxophone Section
Phil Hewitt Award:
Natalie Alton
Jessica Brummel
Blake Moris
EMAW Award:
Piccolo Section
Section of the Year:
Tenor Saxophone Section
Twirlers
Grit Award:
Shelby Goss
Matt Scott
Pre-Game Encouragement and
Heartfelt Message:
A message from Coach Snyder to the 2017 KSUMB:
I don't have words to tell you how much I appreciate each of you and your genuine and caring relationship with our football program. Your weekly performances bring life to the stadium, fans and players alike. You continue to play a major part in any successes we have. Looking forward to seeing you at the Bowl game (wherever that may be).
Thank you again for all you mean to me and our University.
Wishing you continued success and good fortune.
Warmest regards,
Bill Snyder

Coach Snyder and Dr. Tracz share words of encouragement for their programs before Pre-Game of the Iowa State game!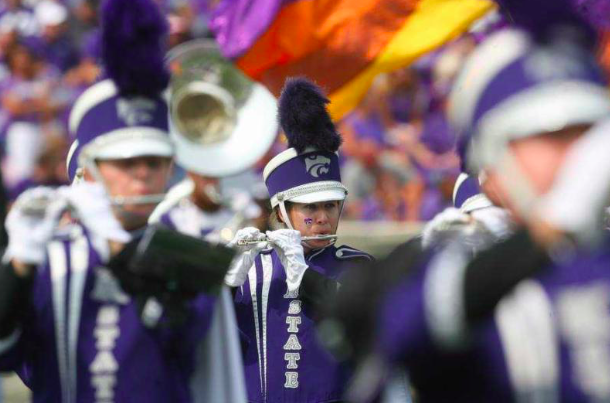 Meadowlark Pep Band: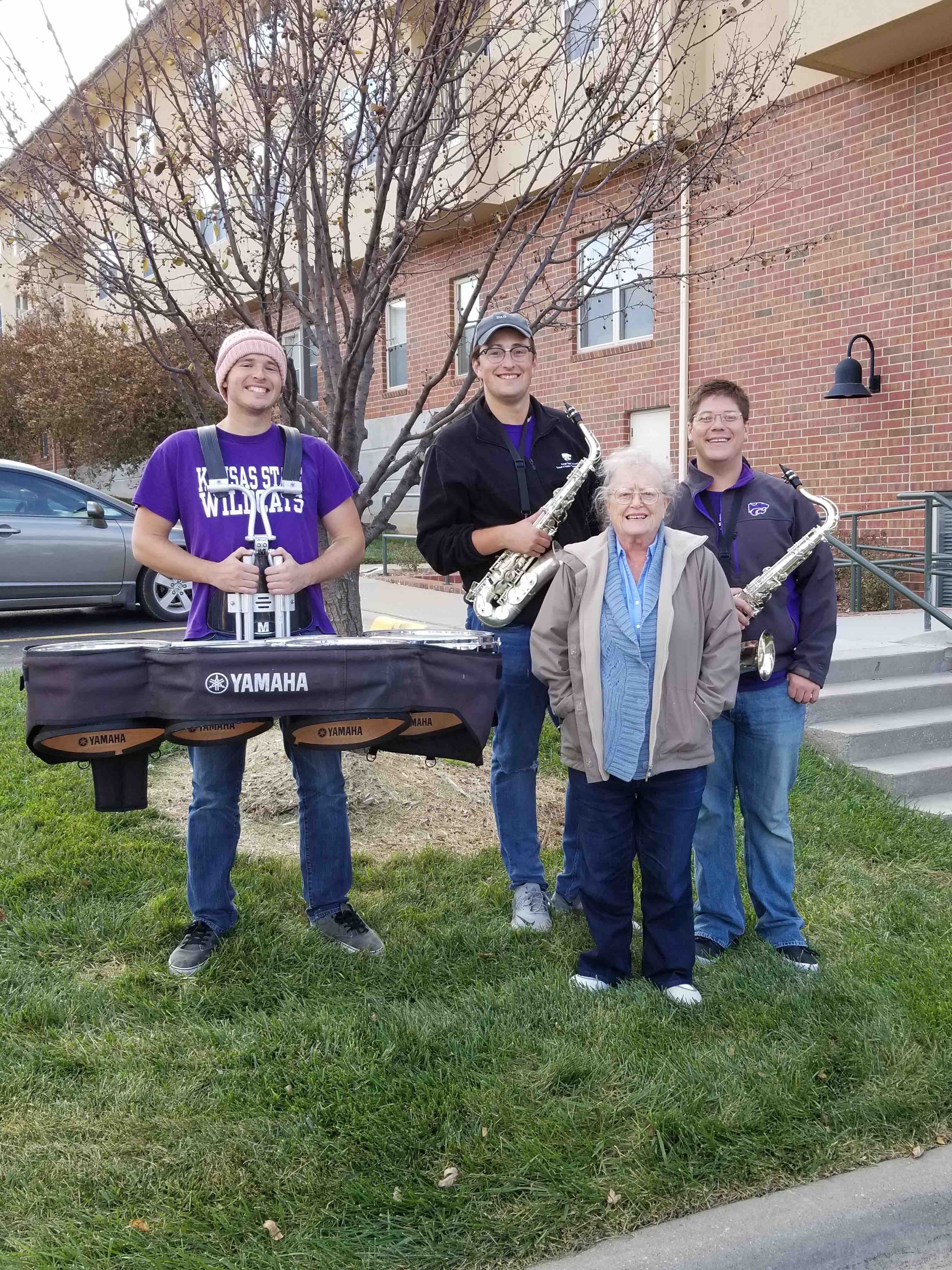 On November 5, 2017, members of the KSUMB performed a pep band for the residents at the Meadowlark Hills Retirement Community. Pictured is Martha Kellstrom, who played alto saxophone, tenor saxophone, and marching tenors in the KSUMB during the 1970's!
Reunion: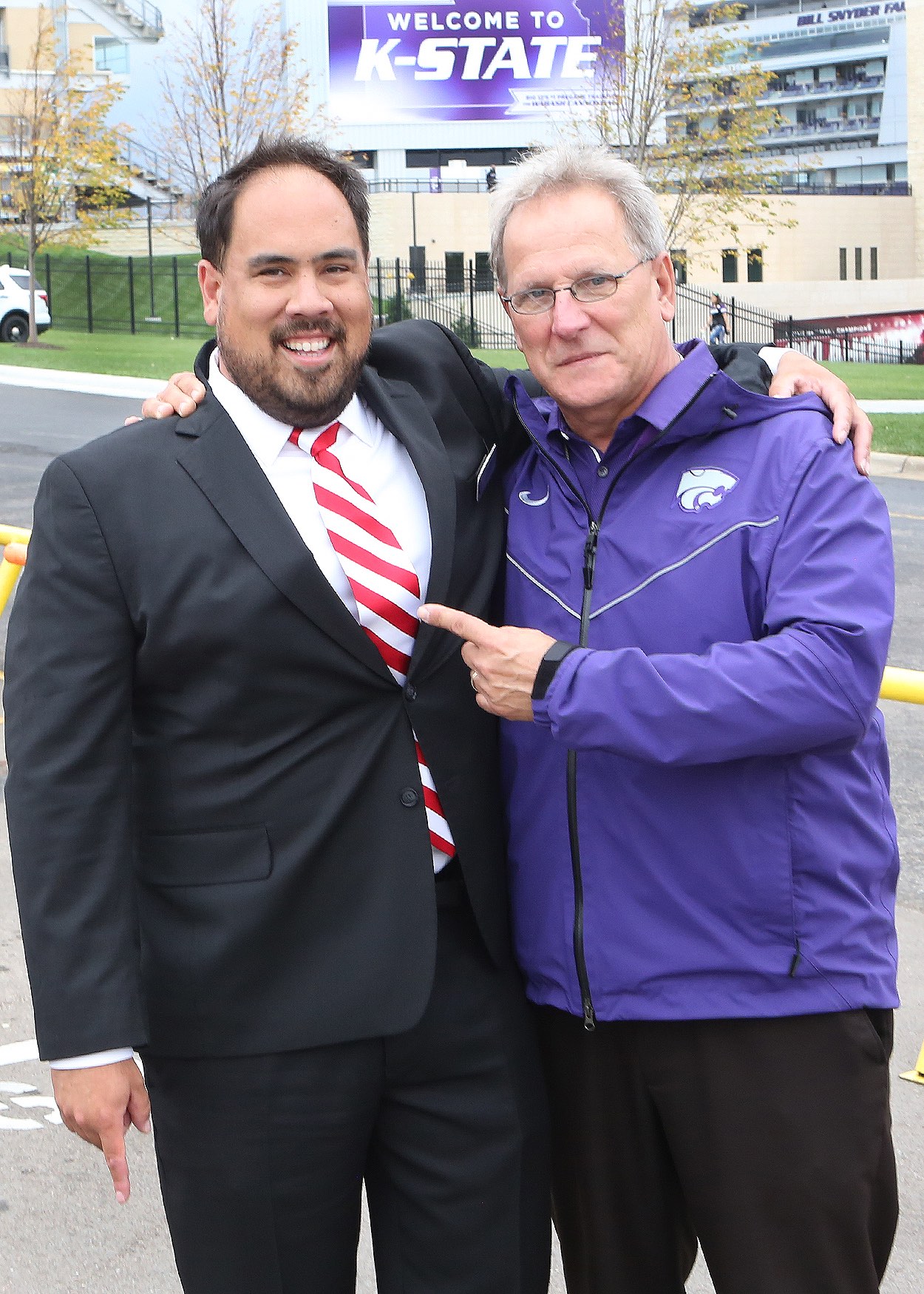 Dr. Tracz "welcoming" Mr. Linn to K-State!
Thank You Donors!!!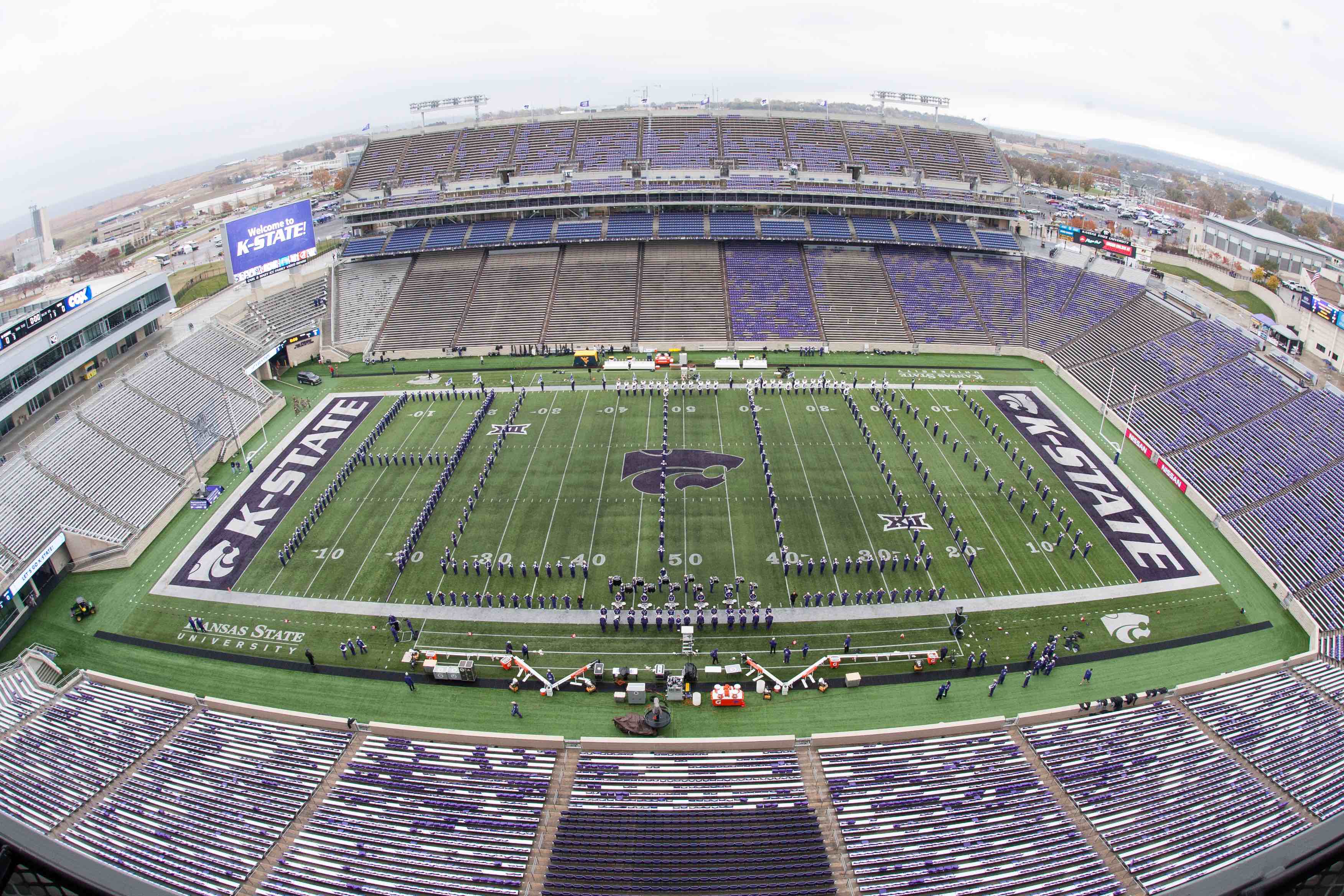 The Alton Family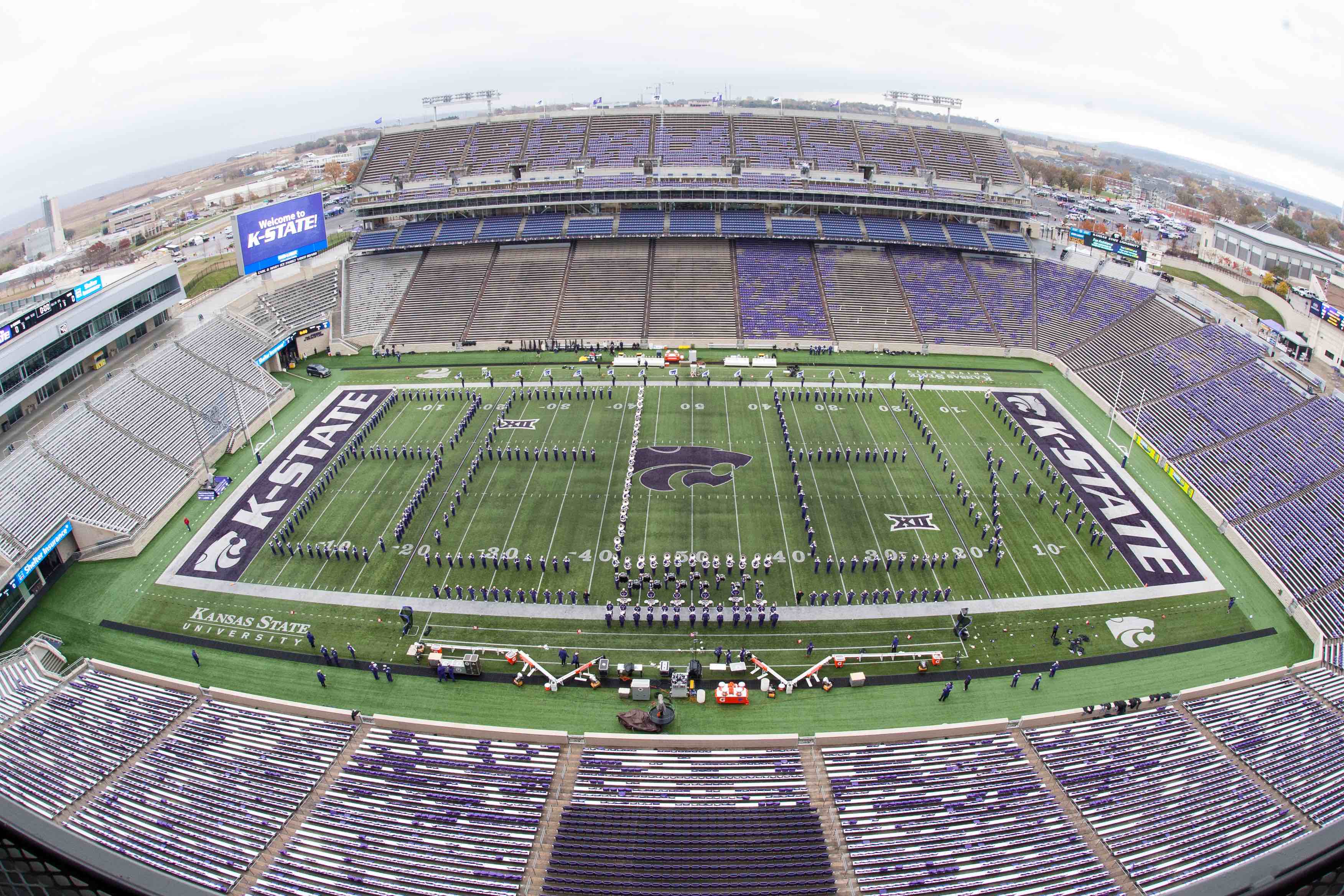 The Belew Family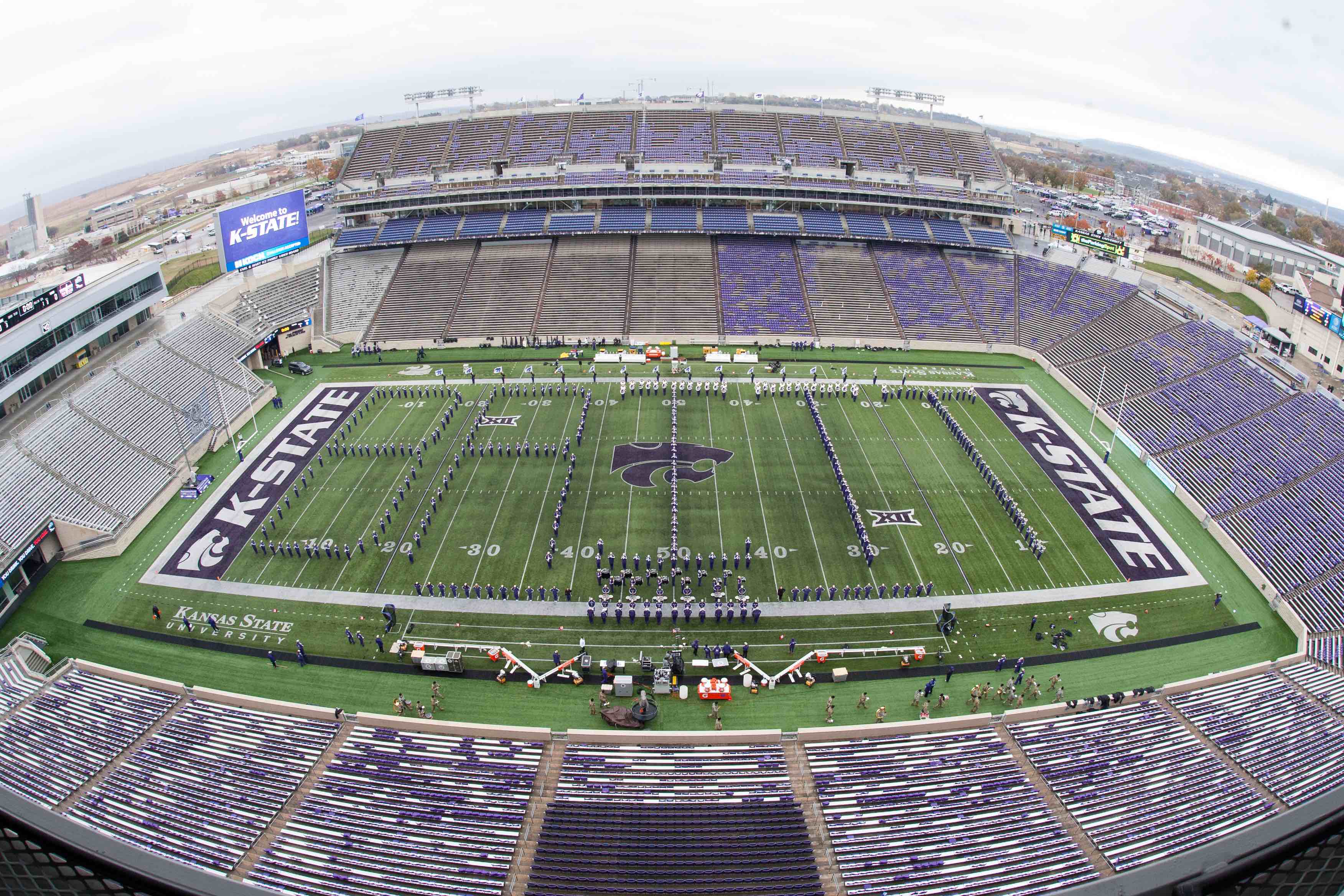 The Britt Family
The Claar Family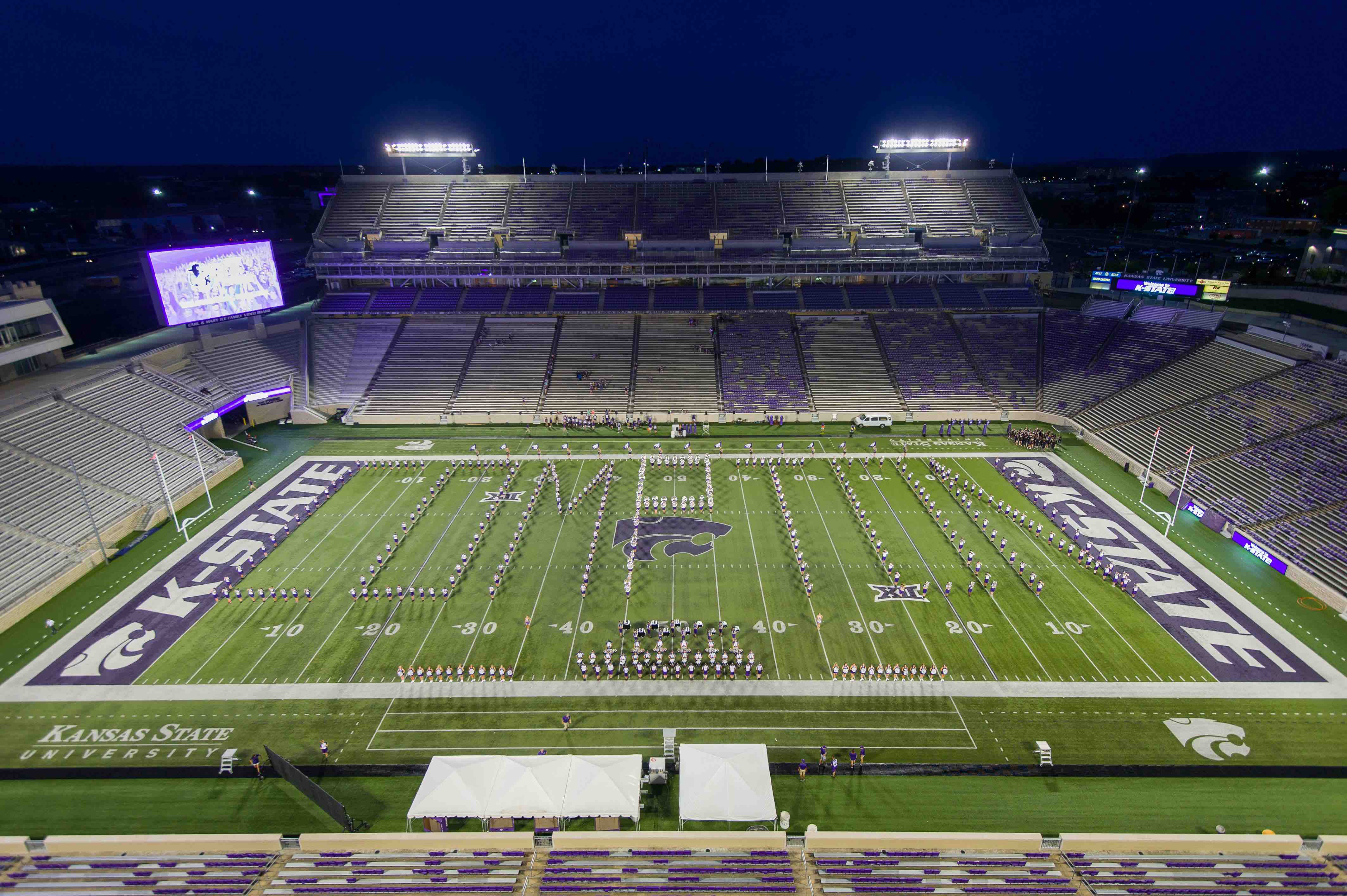 The Compton Family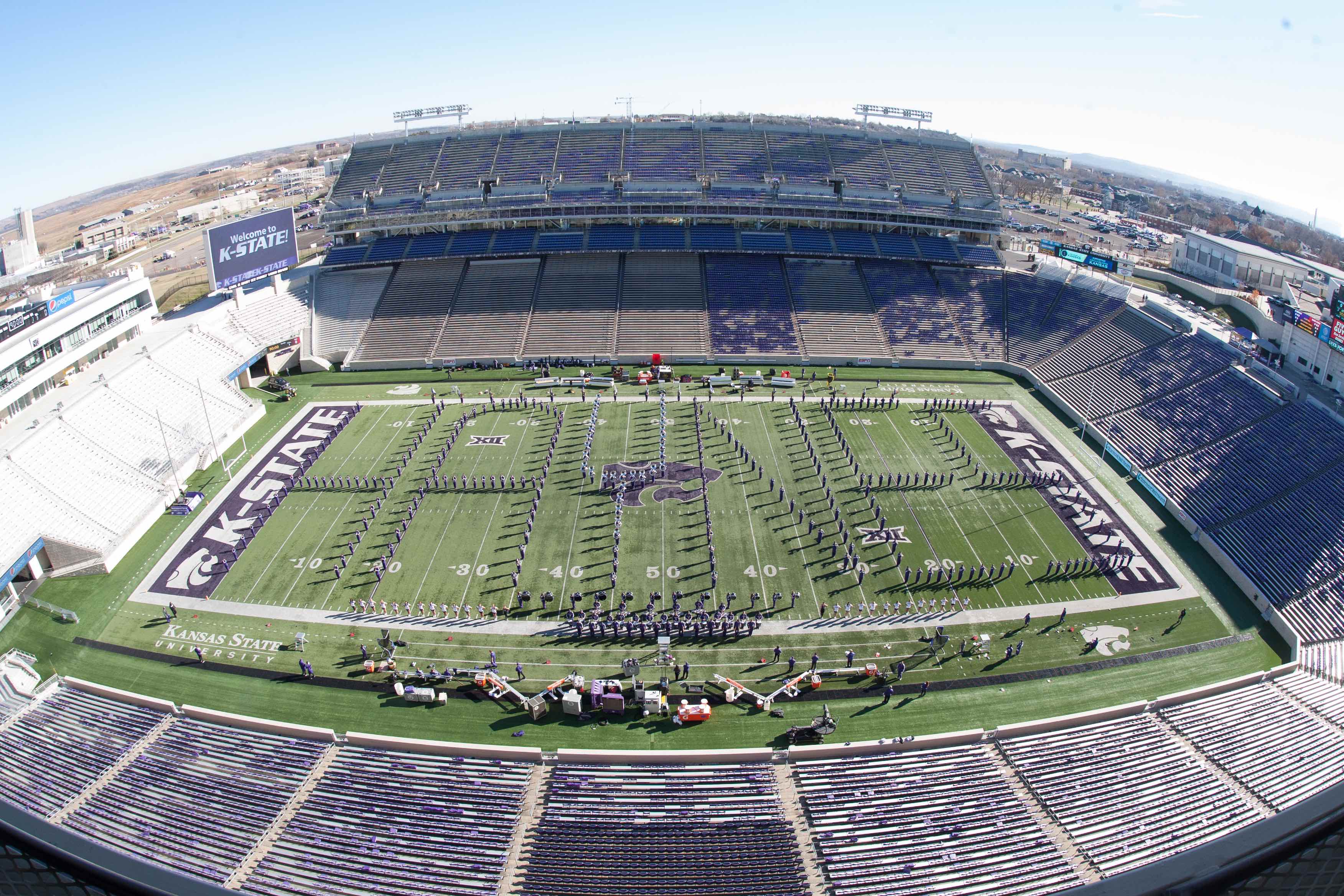 The Haynes Family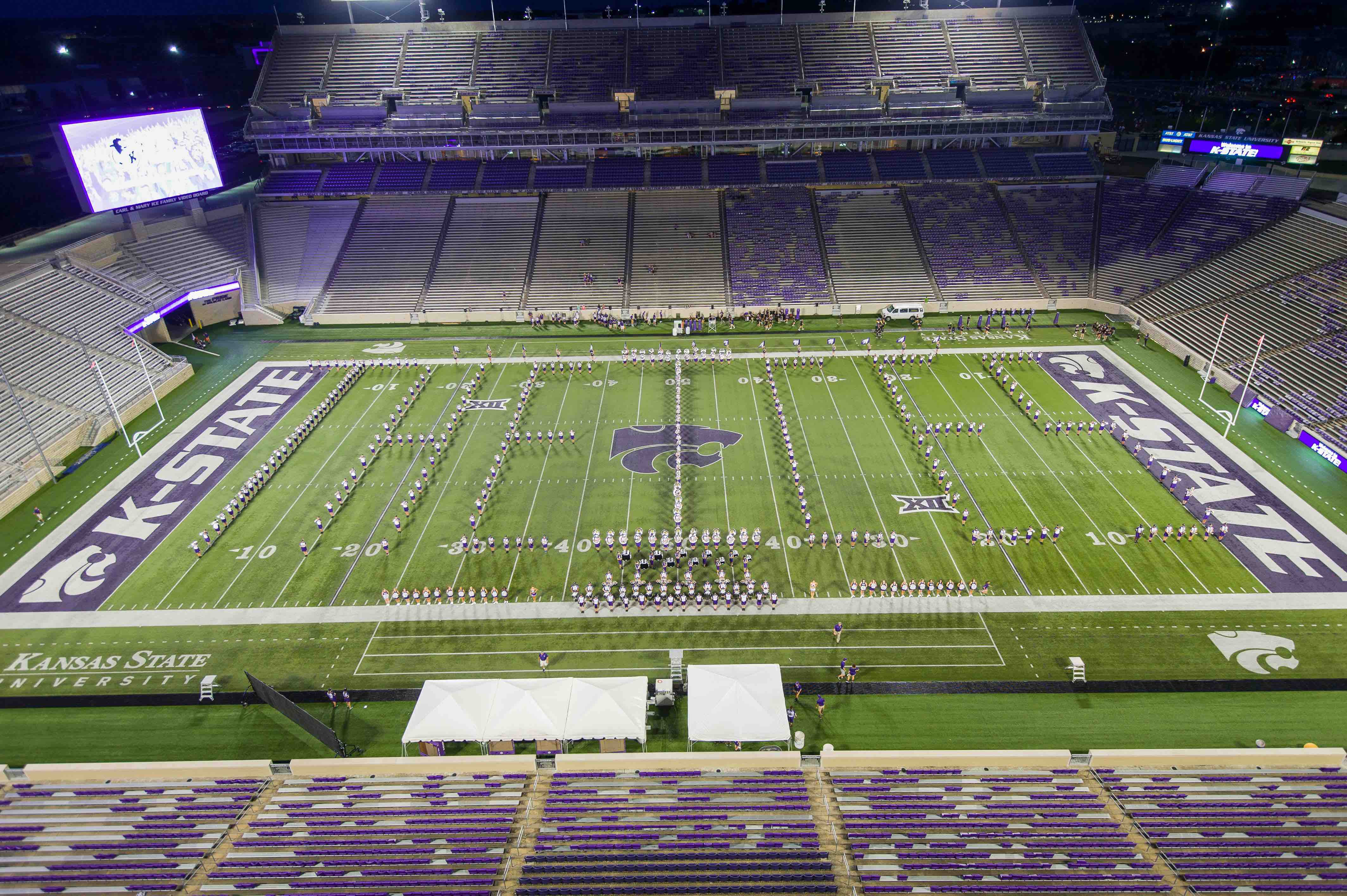 The Ice Family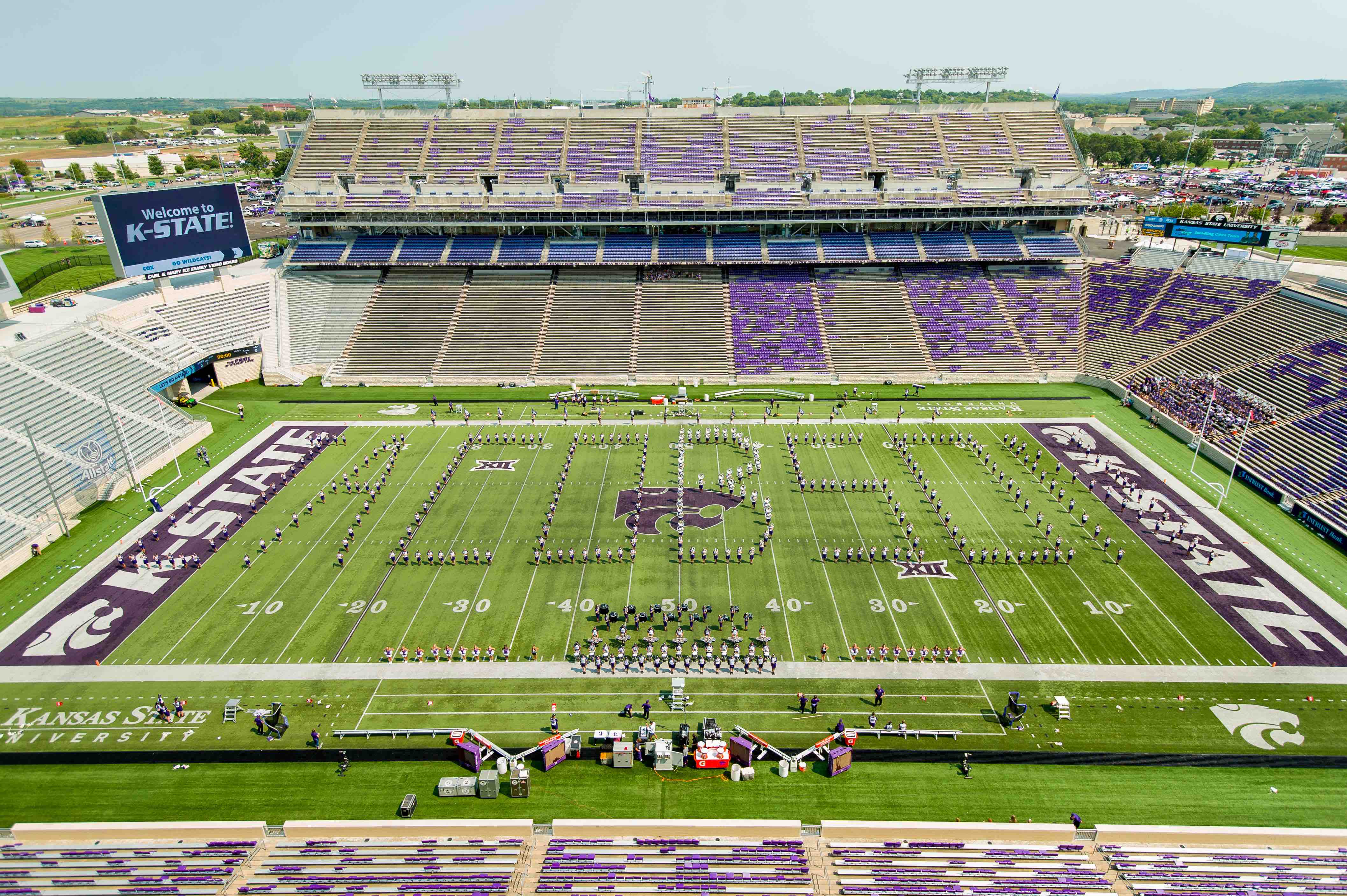 The Jacobson Family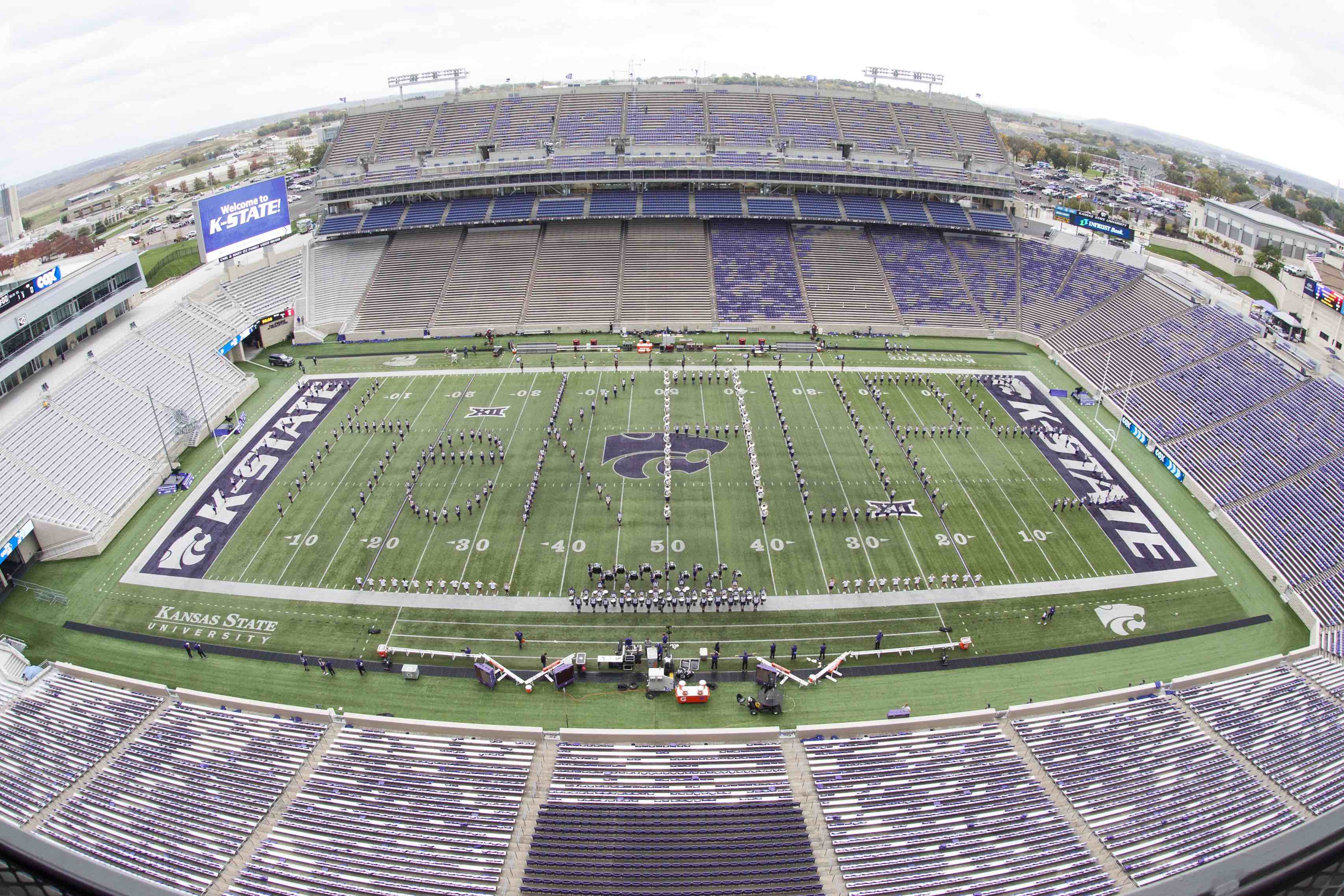 The Kaups Family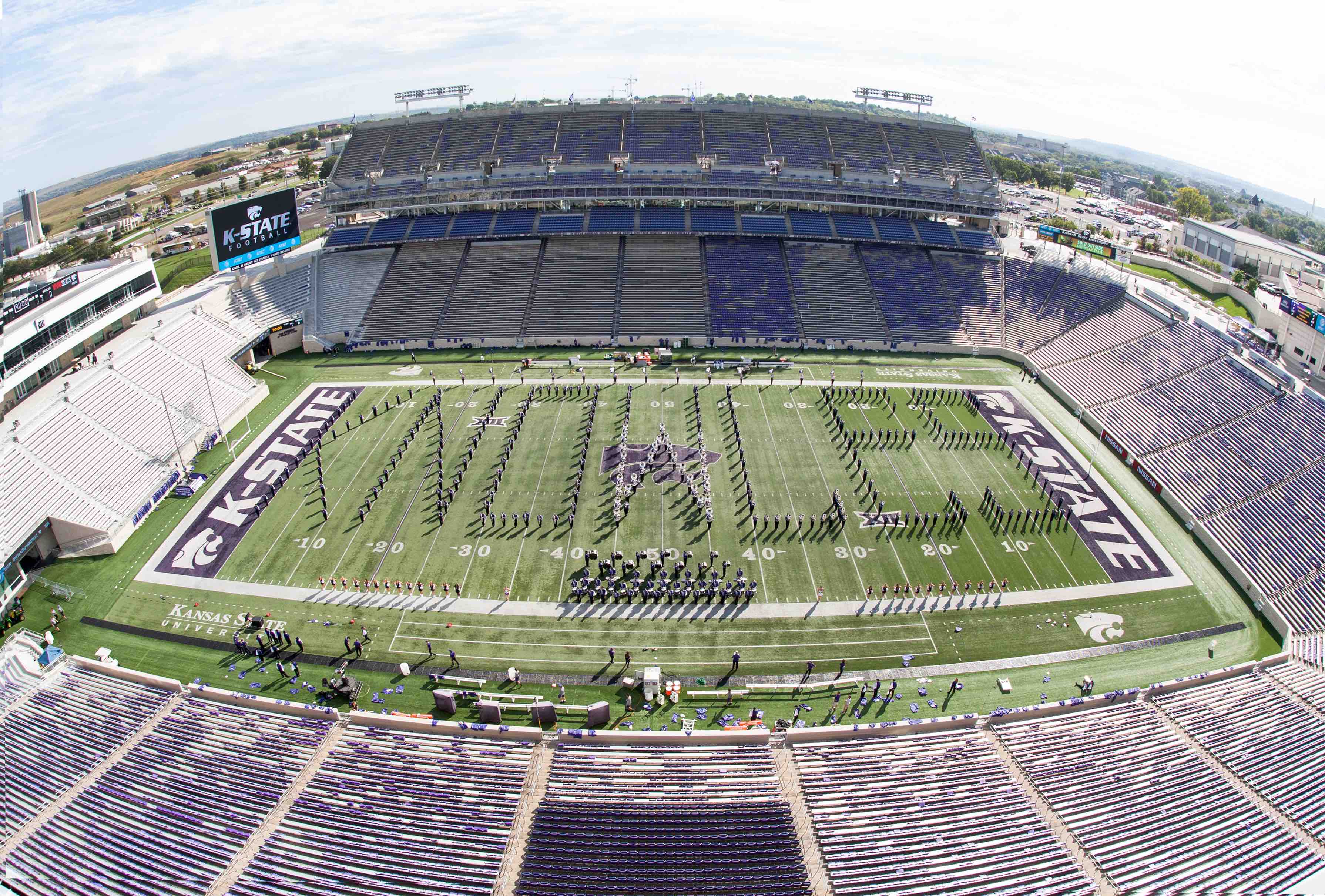 The Knowles Family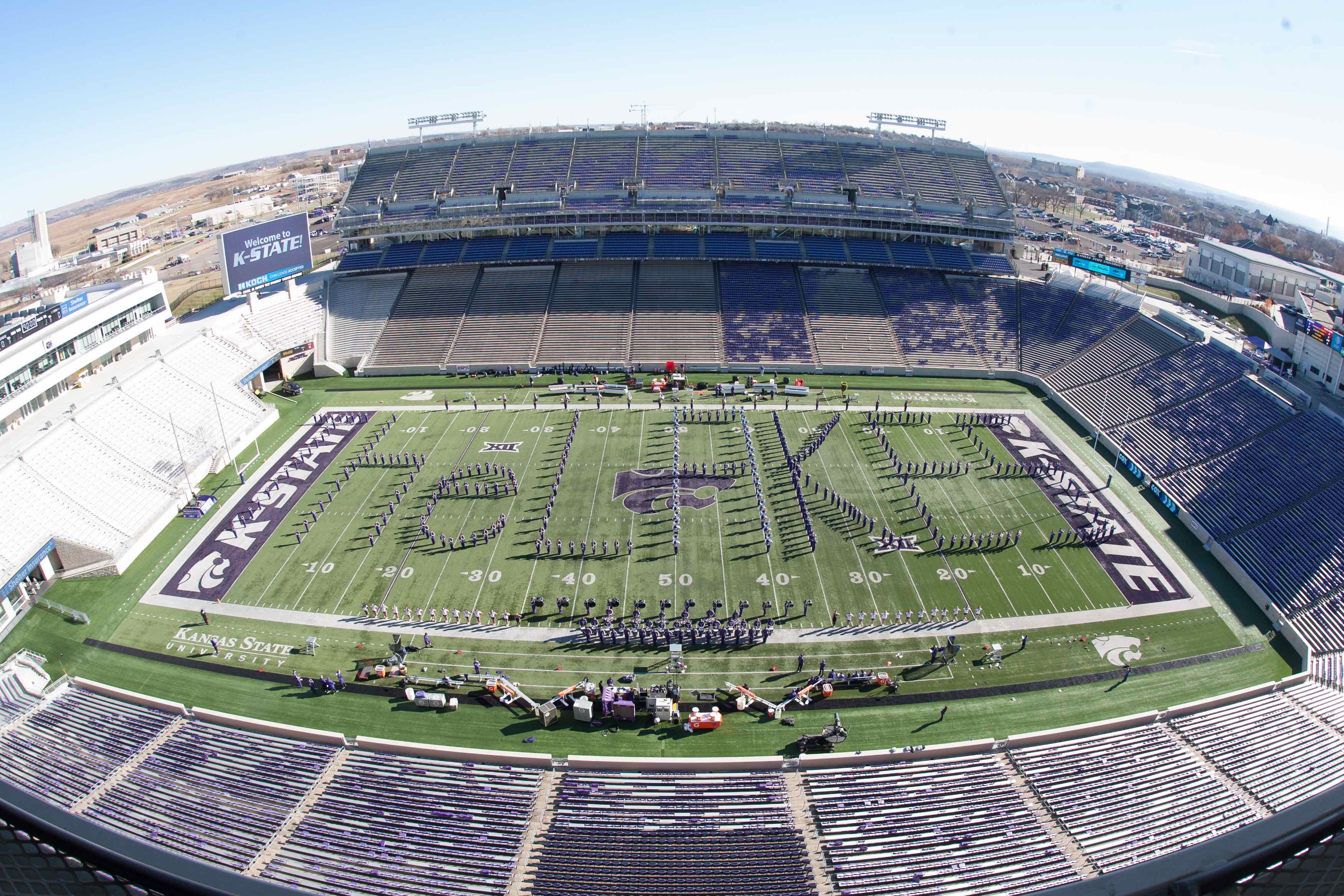 The Lakes Family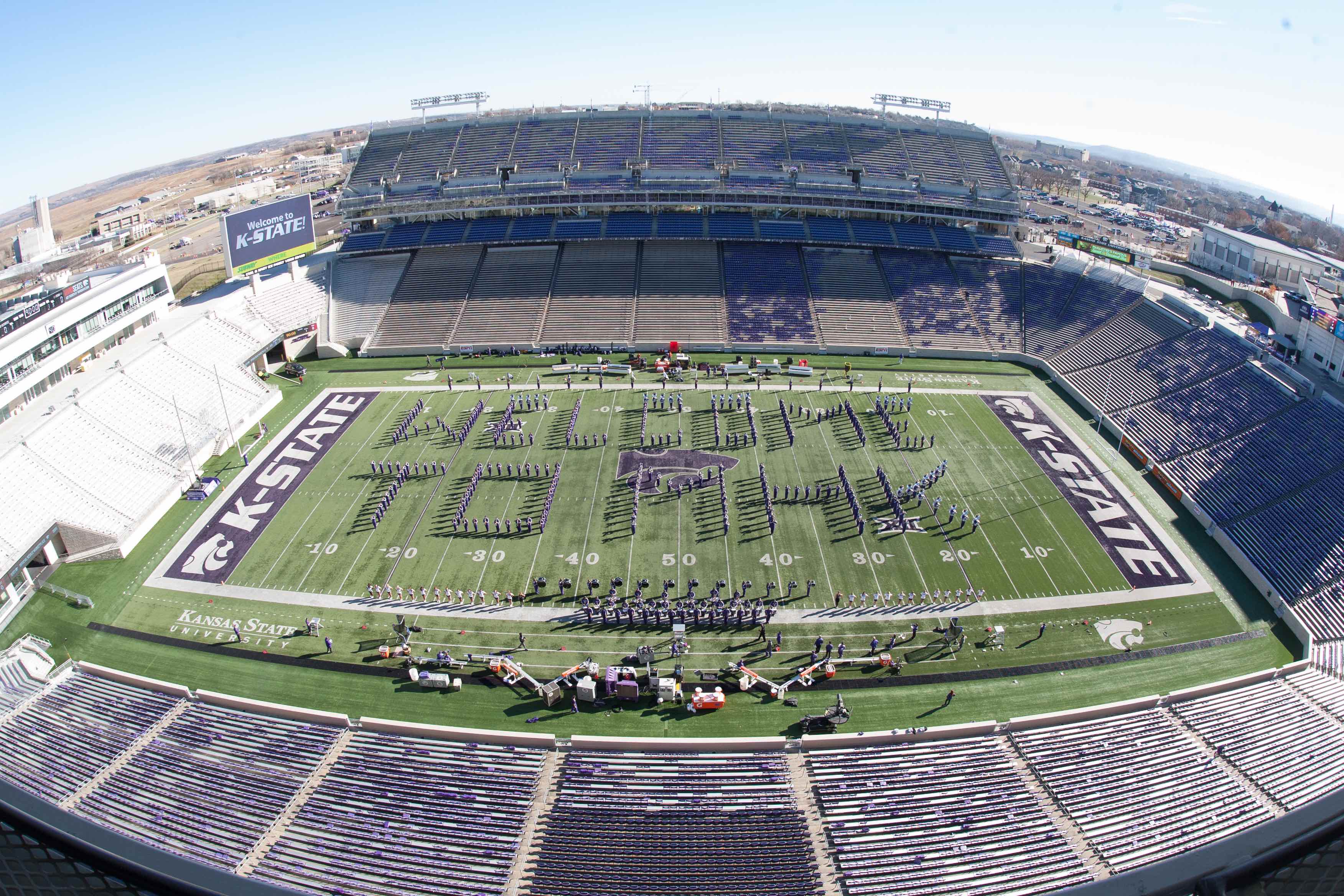 Manhattan Regional Airport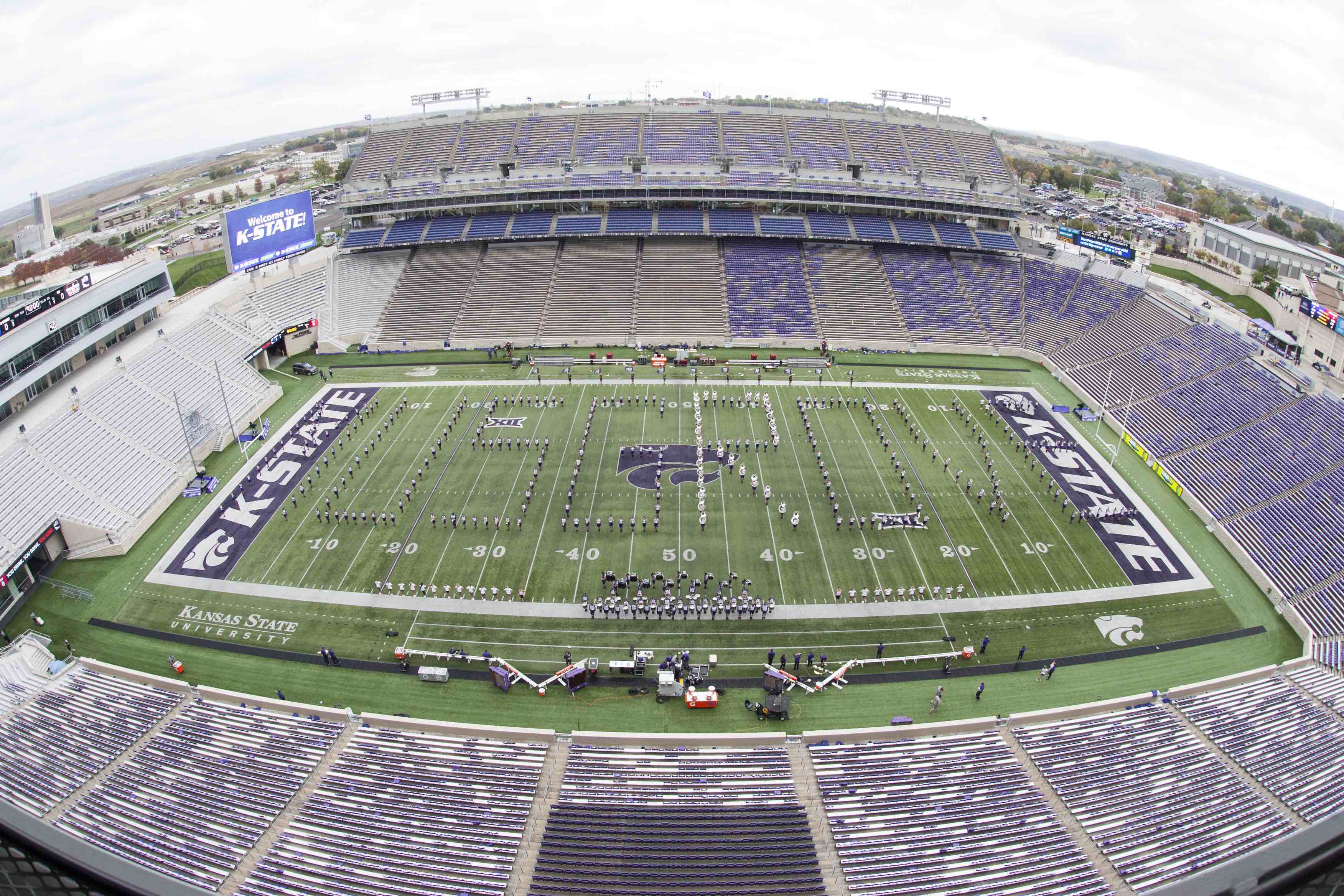 The Musgrove Family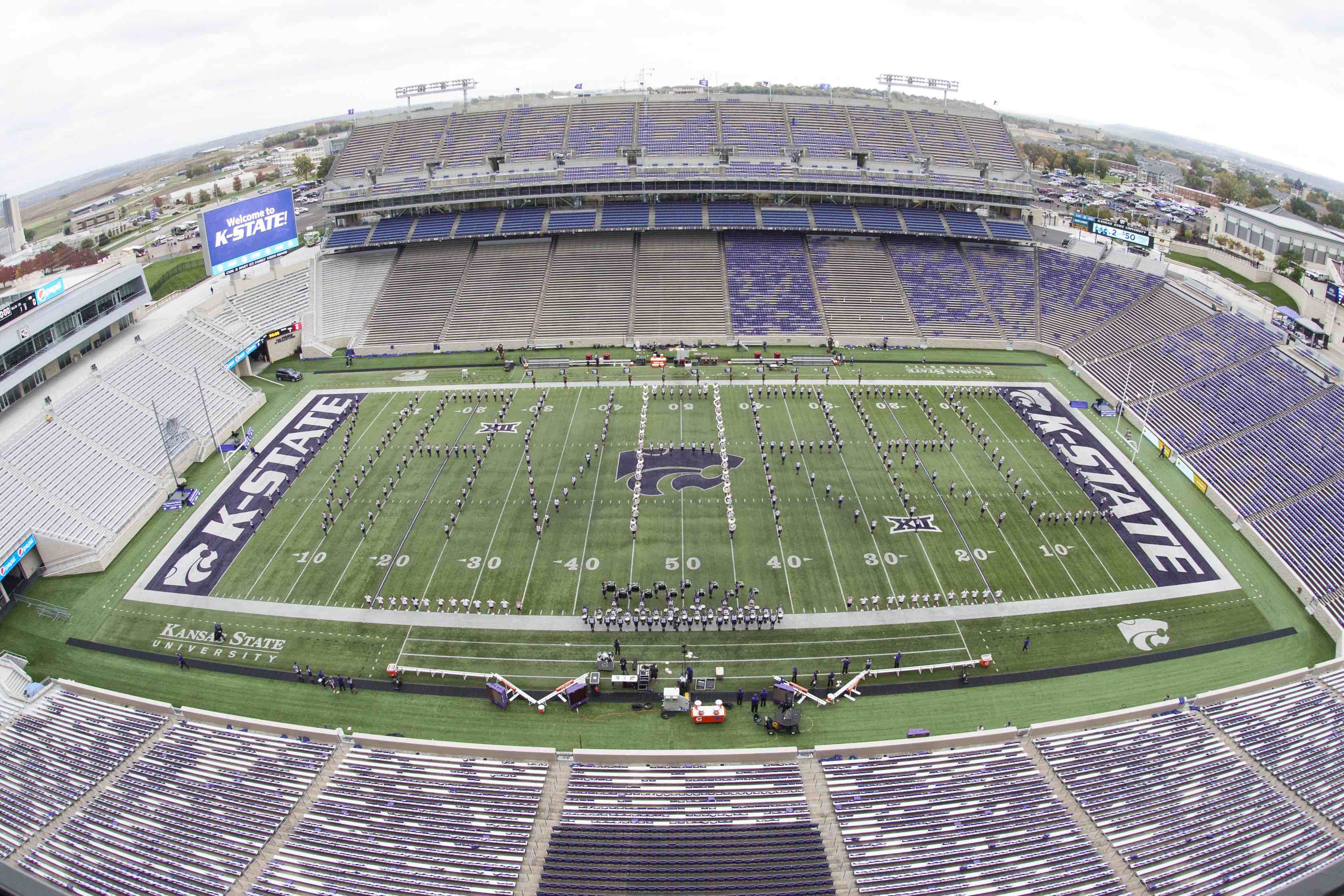 The Navarro Family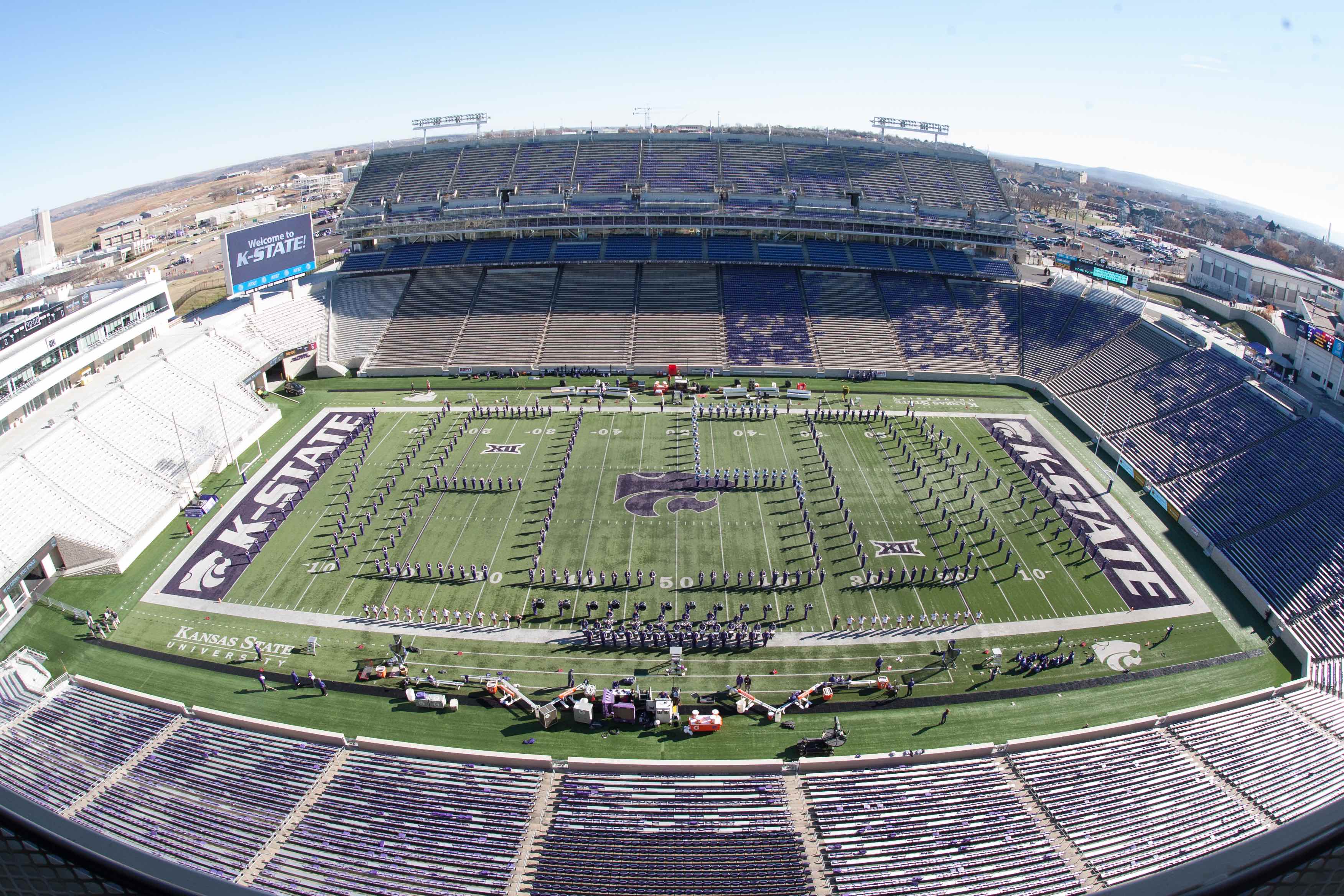 The Nelson Family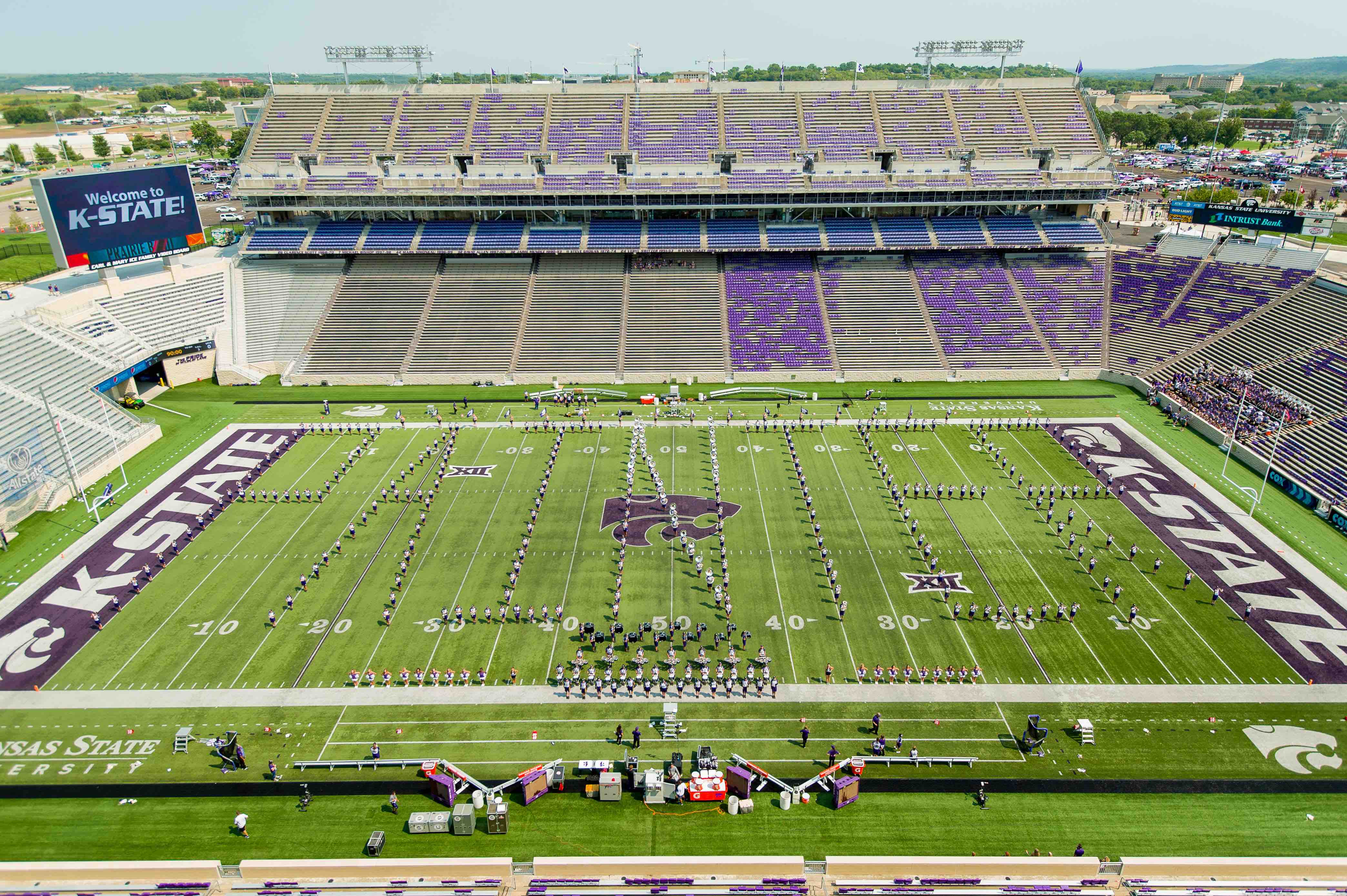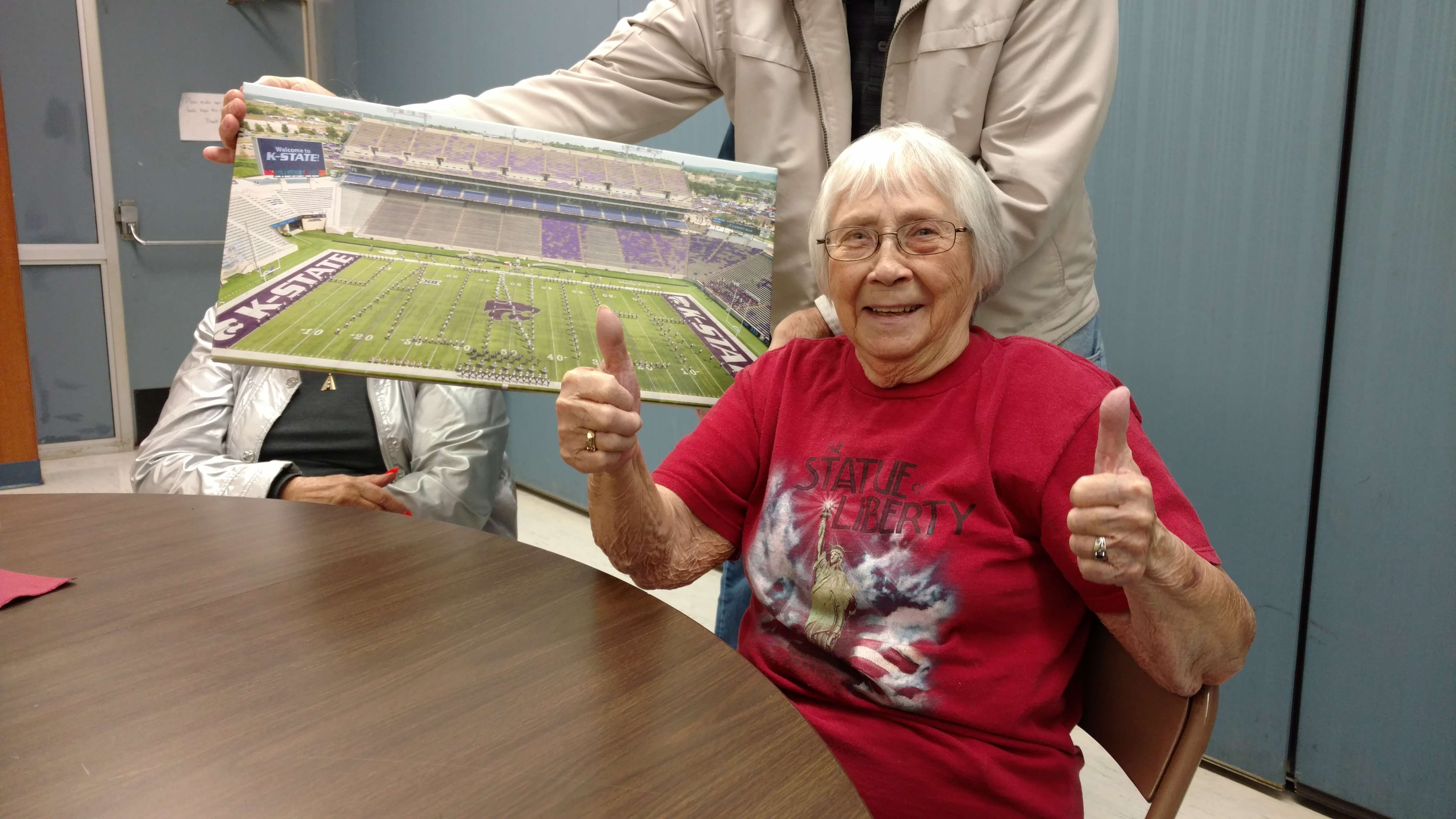 The Painter Family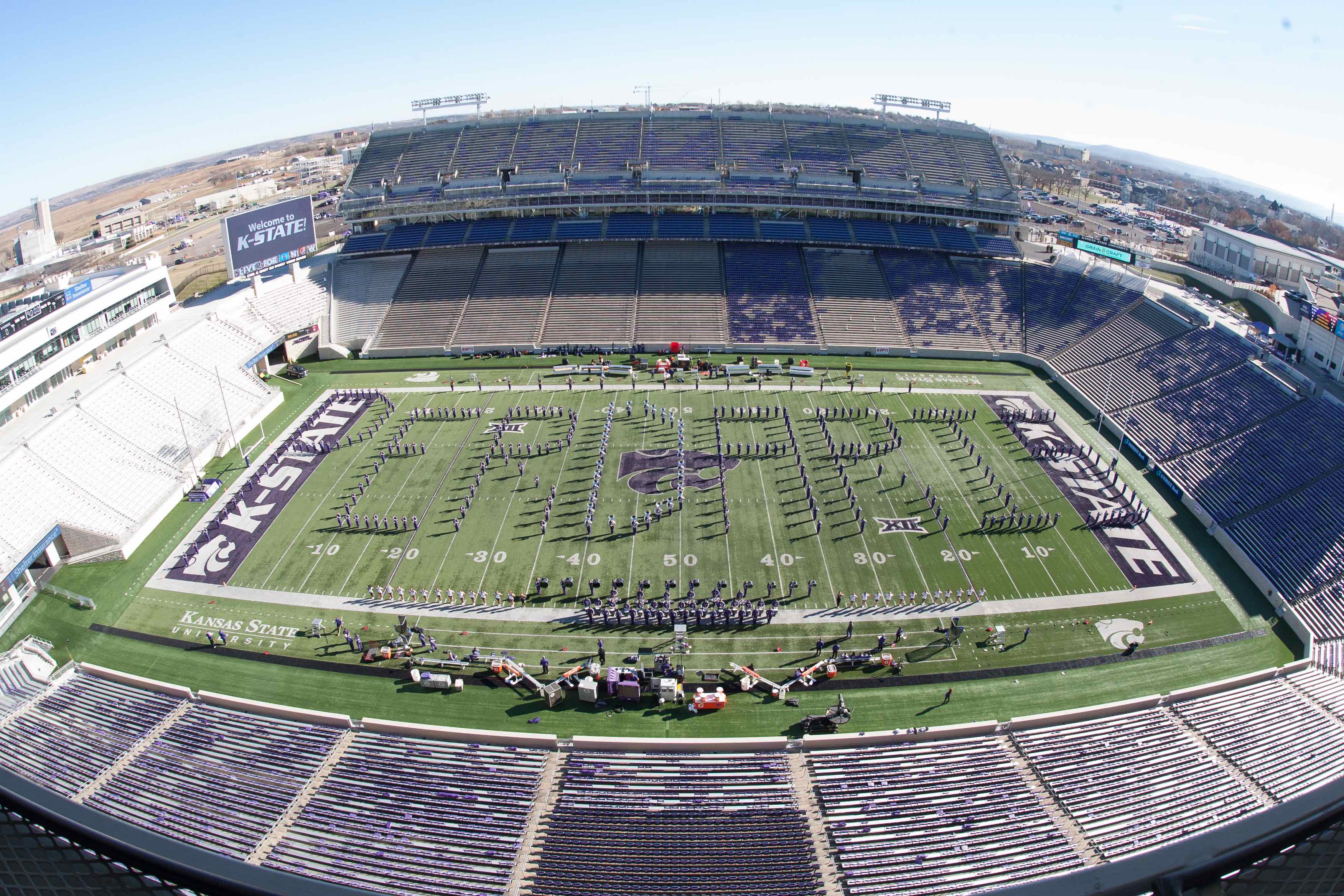 The Perdaris Family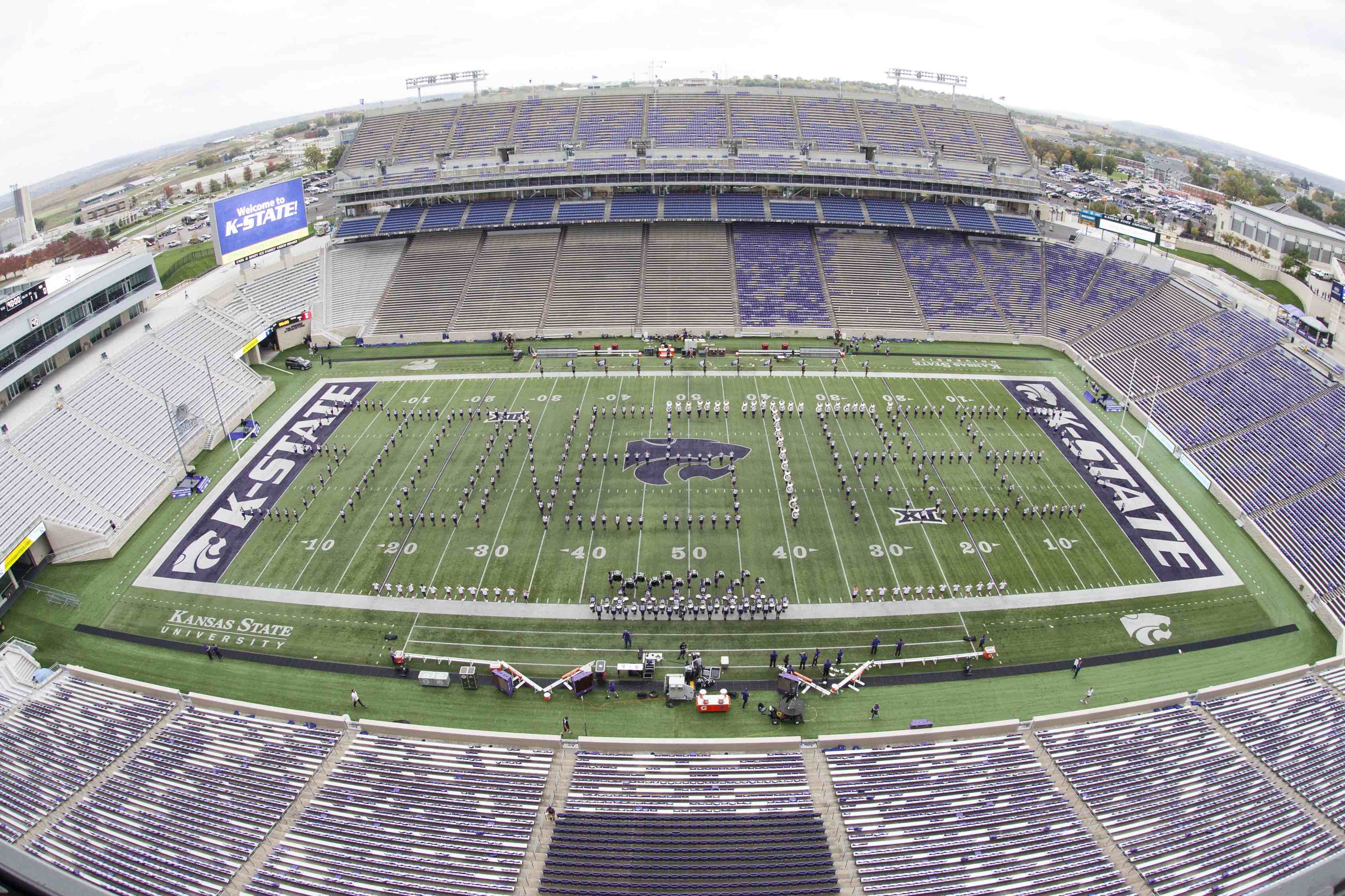 The Stonestreet Family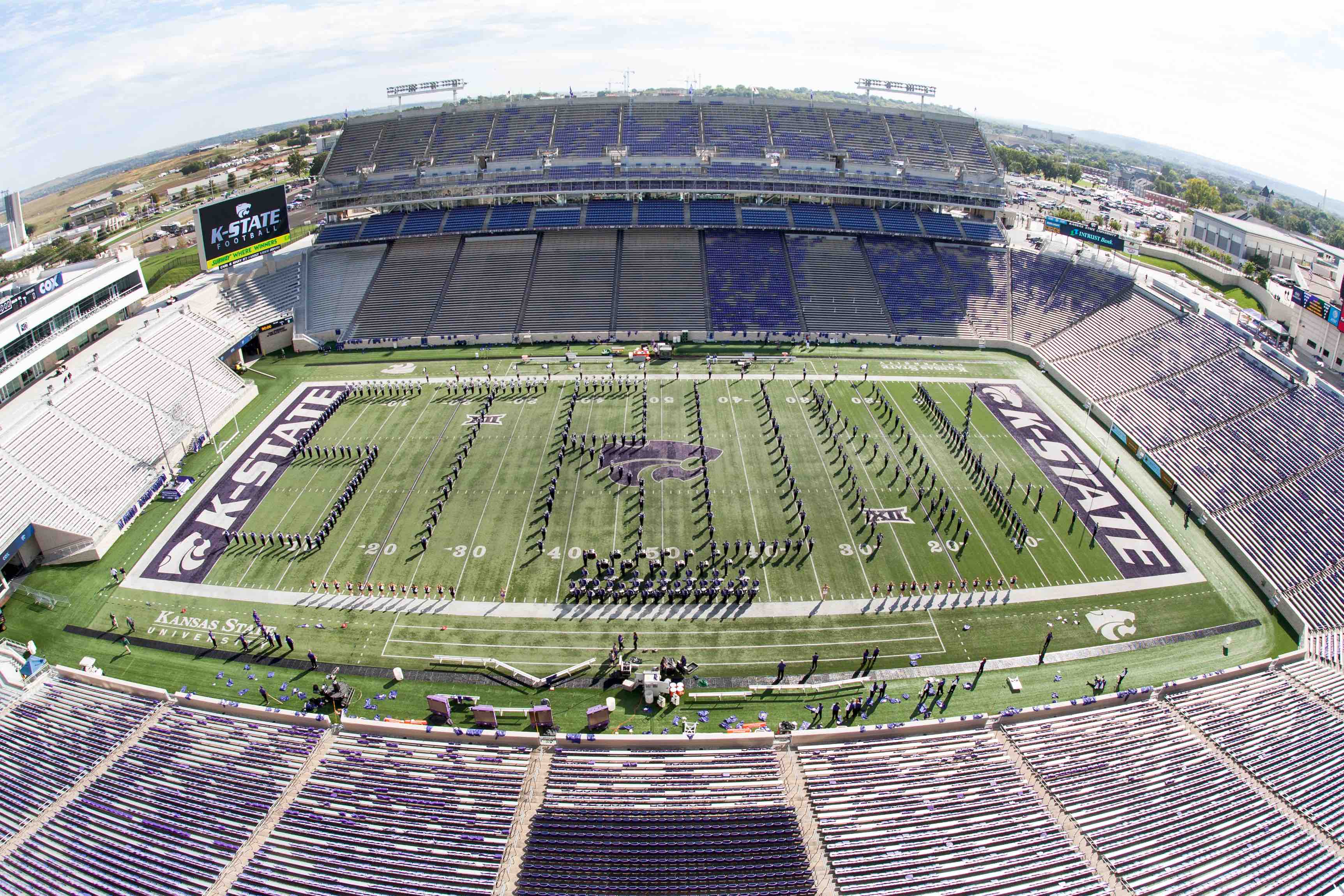 The Strunk Family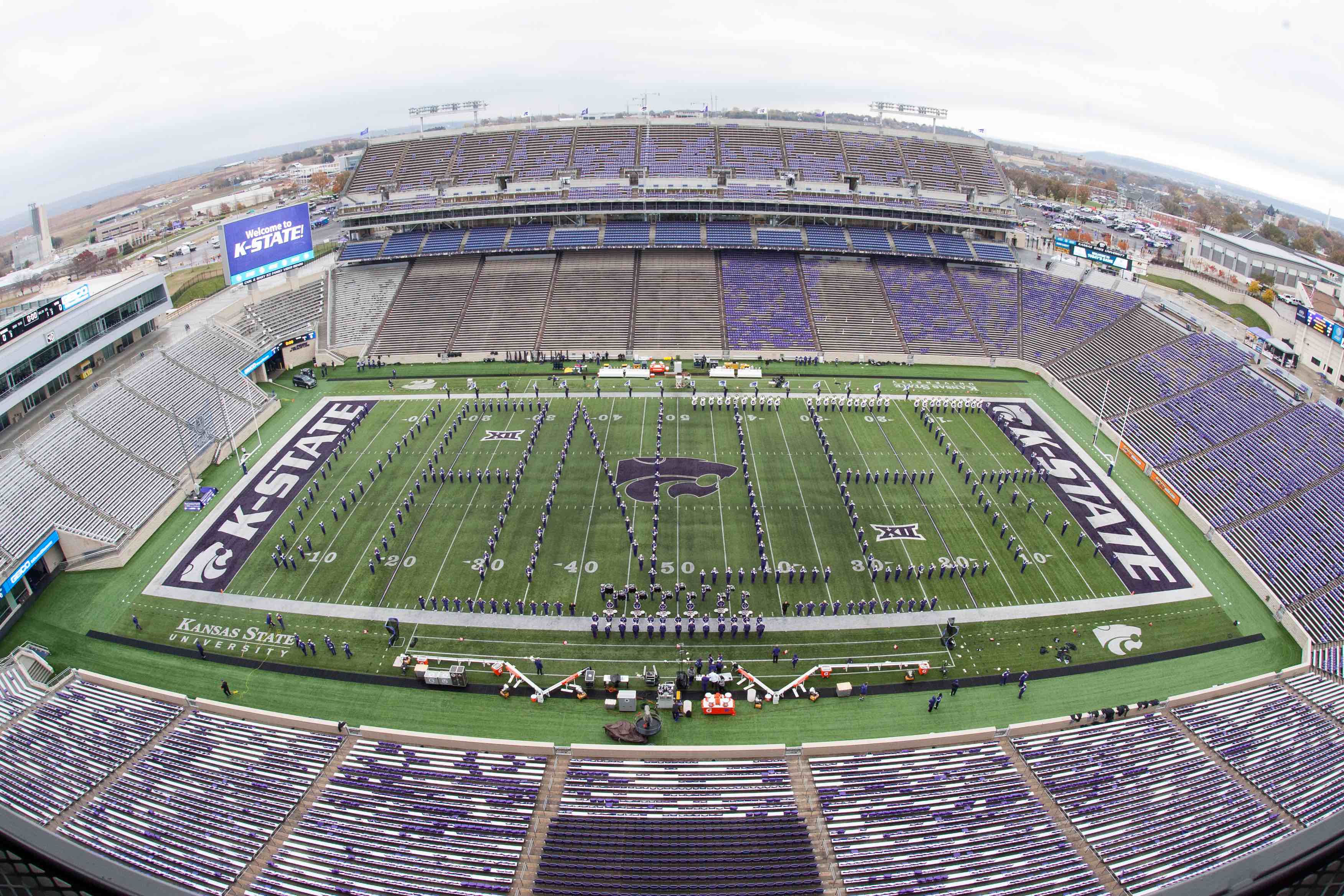 The Vanier Family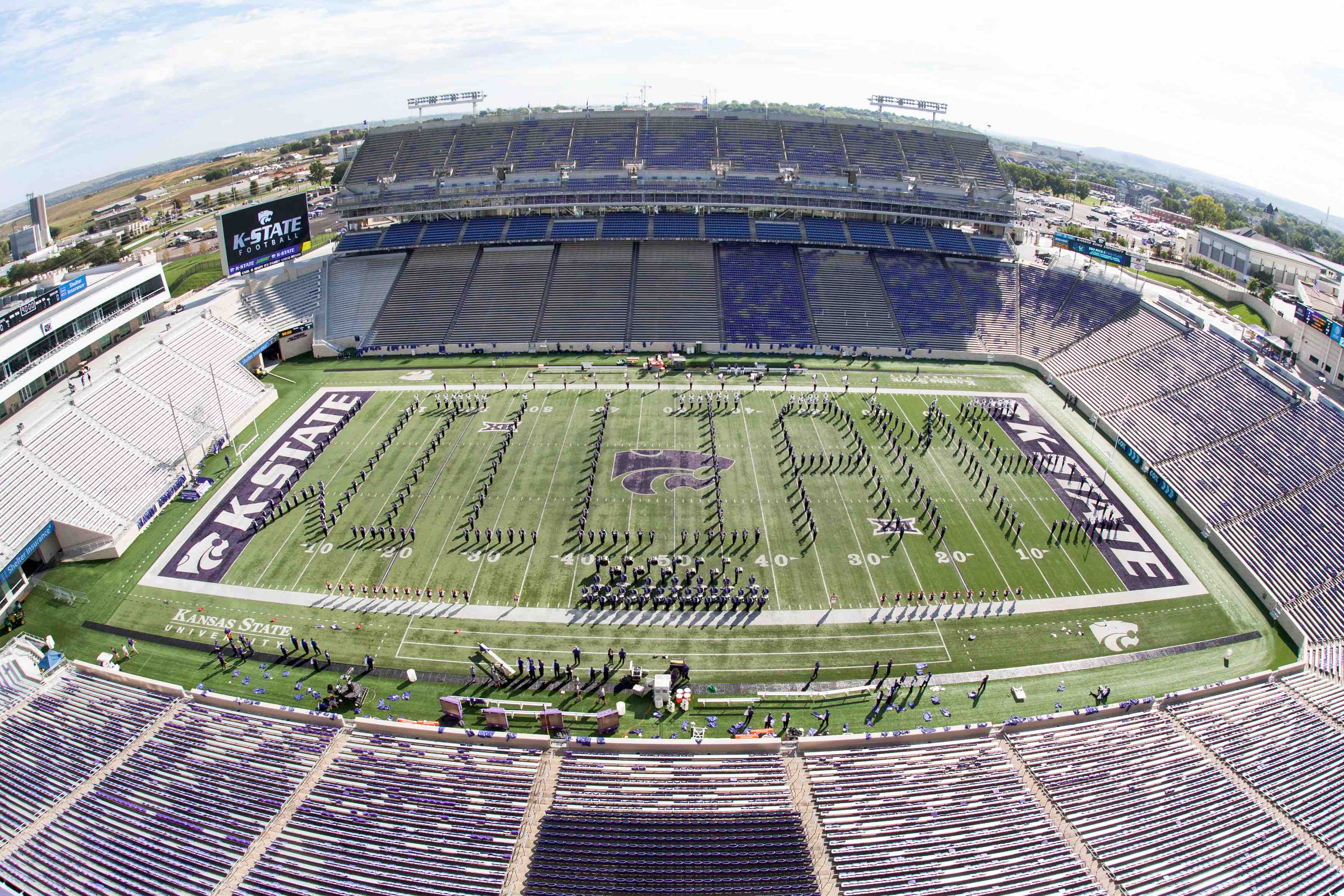 The Williams Family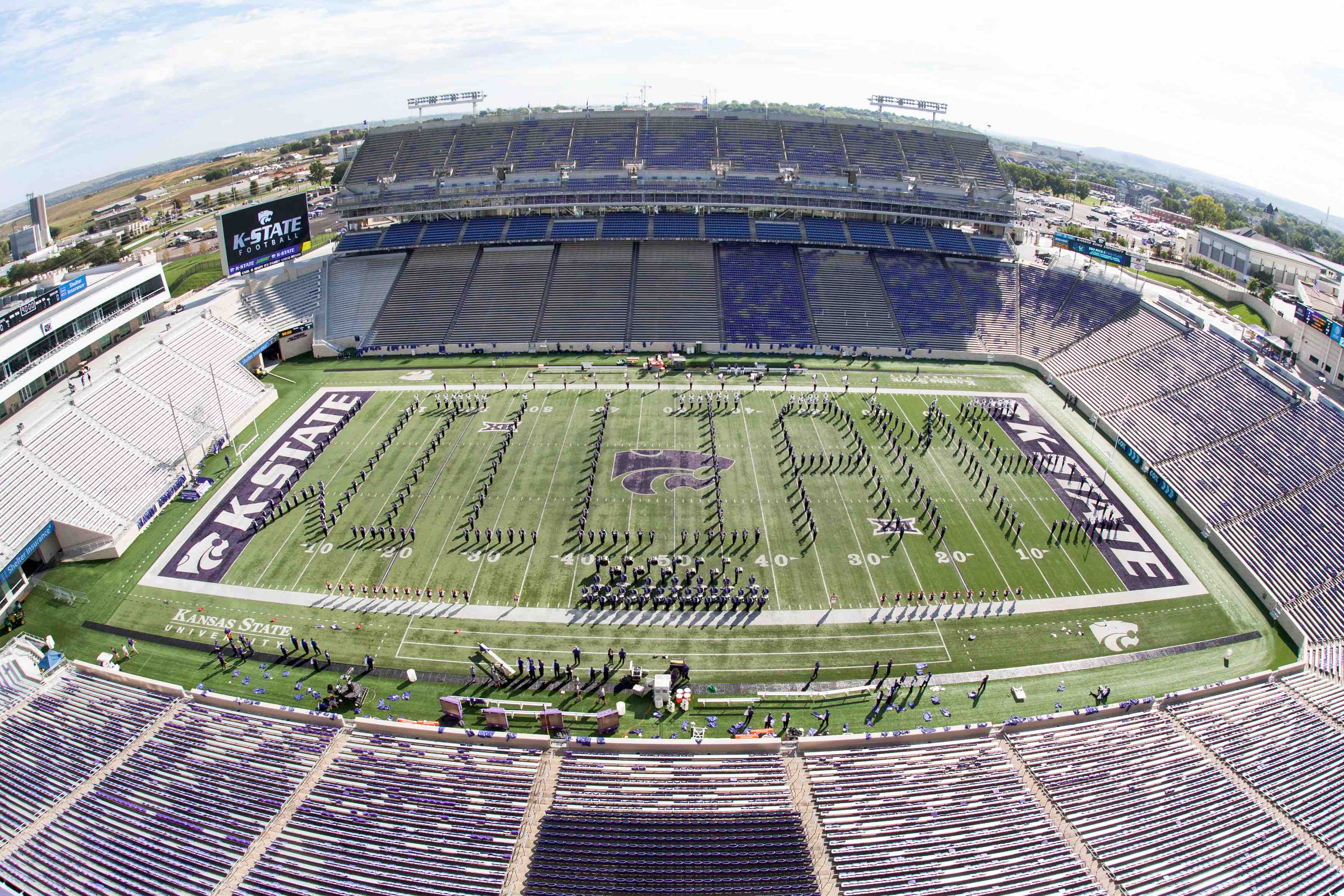 Susan Williams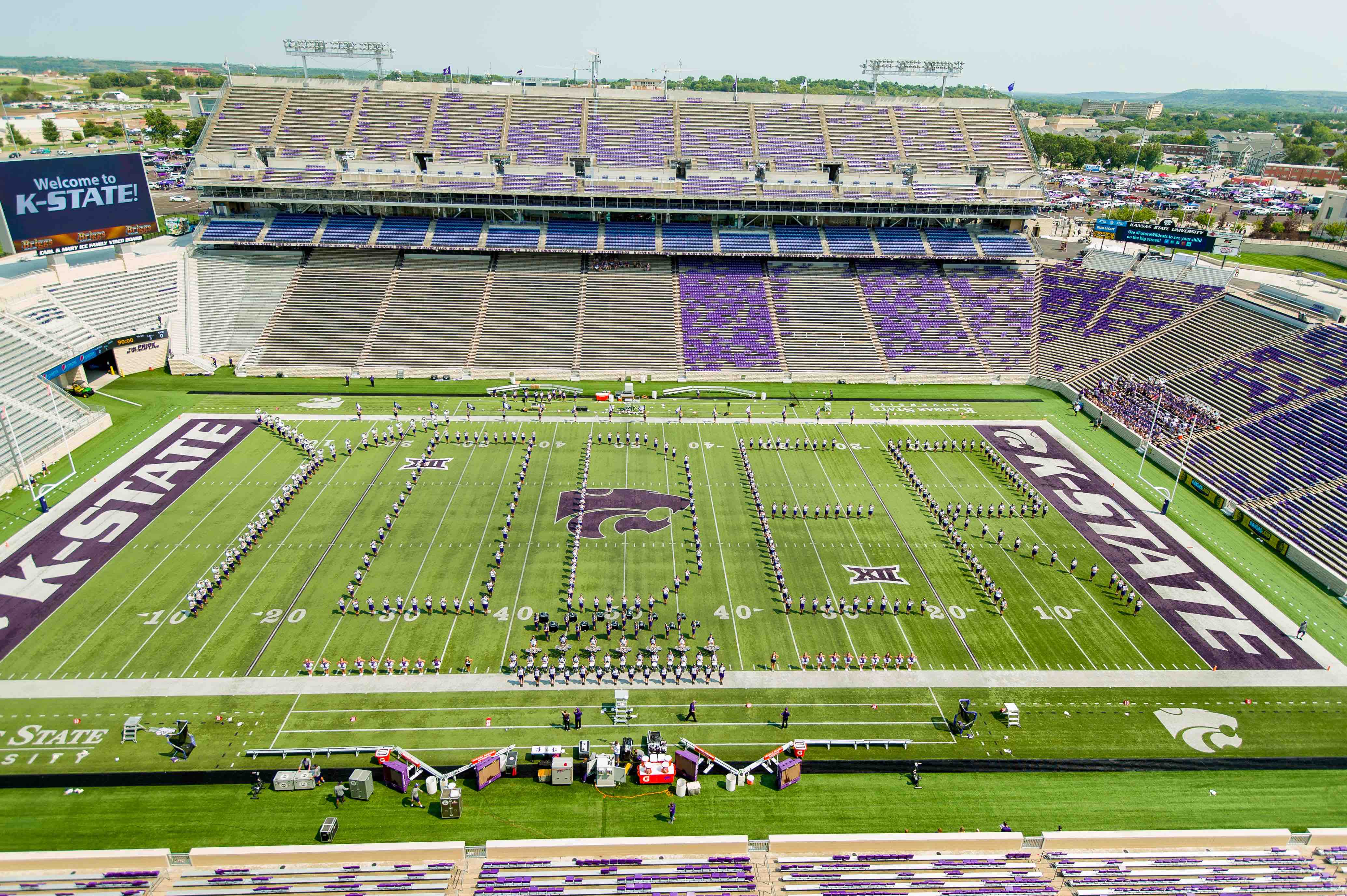 David Yoder
Kansas State University Marching Band
Congrats to the 2017-2018 Pride of Wildcat Land Drumline
Congrats to the 2017-2018 Pride of Wildcat Land Leadership Team
Welcome, and thank you for your interest in the Pride of Wildcat Land. Located at Kansas State University in Manhattan, Kansas, the 400+ member "Pride" performs at K-State Wildcat football games in the fall and represents Kansas State University at many other events. These events include bowl games and pep rallies as well as administrative, Alumni, and Foundation functions.
The K-State Marching Band is under the direction of Dr. Frank Tracz, Director of Bands, and Mr. Don Linn, Assistant Director of Bands.
If you are a prospective student and are interested in obtaining more information about our band program and scholarship information, please click on the "Sign up Now" button to the left, to complete a Prospective Form. This form does not obligate you to K-State nor our program. From this form we are able to send you important information to help you make an informed decision.
Spring Newsletter
If you are going to be a new member of the Pride of Wildcat Land, the Kansas State University Marching Band, and DID NOT receive the inserts with our Spring Newsletter we apologize. Please use the links below to access these forms:
2017 Member Confirmation Form
2017 Secondary Uniform Form
Please explore the links to the left to learn more about our history, songs, traditions, personnel, organizations, and other resources of the Kansas State University Marching Band. If you are prospective band member and would like more information complete our online prospective member form, call us at 785-532-3816, or schedule a campus visit!
KSUMB MARCHING SHOE INFORMATION

If you will be new to The Pride this Fall, it is okay to use your old marching shoes if they meet these criteria:
1. black in color
2. in good condition
3. has enough of a heel so the strap for the white spat will not touch the ground (see picture)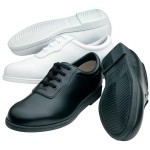 If you have questions or need to order new shoes, please call the KSU band office at 785-532-3816