March 21, 2023
LGBTQ* Faculty and Staff Alliance meeting March 21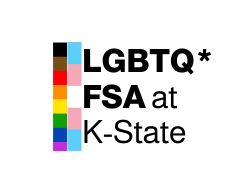 The Lesbian, Gay, Bisexual, Transgender, Queer — or LGBTQ* — Faculty and Staff Alliance invites all interested faculty, staff and graduate students to its second meeting of the semester at noon Tuesday, March 21.
Join us in the Oneok Room, Room 120, of the Multicultural Student Center or email an executive board member for a Zoom link.
How to get involved: For additional information on monthly meetings and special events, to be added to the listserv or for the Zoom link, please contact co-chairs: Adam Carr at arcarr@k-state.edu, Rachel Levitt at levitt@k-state.edu or Mariya Vaughan at mbjv@k-state.edu. You can also visit the LGBTQ* Faculty and Staff Alliance webpage.