March 21, 2023
Pinkall, Morris and Arrington premiere concert In New Zealand commemorating artists from World War I
Submitted by School of Music, Theatre, and Dance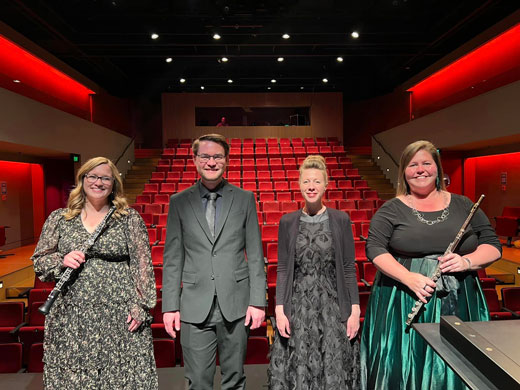 From left: K-State Music Professors Alyssa Morris, Bryan Pinkall and Amanda Arrington, and Florida State University's Karen Large presented "Voices from Gallipoli" in Wellington, New Zealand.
K-State music professors Bryan Pinkall, Alyssa Morris and Amanda Arrington, presented a concert in Wellington, New Zealand celebrating artists who lost their lives in the Battle of Gallipoli during the First World War. With live art songs, chamber music and immersive multimedia, "Voices from Gallipoli" also featured the world-premiere performances of works by contemporary American composer Patrick Dittamo and slain World War I solider W. Denis Browne.
Arrington on piano and Morris on oboe, along with Karen Large, assistant professor at Florida State University on flute, comprise "The Aglow Trio," who joined producer and performer Bryan Pinkall, tenor, for the concert held at Whirinaki Whare Taonga performing arts center near Wellington, the capital city of New Zealand, on Thursday, March 16.
Assistant professor Morris teaches applied oboe at K-State and has appeared as a soloist in venues throughout the United States, Scandinavia, the British Isles and Western Europe. Morris is a preeminent composer, and her chamber music is performed extensively around the world, including as part of this concert.
Senior professor of practice Arrington is the faculty collaborative pianist for the music program at K-State. She maintains an active performing career, collaborating with faculty artists, guest artists and students in more than 100 concerts each year.
The performance was one in a series of concerts by Pinkall, director of the School of Music, Theatre, and Dance and Grammy and Emmy-winning musician, having premiered many new and rediscovered works by those lost in the world wars at venues across the United States and around the world, including Sydney Opera House and the Kennedy Center.