November 14, 2022
International Education Week continues through Nov. 18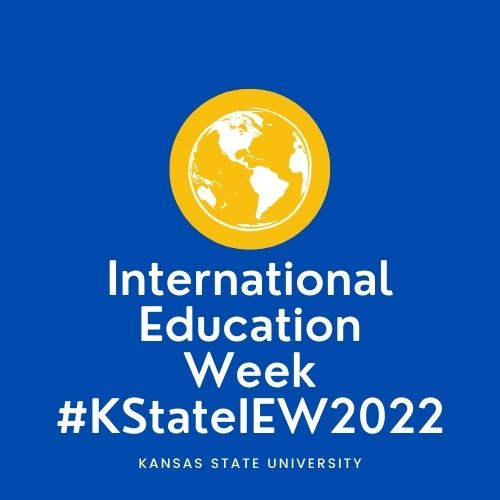 The Kansas State University Office of International Programs' International Education Week continues through Nov. 18 with programs and announcements all week.
International Education Week is an opportunity to celebrate the benefits of international education and exchange worldwide. This joint initiative of the U.S. Department of State and the U.S. Department of Education is part of our efforts to promote programs that prepare Americans for a global environment and attract future leaders from abroad to study, learn and exchange experiences. The departments encourage the participation of all individuals and institutions interested in international education and exchange activities, including schools, colleges and universities, embassies, international organizations, businesses, associations and community organizations.
Multiple International Education Week events will take place this week, including the KSUnite three-day program starting today, Monday, Nov. 14.
The Office of International Programs will make three important announcements during the week as we name the 2022 awardees for International Educator of the Year, Outstanding Support for International Initiatives and International Innovative Education Program. These are the highest university recognitions each year for international education, programs and initiatives.
The Office of International Programs was established in 1986 as part of the provost's office:
To strengthen communication and coordination among K-State's many international programs.
To achieve identified strategic planning goals for the university's further internationalization.
To provide a focal point for external international contacts and agreements.
K-State is currently engaged in many exchange programs with international institutions around the globe.
The Office of International Programs plays a prominent role in the internationalization of faculty, departments and colleges, student programs, student/faculty/staff development, curriculum development and global engagement at K-State.
The Office of International Programs consists of Education Abroad, the English Language Program, international faculty and education program collaborations, international special programs and sponsored students, International Student and Scholar Services, and Strategic International Partnerships.