May 3, 2022
Seek the spring 2022 issue of K-State's research magazine
Submitted by Office of the Vice President for Research and the Division of Communications and Marketing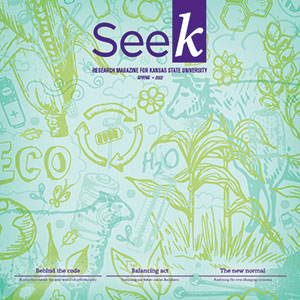 How is K-State research supporting the economic prosperity of Kansas? Why should we sustainably balance today's needs without compromising the future environment? How can we navigate the new world of cybersecurity?
Seek out these answers in the spring 2022 issue of Kansas State University's flagship research magazine, Seek. The award-winning magazine highlights university research, scholarly and creative activity, and discovery through a print publication as well as the website k-state.edu/seek.
The spring issue includes five feature stories:
• "Balancing act" shows how K-State sustainability research is addressing challenges across disciplines.
• "Behind the code" focuses on cybersecurity and the ways that researchers are keeping our data, our infrastructure and our world safe.
• "The new normal" analyzes the ever-changing economy.
• "Rural research and community collaboration" explores how the Chapman Center for Rural Studies is strengthening communities and advancing student learning.
• "Angles of attack" explains how the Johnson Cancer Research Center is fighting cancer with interdisciplinary science.
The magazine also shows how K-State graphene and hydrogen research is leading to a new company and shows how the university is engaged in economic prosperity as part of its land-grant mission.
Other stories highlight undergraduate scholars, graduate scholars, faculty researchers and university distinguished professors.
Seek is published twice a year and is a collaboration among the Office of the Vice President for Research, the Division of Communications and Marketing and other university communicators. The magazine received a gold 2021 Circle of Excellence award, which is a prestigious international award from the Council for Advancement and Support of Education, or CASE.