November 5, 2020
Seek the 2020 issue of K-State's research magazine
Submitted by Office of the Vice President for Research and the Division of Communications and Marketing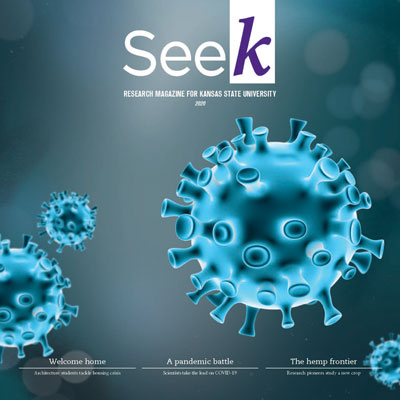 How is K-State research helping to fight the COVID-19 pandemic? How can we design affordable and sustainable housing for rural and urban Kansas? Why should we study industrial hemp?
Seek out these answers in the fall issue of Kansas State University's flagship research magazine, Seek. The award-winning magazine highlights university research, scholarly and creative activity, and discovery through a print publication as well as the website k-state.edu/seek.
The 2020 issue includes five feature stories:
• "A pandemic battle" explores how K-State researchers are fighting COVID-19 through important research.
• "Welcome home" shows how architecture students are designing affordable and sustainable housing.
• "A decade of research" celebrates 10 years of K-State milestones.
• "The hemp frontier" describes a statewide network of research pioneers on a new crop.
• "Fighting the fever" explains how scientists are protecting the U.S. industry as African swine fever spreads worldwide.
The magazine also shares how K-State Innovation Partners makes connections through economic engagement and looks at a K-State team that is addressing food supply contamination in Nepal. Other stories highlight undergraduate scholars, graduate scholars, faculty researchers and university distinguished professors.
Seek is a collaboration among the Office of the Vice President for Research, the Division of Communications and Marketing and other university communicators.