October 5, 2018
Petillo discusses how US law contributes to trafficking vulnerability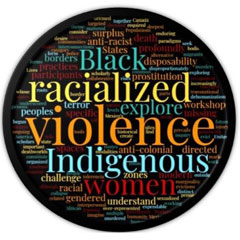 April Petillo, an assistant professor of American ethnic studies, gave an invited talk at the 2018 Racial Violence Hub Workshop Sept. 21 at the University of California, Los Angeles.
Petillo, whose research areas include Native American and Indigenous critical studies and the afterlife of slavery, spoke about her concept of cultural slaving. Using existing anti-trafficking legislation and sexual violence law to provide case studies, Petillo highlighted how the law can create vulnerabilities for Native peoples and African Americans. In her talk, Petillo discussed where legal definitions applied according to race, ethnicity and political status influence the United States' social culture around missing and murdered Indigenous and African American people of all genders. As an anthropological look at how legal history continues to influence current understanding, Petillo's talk suggested potential ways to build better legal interventions to stop trafficking.
The Racial Violence Hub, or RVHub, is a virtual research and teaching network that hosts an annual workshop for its active community of feminist critical race scholars, artists, activists and organizations working on issues of racial violence and the state. The RVHub is founded by Sherene Razack, a Canadian postcolonial feminist scholar, author, and activist of West Indian origin who has examined the systematic racism, violence against Indigenous people and people of color for more than two decades. Based on her work, the Hub regularly addresses the experiences of Indigenous peoples and people of color in the U.S. and Canada. The Hub's goal is to foster research, develop critical pedagogies and share resources for anti-violence practices around state violence against Indigenous and racialized peoples. The Hub does this with attention to "the race line that runs through state violence and terror."
The workshop is a small, invitation-only gathering of participants whose work focuses on these intersections and will become a part of the network. Petillo's invitation to speak is the first time K-State will be represented in this annual workshop and international forum.