Topcon Agriculture establishes research campus at Kansas State University
Thursday, Oct. 4, 2018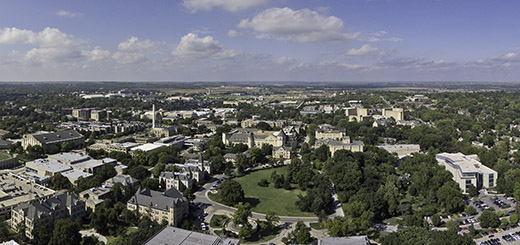 Topcon Agriculture is opening the Topcon Agriculture Research Campus adjacent to the Kansas State University campus in Manhattan. The campus will promote collaboration and engagement with the university's students and faculty and boost Topcon's research capacity. | Download this photo.


MANHATTAN — Topcon Agriculture and Kansas State University today announced a comprehensive partnership.

The Topcon Agriculture Research Campus in the K-State Office Park, 1880 Kimball Ave., Manhattan, will promote collaboration and engagement with students and faculty, boost the company's research capacity as it develops new products, and solidify connections with producers through K-State Research and Extension.

"Topcon Agriculture and K-State have been working together for two years on various projects, and both entities sought a deeper, multifaceted partnership that would differentiate the typical vendor and university relationship," said Fabio Isaia, CEO of Topcon Agriculture. "This strategic partnership will boost our R&D technology advancement to accelerate the commercialization of farmer-driven innovation."

Topcon Agriculture recently signed a master research agreement with Kansas State University to develop tools and systems to advance precision agriculture, but the company saw larger possibilities in an expanded collaboration facilitated by the Kansas State University Institute for Commercialization. The new Topcon Agriculture Research Campus will create a precision agriculture classroom space with state-of-the-art equipment to train faculty, students and customers to incorporate technology into farming and agricultural practices. The company is also donating technology infrastructure improvements and equipment for the university's Agronomy North Farm and will streamline access to future upgrades.

"Kansas is a unique state as it has striking variations in environmental conditions," said Brian Sorbe, Topcon Agriculture vice president of sales and marketing, North America. "The highly variable soil and rainfall patterns across the state allow it to emulate multiple types of growing environments. This makes Kansas ideal for conducting precision agriculture research to develop products for the entire country."

Working with K-State Research and Extension, Topcon Agriculture will have a streamlined pathway from concept, creation to on-farm use and education.

Richard Myers, Kansas State University president, said the partnership demonstrates the commitment of both the company and the university to supporting Kansas agriculture through innovation.

"The Topcon Agriculture Research Campus will help us ensure that we are preparing our students and providing producers with cutting-edge equipment and knowledge," Myers said. "We know the Kansas economy depends on the success of agriculture, and we are proud to unveil a partnership that will help our institution support the industry."

"Topcon Agriculture values Kansas State University's comprehensive, research and land-grant mission to provide practical information to help change the lives of its students, the people of Kansas, the nation and the world," said Michael Gomes, Topcon Agriculture vice president of business development, IoT. "Part of Topcon's overarching mission is to enrich human life by solving societal challenges in agriculture."

"When dynamic companies like Topcon choose to locate adjacent to K-State's campus, partnerships develop among leading researchers and industry to drive innovation, which benefits the university, the companies, the community and Kansas," said Greg Lohrentz, senior vice president of operations and finance at the KSU Foundation.

"The K-State Office Park is an essential element in providing world-class facilities for corporate leaders who want to collaborate with the best-in-field K-State researchers and students, and meet the needs of the global community to advance industry," he said.

Co-location with the university helps Topcon Agriculture recruit students and graduates to work for the company in the U.S. or abroad. It also demonstrates the success of area efforts to bring knowledge-based jobs and growth to the local economy.

"Topcon Agriculture is a global company that sees value in what we have here in Manhattan," said Lyle Butler, president of the Manhattan Area Chamber of Commerce. "Our shared university-community economic development vision has helped us provide incredible facilities and promote Manhattan as an optimal location for a growing business."

Beyond Manhattan, partnership with Kansas State University Polytechnic Campus and K-State Research and Extension will help Topcon Agriculture conduct on-farm research around the state. As a leader in both fundamental and applied agricultural research, the university and K-State Research and Extension offer facilities and access to producers and collaboration at all phases of the product development process — from the drawing board to in-field deployment of precision agriculture technologies.