Marketing innovations drive growth in freshmen enrollment at Polytechnic Campus
Friday, Oct. 5, 2018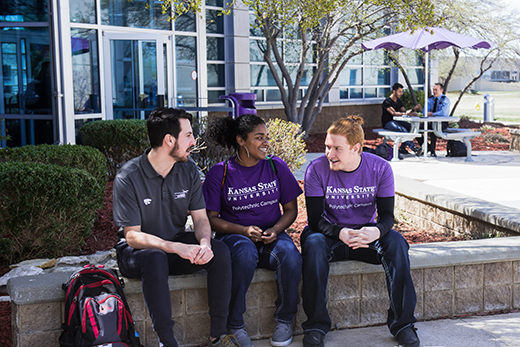 A new strategy for growing enrollment at Kansas State University Polytechnic Campus is showing strong results and has produced the largest class of new freshmen in five years. | Download this photo.


SALINA — A new strategy for growing enrollment at Kansas State University Polytechnic Campus is showing strong results and has produced the largest class of new freshmen in five years. Full-time equivalency and headcount at Kansas State Polytechnic are similar to fall 2017, as the campus had a large graduating class in May.

"Growing enrollment has always been a focal point, but last year we re-examined our strategy and made some significant changes, which have had a positive influence in a very short period of time," said Alysia Starkey, interim CEO and dean at Kansas State Polytechnic.

New student enrollment in Kansas State Polytechnic's College of Technology and Aviation is up by 34 students from fall 2017, which represents a nearly 50 percent growth in new freshmen. The growth in inaugural Wildcats has positively affected 12 out of the 16 undergraduate degree options. Most notably, the professional pilot program has seen a 118 percent increase in new students from last year, with the flight school portion of the degree at full capacity. Also, on-campus living grew by 32 percent from 2017 and the female and minority populations expanded by 45 and 33 percent respectively.

Starkey said the increases are due to the hard work of faculty and staff and Kansas State Polytechnic's enrollment management and marketing team, led by executive director Christopher Smith, who was hired in October 2017.

Shortly after Smith's hire, Kansas State Polytechnic began implementing an enhanced recruiting strategy centered on three areas: rebuild, grow and transform. Considering the average time it takes to start connecting with prospective students, Smith said he wasn't expecting to see results from the grow portion of his plan until 2019 and believes what the campus has achieved in less than a year of recruiting is remarkable.

"Traditionally in higher education, you need at least 15 months to initiate, develop and nurture a relationship with a potential student, so we fully anticipated seeing the kind of success we're having now in 2019," Smith said. "I am inspired by what this campus has accomplished together in such a short period of time and am excited to watch the continued growth at Kansas State Polytechnic as more and more people learn about the value of what we have to offer."

The revised recruitment approach embraces the polytechnic philosophy of a personalized, hands-on experience from initial inquiry to graduation. The admissions representatives on campus work closely with faculty as well as advisors, financial aid, student support services and career services to provide a lock-step experience throughout the enrollment process.

Another way Kansas State Polytechnic has adjusted its recruiting style is in its communication strategy. Digital marketing is consistently being examined and fine-tuned to connect with students who will find success within the programs offered and the polytechnic learning style.

This fall, Kansas State Polytechnic launched two new undergraduate degree options and one graduate certificate program. Smith said these are examples of how the campus is being adaptive to influence enrollment.

"It's crucial that we are able to respond to what the market is telling us so that we continue to generate more opportunities to grow, and we can do that through program creation," Smith said. "Our faculty have worked hard during the past year to add bachelor's degrees in technology education — to contribute to the demand for more workers in STEM — and robotics and automation because of the direction in which technology is moving. We've also leaned on our expertise in unmanned aircraft systems and initiated a graduate certificate in UAS cybersecurity that will support the expansion of the drone industry."

Pat Bosco, vice president for student life and dean of students at Kansas State University, said Kansas State Polytechnic's enrollment management strategy is one that shows promise for the university as a whole.

"Because of Kansas State Polytechnic's smaller size, it can be nimbler and more innovative in its approaches to stabilizing and growing enrollment," Bosco said. "These are approaches we will look to apply across the entire university."

To learn more about enrolling at the Kansas State University Polytechnic Campus, including taking a campus tour and exploring degree options, contact the admissions office at 785-826-2640 or polytechnic@k-state.edu.