July 2, 2012
Harvard Townsend retires as chief information security officer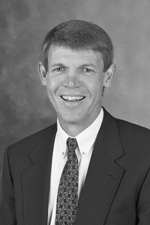 Harvard Townsend, K-State's chief information security officer, retired in June after more than 31 years of service to Kansas State University. He recently moved to Illinois, where he's accepted an IT security position at Wheaton College, a Christian liberal arts institution west of Chicago. His wife, Dana, accepted a faculty position at the same institution earlier this year.
A nationwide search is under way to fill the chief information security officer position, and more than 40 applications have been received.
Townsend started his career at K-State in 1981 teaching chemistry labs and moved to a GTA position in the computing and information sciences department in 1982, where he became an information resource specialist II in 1983. His career trajectory included Unix manager in CIS and then in computing and network services, becoming the computing and network services director in June 1998 and serving for the next eight years.
In March 2006, during a central IT reorganization, Townsend accepted the position of K-State's IT security officer and developed the university's fledgling IT security program into an integral element of K-State's infrastructure. In October 2009, he officially became the university's first chief information security officer, albeit having served unofficially in that capacity since 2006. Under his direction, the IT security team has grown to include five full-time staff and was renamed the office of information security and compliance.
Townsend's accomplishments include:
Received KanREN's Dave Nordlund Award for outstanding dedication to research and education networking in Kansas, in recognition of contributions to the KanREN Community, April 2012.
Co-principal investigator, with E.A. Unger and J. R. Caffey, on two grants that totaled more than $1 million: a $691,000 congressional grant in 2001 for Great Plains Network Connectivity for Kansas State University; and a $350,000 National Science Foundation grant in 1998 for High Performance Network Connection in Support of Meritorious Research at K-State.
Served on many statewide IT security committees, including regents representative to the state of Kansas IT Security Council, 2009–2012; Kansas Regents IT Security Council, 2005–2012; KanREN Executive Committee and KanREN Inc. board of directors, 2001-2005; Network Architecture committee of the state of Kansas IT Architecture project in 2000; and Big 12 IT Security Officers, 2005–2012.
Served on numerous K-State committees, including chair of K-State's Security Incident Response Team, or SIRT, 2003-2012; the Enterprise IT Leadership Team, 2007–2012; the Enterprise IT Operations Management Team, 2007–2012; and the Information Resources Management Council, which develops IT policy, 1998-2012.
Received K-State IT's Don Hogg Lifetime Achievement Award June 14 for the acknowledgement of superior achievement in an entire career. The award is given infrequently and only when an individual meets the stated criteria: Has inspired us or made a difference in our lives professionally; an IT employee who has given K-State a lifetime of contributions, service, and dedication to the IT field; and has provided a significant impact on how technology has been implemented at K-State.