July 2, 2012
Connecting corporations to service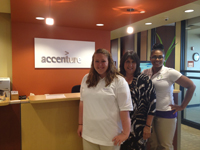 HandsOn Kansas State staff helped Accenture Eco Volunteer Team members become volunteer leaders in support of their Corporate Citizenship initiatives, Skills to Succeed. Thirty corporate volunteers and staff from Cultivate Kansas City and the Kansas City Community Gardens contributred their labor and resources June 30 to the Juniper Garden Training Farms for new immigrant urban farmers and schoolyard gardens for children, families and teachers.
This partnership and service event connected university resources, student expertise and corporate civic commitments to impact local nonproifts that enable people to bulid self-sufficient businesses and educate themselves on healthy food choices, making a measurable difference in the community.
K-State's Lynda Bachelor, project coordinator, and two students from the Greater Kansas City area led this new corporate engagement initiative for the School of Leadershp Studies.