July 2, 2012
Reaching into new worlds: Steve and Linnea Kirchhoff Engineering Scholarship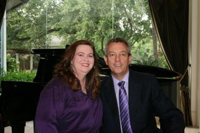 Growing up on a farm in Cedar, near Smith Center, Steve Kirchhoff always envisioned that he'd attend Kansas State University and study veterinary medicine. It was the thing to do, the place to be.
Being a farm kid from Smith County near the Kansas-Nebraska border, he rarely entertained the possibility of taking a different path — until a friend invited him to the K-State College of Engineering's open house weekend and his eyes were opened to a new world.
He graduated from K-State in 1979 and immediately entered the workforce at ExxonMobil. More than 30 years later, Kirchhoff's career with the company has taken him from Texas, Louisiana and New Jersey to Malaysia and London — and back to Texas again, where he serves today as vice president of gas and power marketing.
In the decades following his graduation, Kirchhoff confessed that his closest connections to his alma mater were only through other K-Staters in the ExxonMobil ranks, including Wayne Harms, who invited him to alumni events and would later serve with him on the engineering advisory council at K-State.
Moving every three years, plus a significant amount of time spent living and working abroad, made it challenging to remain in touch with K-State. But in 2004, after crisscrossing the globe, Kirchhoff and his wife Linnea — a 1980 K-State graduate — returned to the U.S. to reconnect with family and begin to adjust their pace of life. A meeting with John English, dean of the College of Engineering, opened a new door for Kirchhoff to engage with K-State, and he joined the college's advisory council.
Most recently, with a combination of a gift and matching funds from ExxonMobil of $30,000, the Kirchhoffs established an endowed scholarship in the college, a contribution they've followed up with a $37,500 personal five-year pledge. And with a 3 to 1 match from ExxonMobil, a total of $180,000 will be contributed toward the engineering scholarship. To Kirchhoff, who loves being "plugged back" into the K-State network, the scholarship is a coming full circle of sorts, a way to assist those who share his same origins — and dreams.
"I remember being 18 and unsure of what I wanted to do with my life," Kirchhoff said. "Being able to help some kids who grew up in Kansas and started on the same path as mine was really motivating. I hope this scholarship helps them reach into new worlds the same way I did. And the matching gift is a great way to multiply a contribution."
Kirchhoff believes institutions like K-State serve as veritable springboards for people to discover new opportunities, but it's the people who inspired him and Linnea to reengage with the university.
"We love the pride that K-Staters have," Kirchhoff said. "It comes from confidence, capability and accomplishment. K-State has such a strong tradition of instilling core values and strong work ethic in its graduates. That's what we really love, and that's what we want to support — people who have solid confidence in who they are and what they can achieve."