July 2, 2012
College of Agriculture student uses skills to promote industry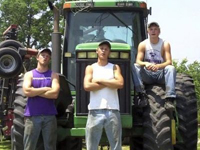 Greg Peterson, senior in agricultural communications and journalism and a minor in music, learned first-hand how social media can be an effective tool for communicating a message.
The video "I'm farming and I grow it" that Peterson produced with his two brothers and sister has become an international success thanks to social media such as YouTube, Facebook and Twitter.
Internet users viewed the trio's video more than 1.5 million times within the first five days of it being posted online. Agricultural and mainstream media outlets throughout the world have shared the video repeatedly, earning the brothers television, radio and newspaper interviews. The three also traveled to New York City to appear on the Fox News program "Fox & Friends" Friday morning.
The brothers, actively involved in the family farm near Assaria, have a passion for agriculture and turned it into this video. Little did they know their interests and livelihood would become an icon for the industry in which they work.
To learn more about the Peterson brothers, see the video and to look at their media coverage, visit their Facebook page.