May 11, 2017
Personal financial planning undergraduates win Edward Jones challenge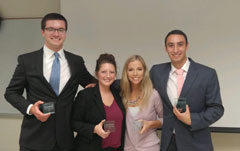 K-State students in George Belin's PFP482, Investments II course participated in a challenge set forth by Edward Jones, an investment company. Edward Jones is piloting a program out of its St. Louis office and because of K-State connections, wanted personal financial planning students at the university to take on the challenge.
Belin's class includes eight undergraduate students, who he split into two teams of four. Each team was given a packet that contained a fictitious scenario that detailed a married couple with one child in college and included a listing of the couple's assets and financial goals. The student teams worked on developing an executive summary for the couple, in context of the couple's future goals, as well as a personal portfolio.
Local Edward Jones professionals, D.C. Hackerott and Catherine McKinley, visited Belin's investments class to review the student teams' portfolio presentations and declared the team with the best portfolio winners of the challenge. Personal financial planning seniors Josh Harper, Courtney Hoffman, Dayton Schmalzried, and junior Aubrianna Graham were on the winning team.
"This challenge allowed us to piece together many of the specifics that we're learning about in class and I have discovered more about my personal investment philosophy," said Harper, a member of the winning student team. "Being able to speak through our plan with professional advisors was extra helpful because they see these scenarios every day."
The Investments II course covers so much pertinent information, including how stocks work, investment options, bonds, portfolio options, that the course is now two courses. Students who participated in the portfolio challenge are in the second course, having taken the first course, also taught by Belin, in the fall.
"Projects like the Edward Jones Portfolio Challenge allow the students to apply their classroom knowledge to real-life situations," Belin said. "The more hands-on skills the students can develop during their time in school, the better prepared they are for their financial planning careers."
These personal financial planning majors also were excited to be involved in a project in which they could be creative in developing a portfolio and know that their research and work would be critiqued by actual Edward Jones' advisors, who spend their careers managing finances. These students reiterate that the final presentation to the advisors definitely brought another layer of competition to the challenge.