April 18, 2022
Spring 2022 MANRRS Week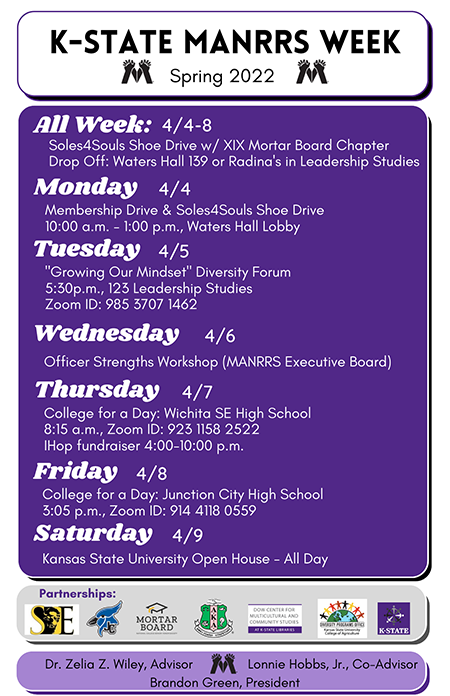 The K-State Minorities in Agriculture, Natural Resources, and Related Sciences, or MANRRS, chapter and the College of Agriculture and K-State Research and Extension Diversity Programs Office had a successful MANRRS Week from April 4-9.
The office partnered with XIX Mortar Board chapter; Alpha Kappa Alpha Sorority Inc., Kappa Pi chapter; Wichita Southeast High School; Junction City High School, the Dow Center for Multicultural and Community Studies and the Office of Diversity and Multicultural Students Affairs throughout MANRRS Week.

Highlights of the week include a shoe collection for Soles4Souls, a membership drive, the "Growing Our Mindset" diversity forum, MANRRS Executive Board had an Officer Strengths Workshop, virtual College for a Day with Wichita Southeast High School and Junction City High School and a booth at the All-University Open House. Thank you to everyone who participated.
K-State MANRRS will host Frantina Williams, business representative at BASF, professional MANRRS member, previous K-State MANRRS member and College of Agriculture alumna, to present the membership charge at the 2022 officer retreat on April 20.
Continue to look for more diversity events we promote and announce. If you require any additional information about these events, please contact Zelia Wiley at zwiley@k-state.edu or 785-532-5793.