October 24, 2018
Enrollment efforts hit high gear
Submitted by Charles Taber and Pat Bosco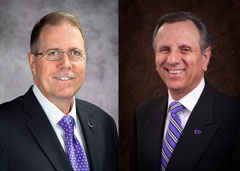 Dear Colleagues,
As the Nov. 1 priority deadline for scholarships rapidly approaches, our enrollment team is busy recruiting potential fall 2019 incoming freshmen. Getting more people to apply for admission and scholarships is crucial to growing our enrollment.
The Strategic Enrollment Management plan is rapidly moving from discovery to implementation. Multiple task forces have been spun up and are working hard to ensure our enrollment recovery. We are seeing encouraging early results.
We had a record turnout on Friday, Oct. 19, with more than 150 prospective students and families visiting our campus. So far there have been two Senior Days and two Transfer Visit days this semester, more are planned in the upcoming weeks.
Campaigns have been launched to increase applications from out-of-state students, following the recommendations of the Huron consulting group. New scholarship programs for fall 2019 have been announced as part of short-term efforts.
Digital marketing campaigns are running to boost awareness in state and out of-state prior to the Nov. 1 priority deadline. Target markets are based on data analysis of past enrollment, helping identify the areas with the most potential. In addition, the SEM team agreed to support continued increased recruitment staffing for the current recruitment cycle.
Longer term efforts include updating the application process to include the common application and major revisions to websites. The goal is to reduce the barriers students may encounter when applying for admission. The easier we can make it, the more applications we will have.
As we think about the other student audiences the university serves, please also be aware of the following:
Nov. 1 is the priority application deadline for spring 2019 incoming transfer students. Fall 2019 incoming transfer students should apply by the Feb. 1 priority deadline.
Online student applications are accepted on a rolling basis.
Graduate student applications are subject to program-specific deadlines.
Many K-State employees are asking what they can do to help. Please read the Strategic Enrollment Management Plan located on the K-State website. Growing our enrollment is up to all of us. Let's help those future Wildcats join our family!
Sincerely,
Chuck Taber
Provost and Executive Vice President
Pat Bosco
Dean of Students and Vice President for Student Life