October 24, 2018
ADVANCE Distinguished Lecture Series presents Kristy Richards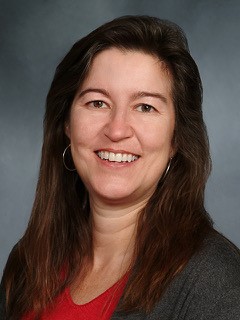 The ADVANCE Distinguished Lecture Series and Nora Springer, assistant professor of diagnostic medicine and pathobiology in the College of Veterinary Medicine, will host Kristy Richards, associate professor of biomedical sciences in the College of Veterinary Medicine at Cornell University.
Richards will present, "Barking up the right tree: How pet dogs can accelerate lymphoma therapeutic development" at 3:30 p.m. Thursday, Oct. 25, in the Mara Conference Center on the fourth floor of Trotter Hall.
Abstract: Therapeutic development costs are rising exponentially, with the average cost of each new FDA approved agent now estimated at $2.6 billion. In the era of precision medicine, with the need for many new agents and combinations of agents, this is obviously not a sustainable path to success. More accurate preclinical development is needed, as most new therapeutics fail during clinical trial testing. Canine patients provide a parallel clinical trial opportunity to more efficiently test novel therapeutics. We and others have molecularly characterized canine B-cell lymphoma, identifying similarities to the human disease. This now allows us to more effectively perform clinical trials, and employ novel designs that are difficult or impossible to achieve in human trials. In the case of immunotherapies, it allows us to accomplish studies that are often not possible in laboratory mice. These types of trials will establish the value of canine models to increase the efficiency of development of new lymphoma therapeutics, useful for both dogs and humans.