February 26, 2018
We're listening: The K-State Libraries seek feedback through survey
Submitted by Sarah McGreer Hoyt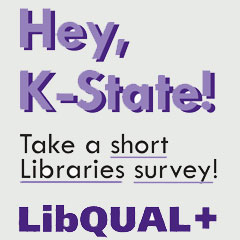 When resources are scarce, it's more important than ever to understand what K-State students, faculty and staff value in their university libraries. That's why the K-State Libraries are conducting a survey now through March 17. By reaching out to the campus community, we hope to learn what we're doing well and where K-Staters want us to improve.
If you haven't already, please complete the survey today. By investing 10 minutes of your time, you're making a contribution toward an even better library. Your answers will remain anonymous.
If you provide your email address at the end of the survey, you'll receive an email for 50 Pocket Points on March 17. You'll also be entered to win gift cards, T-shirts and more.
If you have any questions, please contact Laurel Littrell, director of library planning and assessment, at 785-532-5467 or laurlit@k-state.edu.