February 26, 2018
Hormel Foods helps K-State's Cats' Cupboard feed hungry students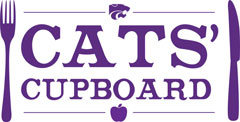 Kansas State University students and the K-State Cats' Cupboard have Hormel Foods to thank for their recent donation of food items and funds toward the effort to fight food insecurity among K-State students. Hormel Foods has provided financial support through the KSU Foundation as well as supplied 1,000 pounds of food items to stock the Cats' Cupboard food pantry shelves. Some of these items include peanut butter, microwave meals, salsas, chili and protein bars. Product donations were immediately made available to students.
"Hormel Foods understands how hard it is for students to focus and learn when they are hungry," said Erin Bishop, Cats' Cupboard coordinator. "Hormel's generosity toward K-State students goes a long way to help vulnerable students get the food they need and helps them to stay in school."
Cats' Cupboard is grateful for this partnership fostered through the KSU Foundation and for the Hormel Foods' dedication to make a difference in our community.
As Kansas State University's strategic partner for philanthropy, the KSU Foundation inspires and guides philanthropy toward university priorities to boldly advance K-State family. The foundation is leading Innovation and Inspiration: The Campaign for Kansas State University to raise $1.4 billion for student success, faculty development, facility enhancement and programmatic success. Visit ksufoundation.org for more information.