April 17, 2017
Viewpoint Lecture Series hosts public health expert and physician
Submitted by Sarah McGreer Hoyt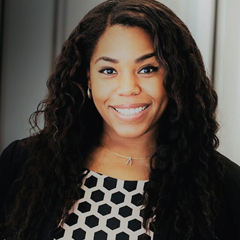 Heart disease, cancer, Type 2 diabetes and even preterm birth: Why do some populations have a higher rate of certain diseases? What is our role to improve the health of our families, communities and nation?
Dr. Renaisa S. Anthony, a practicing physician, maternal child health specialist and health equity scholar, will present an interactive lecture, "A Dialogue on Health Disparities and Actions to Achieve Health Equity" at 7 p.m. Thursday, April 20. The free, public event will be in the Flint Hills Room at the K-State Student Union.
Anthony is an assistant professor and the deputy director of the Center for Reducing Health Disparities at the University of Nebraska Medical Center and practices medicine at the Charles Drew Community Health Center in Omaha. Her professional and personal commitments to eradicating health disparities are deeply rooted in her beginnings growing up in inner-city Detroit as well as a myriad of professional and personal experiences.
Her lecture is part of the university's celebration of National Public Health Week and National Minority Health Month and made possible by the Dow Center for Multicultural and Community Studies at K-State Libraries and K-State's Master of Public Health Program.
Anthony earned her medical degree at the University of Chicago and Master of Public Health at Harvard University. She completed internship training at Vanderbilt University and a fellowship in health policy at the National Institutes of Health and the Office of the Surgeon General.
Located on the fourth floor of Hale Library, the Dow Center for Multicultural and Community Studies serves as an interdisciplinary center for students, faculty, staff and community members who are interested in exploring the human diversity, the changing landscape of American demographics and the impact of globalization.
For more information about Viewpoint Lecture Series, contact Melia Fritch at melia@k-state.edu or 785-532-7361.