April 17, 2017
Kansas State Polytechnic awarded airport improvement grant from Kansas Department of Transportation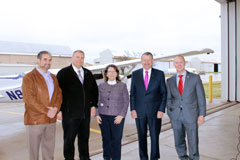 The Kansas State University Polytechnic Campus, which is connected to the Salina Regional Airport, is the recipient of an airport improvement grant.
The Kansas Department of Transportation has selected Kansas State Polytechnic for a Kansas Airport Improvement Program grant totaling $428,990 to help renovate portions of the campus's and airport's shared area known as the ramp. The award was announced March 29 by Richard Carlson, transportation secretary, and Merrill Atwater, director of aviation for KDOT, during a ceremony in Kansas State Polytechnic's aviation maintenance hangar.
"Aviation is a cornerstone of this campus that dates back more than 50 years and we have proudly continued that focus through the current professional pilot, airport management, aviation maintenance management and UAS programs," said Verna Fitzsimmons, CEO and dean of Kansas State Polytechnic, at the announcement. "With this grant, we can keep providing a safe environment to our aviation students, CFIs, faculty and staff as well as the public. It also allows us to keep working toward our 2025 goals, which include improving facilities and infrastructure."
Kansas State Polytechnic was selected as one of 26 recipients around the state for airport improvements. The grant will be used to refurbish portions of the engine run-up area and taxi routes located on the campus's ramp and connected to the Salina Regional Airport. The combined total value of the approval projects is estimated at $4.45 million, with Kansas State Polytechnic receiving the third largest amount.
"It is imperative that the ramp area is maintained because that will reduce damage to our state and visiting aircraft from ground debris," said Eric Shappee, aviation professor and director of flight operations for Kansas State Polytechnic. "This ultimately results in saving our students money and the campus additional man hours as well as supporting economic development in regards to campus and city guests."
Tissa Salter, an instructor in technical communication, provided her expertise in writing the grant and Kurt Barnhart, associate dean of research and engagement, Joe Harrison, director of facilities, and Fitzsimmons, also contributed to the process. The grant is expected to be dispersed during the state's fiscal year of 2018.