April 17, 2017
NACADA executive director receives international fellowship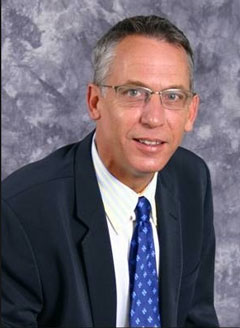 Charlie Nutt, executive director of NACADA: The Global Community for Academic Advising, has been named the first-ever recipient of the United Kingdom Advising and Tutoring Fellowship.
Nutt accepted the fellowship at the United Kingdom Advising and Tutoring annual conference, April 5-6, at the University of Leeds, one of the world's top 100 universities and a founding member of the prestigious Russell Group of leading research-intensive universities in the U.K.
The fellowship is the highest honor bestowed by the advising and tutoring association, and recognizes an individual who has made an exceptional contribution to the field of academic advising and personal tutoring, as the discipline is known in the U.K. United Kingdom Advising and Tutoring is a body of professionals, practitioners and researchers interested in all aspects of student advising and personal tutoring in higher education. The group promotes student success by advancing the field of student advising and tutoring in the U.K. and beyond, and is allied with NACADA.
NACADA is the global leader in academic advising and has more than 13,000 members worldwide, including professional advisors, counselors, faculty and administrators working to enhance the educational development of students. The association advances the field of academic advising by providing opportunities for research, professional development and leadership to a diverse global community. The College of Education is the host institution for the association's executive office at Kansas State University.
Nutt has served as the NACADA executive director since 2007 and holds a faculty appointment in the College of Education's special education, counseling and student affairs department.