April 17, 2017
Hospitality management's 21st annual Travel and Dining Auction is April 21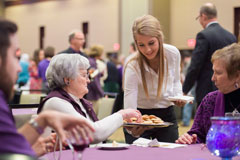 Alumni, friends and family are invited to attend the Travel and Dining Auction on April 21. The event will be from 6:30-9 p.m. at the Hilton Garden Inn.
The Travel and Dining Auction promises an evening of great food, auction items and games, while supporting student scholarships and hospitality management clubs. This year, K-State's Travel and Dining Auction is celebrating 21 years with the theme "MHK meets the USA." For one night only, more than 200 auction lots, from all over the nation, will be available for silent and live bidding. Auction items include lodging, entertainment, dining and K-State merchandise.
Last year's event raised more than $30,000 for hospitality management student clubs, including the Club Managers Association of America, Hospitality Management Society, Professional Event Management Society and the Hospitality Management Graduate Club. Each club allocates a portion of their funds for student financial support for traveling to regional and national conferences along with other student activities. The Travel and Dining Auction is the largest student-organized fundraiser of its kind at Kansas State University.
Buy your tickets now at k-statetda.com — advance tickets are $25 and tickets at the door are $35.